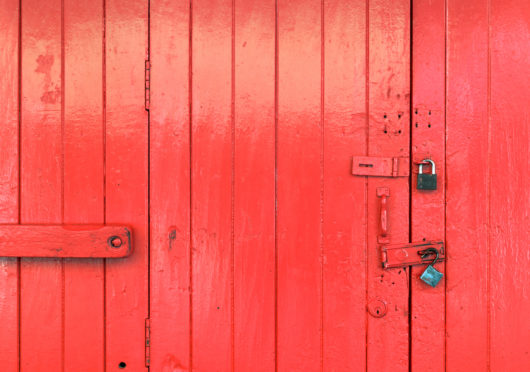 My kingdom for a shed! I've a little one that needs repair but I want a big one, perhaps more of a summer house really or a cabin.
It would have to be a summer house that earned its keep, doubling as gym or recording studio or writer's place or, maybe, quadrupling up as all four. This isn't just an idle fancy. I need more storage space, as there isn't room in the house. And the little shed is overflowing.
I took some pressure off with a large self-assembly storage box but still it's bursting at the seams. And I mean that literally, though the condition wasn't caused by bulging stuff but by dampness rotting some of the wood.
I think the cause was a clematis growing up one wall. Certainly, all the damp is on that side. The clematis looked lovely when in flower but I decided to cut it back and then to move the plant. Wish I hadn't.
All my decisions are wrong, even after considerable dithering. I was two-years-old before I was born (old Two Ronnies joke).
In the end, I couldn't dig the clematis out, partly because it had put down deep roots under the shed, so I've re-orientated it as best as I could towards a self-assembly arch I've just erected over the nearby path to the pond.
So I needn't have cut back the foliage in the first place. I could have taken it off the shed and run it up the arch. Now there's only a stump left and I'm sure the poor beast will die, in common with most other plants I touch. The only time I have green fingers is when there's paint on them.
Talking of which, until I can get wood to effect repairs (probably involving a five-hour round trip), I've painted the shed to give it some protection. Reluctantly, I had to go for the usual, boring "forest green", as I found some left behind by the previous owner. It's impossible in Britain to buy wood paint that's bright, vibrant, beautiful emerald or light green. Same dull shade everywhere you go.
Talking of going, no one comes here – to deliver a shed, that is. Many websites offer "UK-wide delivery" until you get to the small print listing all the Scottish postcodes to which they won't deliver.
And I can't find anyone round here to build one, so I'm kind of stuck.  Apart from which, as you may know, you need a base on which to stand the structure, and I've seen these costing more than the shed itself. Why is nothing simple? (Reader's voice: "You are." Cheek.)
My dream of a big shed, summer house or cabin is fading. And I do so like to sit amidst wood. It's one reason why I enjoy the sauna at the village swimming pool.
Indeed, I used to live in a wooden house, assembled (not by me, I hasten to add) from a Norwegian kit. And never mind green, I was planning to paint my new cabin red, as I did my old garden shed back in the city suburb. So cheerful, particularly in winter.
Audrey Hepburn said there was a shade of red for every woman. And, as a man, I believe there's a shade of red for every shed.