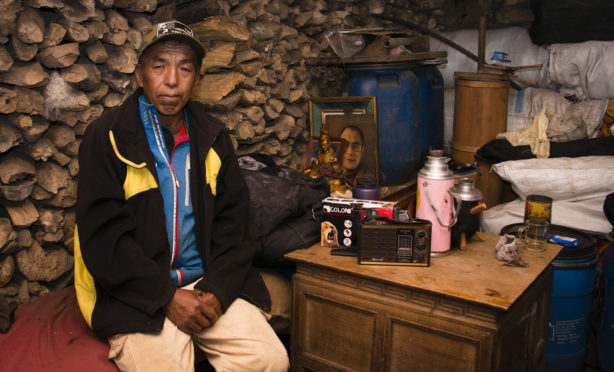 A groundbreaking documentary about Sherpa culture made by Dunkeld charity worker James Lamb boasting an original soundtrack by Dougie and Jamie MacLean premieres at Dundee Mountain Film Festival. Gayle Ritchie finds out more…
They call him the "father of Phortse".
It's a title which makes James Lamb, a retired guidance teacher from Dunkeld, blush ever so slightly.
The remote farming village of Phortse in Everest National Park is home to many Sherpas who have summited the world's highest mountain.
And ever since James decided to dedicate his life to helping the Sherpa people who live there through his incredible charity work, the community has regarded him as their saviour.
Until April 18, 2014, however, James was just like any other tourist trekking in Nepal's Himalaya.
But on that fateful day, 16 local people, mostly Sherpas, were killed in an avalanche above Everest base camp, leaving 16 widows and 54 children without fathers.
For most families, it meant they had no source of income, so they were plunged into poverty.
Witnessing the devastation caused and feeling "utterly shell-shocked", it was then that James's passion to help was ignited.
He teamed up with Buddhist monk Tashi Lama to set up a local trekking agency that would create employment for locals, with profits going to the families of Sherpas who had lost their lives while climbing.
Hence Tengboche Trekking (which recently changed its name to Inspire Trek and Travel) was born, and soon after, James and his wife Karen set up the charity, The Little Sherpa Foundation, to help everyone – from newborns to the elderly.
Disaster struck yet again in 2015 as James was boarding a flight home after filming in Nepal for the BBC's Adventure Show. An earthquake ripped through the country, killing 9,000, injuring 20,000 and destroying thousands of homes.
Back in Scotland, James, also a professional photographer, watched helplessly as a major aftershock killed hundreds more.
He knew, in his heart of hearts, that he wanted to do more to help and so he expanded the reach of his work to rebuild neighbourhoods affected – to give people jobs in industries such as nursing and teaching, and build earthquake-resistant health centres and schools for the Sherpa community.
Over coffee with James at his house in Little Dunkeld, it feels worlds away from Nepal, which he regards as his "other home".
As he excitedly pulls maps from shelves, points out his favourite trek routes and shows me exactly where Phortse is, I find his enthusiasm and passion for the country and its people infectious.
"I've always been a keen hillwalker – I have a diploma in outdoor education –and having travelled globally and savoured experiences offered by mountainous regions, I can honestly say the two most meaningful countries to me are Scotland and Nepal," he muses.
"Nepal is home to some of the most beautiful mountains in the world, many of which are of great religious significance to indigenous people.
"My love for the Nepal Himalaya and the Sherpa people has become a passion that has enhanced my life in such a way that I'm driven to tell everyone about it."
Having spent six weeks in Nepal myself back in 2011, including undertaking a gruelling 200km trek of the Annapurna Circuit, it's good to gain James's insight into this most magical of places.
I too fell for the country, with its awe-inspiring snow-peaked caps, colourful prayer flags, spinning prayer wheels and couthy teahouses, and of course, its people.
What I failed to do, other than pay my guide's wages and buy a few fleeces, hats and pairs of gloves, was help the country in any sort of meaningful way, as James has done and continues to do.
His latest venture, a groundbreaking documentary about the Sherpa people, aims to educate the world about the fact that Sherpa is a way of life, and ultimately, put pressure on the Nepali Government to help.
"We needs its backing to improve education and health services," says James, a former St Andrews High teacher.
"I'm a firm believer that protecting the culture of indigenous peoples across the globe makes the world a richer place to live.
"It seems ironic that Sherpa people are known all over the world and yet are struggling to retain their way of life.
"I've been spurred on to help others understand their culture and beliefs and why they feel their true identity is struggling to survive. This was the impetus behind the documentary."
SHERPAS SPEAK
Sherpas – the guardian angels of the Himalayas, bravely dragging heavy loads up mountains while Westerners follow in their wake.
They are superhuman climbers, expert guides and porters who have adapted to living at high altitude, whose local expertise is invaluable for foreigners. Without a Sherpa, there is no expedition.
However, few people realise that to use the word "Sherpa" as slang for "porter" or "guide" is wrong. They are so much more than just that.
Descended from Tibetan heritage, the Sherpa community is an ethnic group, indigenous to the Himalayan region. They have their own language, music, set of religious beliefs, music, literature and indeed culture.
Sherpas, usually men, climb because they have to. It's not about fame or the buzz factor enjoyed by rich Westerners.
They risk their lives so they can move their families out of poverty. The lure of the money is strong.
More than 60 Sherpas from Phortse have summited Everest but sadly, 11 of these brave, bold heroes never returned home.
Many homes in the village were destroyed in the 2015 earthquake and without James's help, battling the inevitable bureaucracy and getting food, money and equipment to communities, many people would be homeless.
That Sherpa culture has changed, and is changing, is a given. Thanks to developing technology like helicopters, fancy climbing gear and satellite communications, the adventure industry is booming, and Sherpas have become more connected to modern life. Heck, there's even decent mobile signal at Everest Base Camp.
The results of this have been mixed. Sherpas have been able to make good money, but their culture and customs are at risk of becoming extinct.
Through Sherpas Speak, James's new documentary, he hopes to bring their story into the spotlight.
Sherpa leaders asked him to make the film after growing concerned about the loss of their traditional way of life, largely due to the pressures of tourism.
"If it wasn't for Sherpas, mountaineers like me wouldn't be able to go up the mountains," says James, who teamed up with BAFTA award-winning filmmaker Richard Else to create the film last winter.
"We wanted to tell the story from their perspective. Ultimately, the film is a moving portrait of a group of indigenous people facing an uncertain future."
Temperatures, even indoors, plummeted to as low as –25C and it was a five-day trek to get to where the filming took place, with equipment carried on donkeys.
"I'd made documentaries on Nepal for the BBC but to have Richard Else, a bit of a deity, on board, was mindblowing," says James.
"The documentary sees Sherpa people talk for the first time about the challenges facing them as an endangered ethnic group.
"We focused on the people of Phortse who argue limited employment opportunities force them to become high altitude porters.
"While the money is good, an accident or fatality can leave their families facing immense hardship."
Among the characters the film crew met was 94-year-old Tshering Lhamu, known as "granny" – the village's oldest inhabitant and of course, a Sherpa.
She lives alone and speaks about the difficulty of living in a tiny house where the only heating is a basic fire on which she also cooks.
There's no chimney and smoke escapes through a small hole in the roof.
"She slept outside, under a blanket, for three months after the earthquake because her house was at risk of collapsing," says James.
"She told us she doesn't get up, preferring to lie beside the fire because it's too cold out. My wife couldn't resist knitting her a warm Icelandic jumper."
While "granny" leads a centuries-old lifestyle, many families leave Phortse to seek better opportunities in Kathmandu.
But if they continue to do so, what will become of Sherpa culture?
The crew also met a 17-year-old girl who moved to Kathmandu aged 12 and sacrificed seeing her family to be educated.
"She met her gran for the first time in five years when she came back to Everest National Park during filming," says James, who reveals his charity just awarded her a three-year university scholarship as her father couldn't afford it.
There's also a village elder who refuses to move to Kathmandu because he strongly believes the community should stick together, and a young man who dreams of going to university but cannot afford to, and instead, has become a mountain guide.
We're also introduced to Sherpa Ang Tshering who's summited Everest three times. His house was destroyed in the earthquake and he spent the following bitterly cold Himalayan winter living in a tent. After an accident in the Khumbu Icefall in which he was lucky to survive, he now earns a living using yaks to take supplies further up the mountains to his family.
There's also Tashi Lama, who spent 18 years as a monk but recently opened a teahouse in Phortse to support his family.
James desperately wants to get the message across that education affords a way out of poverty, and by sending kids to good schools, especially in Kathmandu, and training teachers and nurses to go back to the Sherpa villages to teach there, he is making a difference.
"We need to employ Sherpa teachers because Sherpas have their own language and we'd like to teach them all aspects of their culture," he explains.
"Some speak three languages – English, Sherpa and Nepali – and Sherpa people have their own culture and beliefs, with books, songs and poems too.
"We want to help keep this culture alive. Sherpas are living on the edge and the culture is dying out. People are terrified it will become extinct."
PARALLELS
The similarities between Scotland and Nepal are striking – there's the beauty of each country's mountainous landscape for starters.
There's also the fact that Nepalese communities are popping up increasingly in Scotland, with students flocking to our colleges and universities. James reckons the parallels between Scotland and Nepal are strong. "Parts of Nepal are so like Scotland," he reflects.
"Where people are drawn from remote areas of Nepal to the bright lights of Kathmandu for education, employment and opportunities, in the Scottish Highlands and Islands, you see the same thing happening, with people leaving for cities or even abroad.
"In each instance, it can involve a loss of culture – the death of Gaelic, the decline of Sherpa. So it's about cultures under pressure.
"We need to ask what it would take to make people stay? Housing? Jobs? Better standards of living? Health clinics? Ultimately, we want the communities themselves to decide where the money goes."
Reports claim more than 5,000 Sherpas live abroad, with around 3,000 in New York. Many young people leave, encouraged by their parents, to seek a "better life", a less risky life, and an education.
James hopes Sherpas Speak can be used as a "example" for other cultures going through change, or facing extinction.
"If you look at Norway, the government want people to remain in remote areas so they've ploughed cash into helping such areas to thrive. It would be amazing if the Nepali government could take a similar stance.
"The film is a funnel to create interest and apply pressure on the government for backing."
MUSIC
Getting music legend Dougie MacLean and his son Jamie to make the film's soundtrack was the icing on the cake.
"I gave them some DVDs about Sherpas and brought back instruments from Nepal so they could play around with them," smiles James.
"Dougie, who lives just along the road, was happy to get stuck in and like me, he regards the film as a celebration of Scotland and Nepali cultures."
Best known for his stirring anthem Caledonia, Dougie says he and Jamie are "thrilled" to have written and recorded the original music from their studios in Butterstone.
"We tried to capture a feel of the stories of the Sherpa people interviewed and the challenges facing them, and a feel of the landscape," says Dougie.
"We incorporated the sound of instruments James brought from the village – a gong, finger bells and a temple bowl – along with our usual acoustic guitars, whistle, synths and percussion. It will no doubt be a memorable and very moving film."
The film has been endorsed by famous climbers Chris Bonington, Stephen Venables and Doug Scott, who James describes as "demi-gods".
"I arranged for Doug, the first Brit to climb Everest, to give a talk about his experience at The Everest Inn in Perth on November 26," he beams.
"All profits will go to his charity, Community Action Nepal, and of course my charity, The Little Sherpa Foundation."
Another exciting piece of news is that Tashi Lama, the monk who co-founded the trekking agency and charity with James, will be at Doug's talk and of course, at the Scottish premiere of Sherpas Speak – at Dundee Mountain Film Festival on November 30.
James hopes the film, as well as raising awareness of Sherpa culture, and in turn, the need for financial assistance, will attract more tourists back to Nepal.
info
Sherpas Speak was facilitated by multi-award winning filmmakers Richard Else and Margaret Wicks and James Lamb from The Little Sherpa Foundation with an original soundtrack by Dougie and Jamie MacLean. thelittlesherpafoundation.com
It will be shown first at Dundee Mountain Film Festival, dmff.co.uk, on November 30 and then at Kathmandu International Mountain Film Festival in 2020, with hopes the BBC will then broadcast it.
A mystery donor provided all funding to finance the film.
And some more…
James gave a presentation about his work at the Embassy of Nepal in London in January and was invited back in September.
Keen to strengthen bonds between Scotland and Nepal, he attended the Queen's garden party at Holyrood Palace in June, in recognition of his efforts.
James's talks for the Royal Scottish Geographical Society (RSGS) triggered great support. The Nepalese ambassador and Prime Minister clamoured to meet him, and various rotary clubs across the UK and Nepal donated thousands to the cause.
Another major financial backer was Nepalese entrepreneur Pashupati Bhandari who owns the Everest Inn chain.
James worked with award-winning architect Murray Kerr who has designed affordable eco-friendly houses – and a guest house – which can withstand earthquakes.
Ullapool-based artist James Hawkins donated money from the sales of his paintings of the Himalayas to the disaster-stricken communities.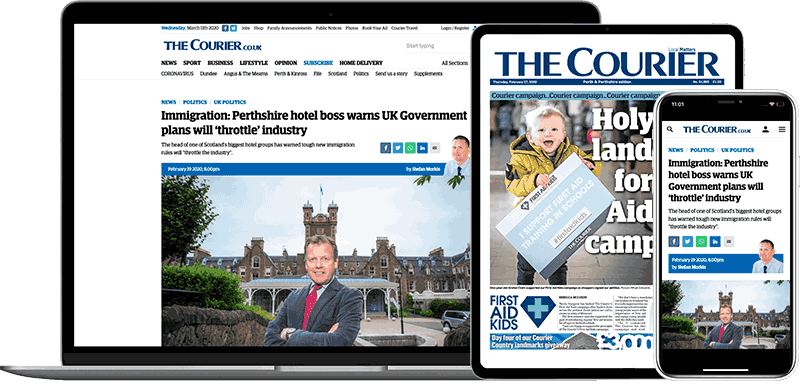 Help support quality local journalism … become a digital subscriber to The Courier
For as little as £5.99 a month you can access all of our content, including Premium articles.
Subscribe