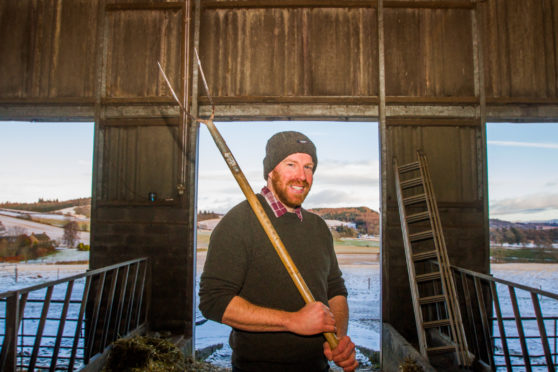 Three top Scottish comedians gave The Courier their take on the classic Christmas tale. Gary McNair, Farmer Jim Smith and Janey Godley all took up the challenge of writing their own Christmas story for Courier readers. As Gayle Ritchie says, Farmer Jim Smith's take has a typically rural flavour.
It was Christmas Eve on Fermer Jim's farm and all was quiet. The first snow of the year had started to fall just as nightfall began and by near midnight the countryside was covered in a thick white carpet of snow. All was quiet but there was a light on in Jim's byre as he had just helped to calve one of his favourite old coos, Mary-Doll.
She calves faithfully like clockwork every year on Christmas Eve and as Jim watched the new calf get up on its feet and start to suckle, he couldn't help thinking it was like some type of Nativity scene as the other cows watched on, along with Eric the Tup, Floss the dog and a couple of very relieved turkeys.
Jim was happy, and could now finish wrapping the wife's Christmas present, which he once again made himself in the workshop. He would have had it wrapped by now but had to wait for the red oxide paint to dry.
Just as he was about to head for the house he could see what appeared to be a bright light in the sky. For a minute he couldn't work out if it was actually in the sky or if he was just suffering from welder's flash (there was a slight hole in his welding mask). The light seemed to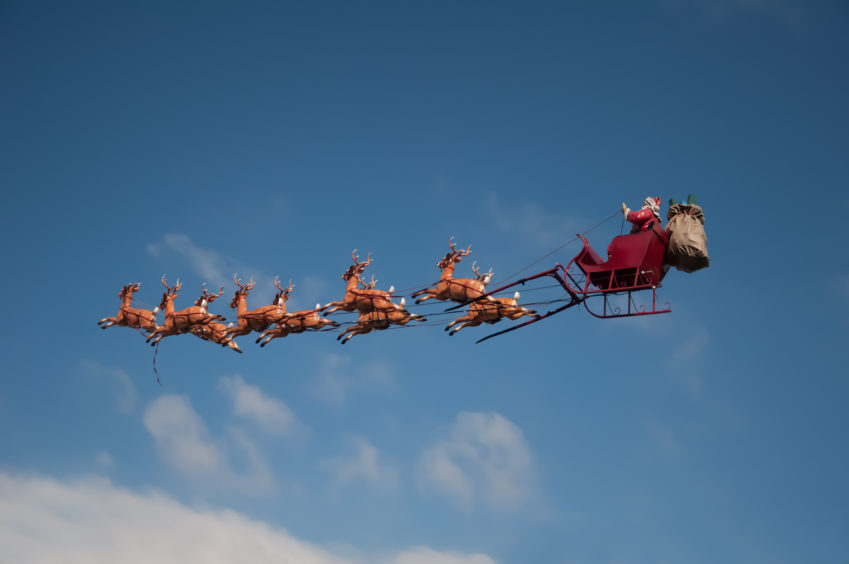 heading towards the ferm and getting lower and nearer.
Suddenly Jim heard the phrase: "Watch oot, min!" from the light as it flew over his head, narrowly missing the byre roof and crashing into the hay shed.
Jim cautiously shone the torch into the shed and could see nothing but straw and a few hens flapping about. Then, underneath the straw, a large man in a red suit jumped out and said: "Oops, sorry aboot that".
"Santa?" asked Jim.
"Aye it's me. Sorry aboot yir hay shed," he said. "I think one of the reindeers has had too much bruised barley and is actually drunk, and I think I've broken a bit on my sleigh when we crash-landed. Ah dinny ken what I'm gonna dae noo tae get awe the wee bairns' presents delivered on time!"
"Well, yir in luck," said Jim, who was relieved the intruder was friendly. "It just so happens I've got a very similar sleigh that I'm breaking for spares that I bought at a ferm sale at Kirriemuir a few years back. Most bits have been robbed but I'm sure I've got the bit yi need."
"Braw," said Santa. "But what aboot my drunk reindeer, Blitzen? There's no way he's in any fit state to pull a sleigh."
"Well, if Blitzen's blazin' I could give you a lend of one of my limousin cross stirks," said Jim. "I've got one that was meant to be going to the mart at Forfar but it's stone-mad and can clear a gate with a foot to spare so I'm quite sure it'll manage to haul a sleigh, plus it's still got its horns so it kinda looks like it's got antlers."
Fermer Jim and Santa pulled the broken sleigh out of the hay shed with Jim's auld tractor and after half an hour in Jim's workshop they had it patched up and ready to go with the limousin stirk harnessed in with the other seven reindeers while Blitzen slept off his hangover next to the newly calved coo in the byre.
Afore Santa set off, Jim gave each of the reindeers a basket of cut neeps, Santa a cheese piece and a flask of tea, then placed a five gallon drum of red diesel in the boot of the sleigh just in case Santa ran oot afore he got hame.
"Well, I better be off," said Santa. "I've still to deliver to the Americas, Central Europe and the Black Isle afore I get tae ma bed, but thanks very much Jim – you've saved Christmas."
"Nae bother at all, min," said Jim. "Glad tae help. Let us ken how you get on wi that stirk. Oh and watch oot for the reindeer farting after eating awe they neeps."
"Will do," said Santa. "That's why I have a big beard." Santa shook the reins and off the reindeer went down the farm road and just as they hit 85 miles an hour they took off and disappeared over the Grampian Mountains.
Jim popped his head back into the byre to see the cow and calf snuggled up together in their pen, and the bull was eyeing up the drunk reindeer. As he drew the door shut, Floss was playing in the snow and Jim was content… until he realised he had left his adjustable spanner on the back of Santa's sleigh.
"Damn it" said Jim, and went to bed.
About Jim Smith
Perthshire comedy farmer Jim Smith – aka Fermer Jim – brings tales of rural life to audiences across the UK via his inimitable style of "teuchter humour".
The 40-year-old started doing stand-up in 2012 and since then he's been gigging up and down the country – from the Hebrides to Newcastle and the Edinburgh Fringe.
He has also made (and continues to make) a series of comedy farm diary videos for BBC Scotland and played a small role in the sitcom Scot Squad.
His dream is to play the 13,000-capacity Hydro arena in Glasgow but his favourite thing ever is to play intimate, rural gigs.
Promotional materials bill Jim's comedy as "Countryfile meets The Only Way Is Essex, with Jim using characters, regional accents and impressions to help explain to city slickers what the outside world looks like through the eyes of those that 'bide up the glen'."
Hot topics include internet dating for farmers, village nightlife and how to pimp your Land Rover.
l Catch Jim's new episodes of The Farm on BBC iPlayer, bbc.co.uk