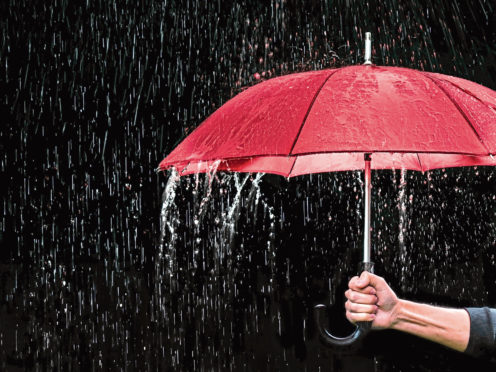 Rab's got all the gear, the wellies and anorak, to be a true lover of nature, but there's just one obstacle to this enlightenment – summoning the will to get through the front door into the rain.
I am a fool. No, I am. It's kind of you to protest so vehemently. But here is the proof. As you know, I'm an anorakophile. I research these garments thoroughly before purchasing, checking their weight, practicality and in particular their hoods, as I'm mortally opposed to toggles, preferring a hood that just fits the average heid, not too loose, not too tight (the hood I mean, not the heid).
But it isn't just anoraks. There are trousers, overtrousers, boots, pullovers, fleeces, woolly hats and gloves, all carefully chosen, all wonderful in their own way.
And yet on many winter days hitherto I have looked oot the window and said: "Ah'm no' goin' oot in that. It's raining."
Did you ever hear the like? I buy all that gear to be warm and dry and snug in the rain, and I never go out in it. To be fair to me – well, somebody's got to be – I think we all look for excuses not to go out for a walk.
It's the oddest thing, because we never regret going and often have wonderful experiences out in nature. But, somehow, we never remember this in the same way we remember good food and drink, pleasurable experiences that we're keen to repeat.
Well, one day, I decided I had to get oot. I'd been pent up in the hoose (hey, it was a penthoose!) for days and needed to stretch my legs, breathe in the air and stop getting so fat.
So, I got suited and welly-booted and off I went.
Folks, I loved every minute. I never saw one other soul, neither in the village nor in the woods nor aboot the old ruined castle. I stravaiged hither and, feeling emboldened, I even stravaiged yon. Occasionally, wee birds flittered joyfully across my path, like something from Disney, and I felt at one with the world.
Once I'd worked up a fine pace, I was roasting in my specially chosen gear. Occasionally, I unbuttoned a stud or two, and even took my hood doon (at risk of anybody seeing me; another problem with hoods and hats is that they mess up my plentiful thatch).
Best of all, I loved the wind. I know it's a cliché but I do appreciate a decent zephyr in my hair (or face if my toggle-free hood is up).
It makes me feel wild and free, even if we all know I'm really domesticated and timid.
When I arrived at my favourite spot, I stood looking out over the choppy sea, unable to make out the mountains across the sound.
A little bird soared and made itself prevail against the wind and rain, and I thought that – whatever the privations of hunger (though not in my garden) and predators (ditto if I could get a hold of the blaggards) – a wee bird's feeling of flying must be wonderful.
Such joy concentrated into short, little lives.
As darkness fell, I waddled swiftly home. I'd promised myself a warming dram before dinner, and both of these I duly had.
I felt good about myself and grateful for the chances I get to be a free spirit, even if not a particularly daring one – and even if I cannot fly, which must be the most liberating experience possible.