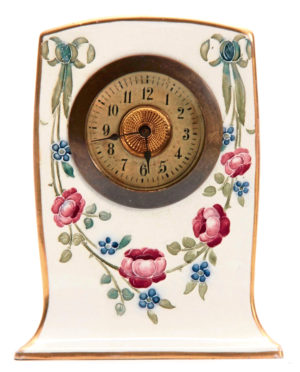 Lot 48 in this weekend's New Year catalogue sale at Hutchinson Scott auctions in Skipton, Yorkshire, is a rarely-seen Moorcroft mantel clock with strong Dundee connections.
Made by James Macintyre & Co of Burslem and designed by William Moorcroft, the clock is 5.5 inches high, with a pretty ribbon of pink and blue floral decoration on a white ground, above a gilt-edged flared base.
Below, it carries the familiar William Moorcroft written signature in green alongside the three-line printed mark "Made for/Frains Ltd/Dundee".
This, I confess, is in the lower reaches of Frain's marks. In their pomp, the Dundee firm smothered their retailed pottery with a spectacular transfer-printed view of their huge Castle Street emporium.
W Frain & Co was probably the best-known haunt for those looking for dinner services or giftware in late Victorian and Edwardian Dundee. It proudly stamped "The House for Choice" and "Frains Goods Known Everywhere" on its range, and in 1921 became the only Scottish branch of the famous Lawleys of Regent Street.
Frain's sought out the princely top names of porcelain makers. I have seen its mark adorning the creamy tableware from factories dotted around the Limoges region of France and on the output of top English firms.
The clock – which I haven't seen before – carries a pre-sale estimate of £300-£400.
In the same sale is a Frain's of Dundee Macintyre Burslem two-handled, tapering vase, again designed by William Moorcroft.
This has a multicoloured pansy spray decoration on a mottled green and cream ground, and carries the higher estimate of £400-£600.
I think the auction record for a Moorcroft vase stands some distance from this, at £22,000!
Picture: Dundee-retailed Moorcroft (Hutchinson Scott Auctions).