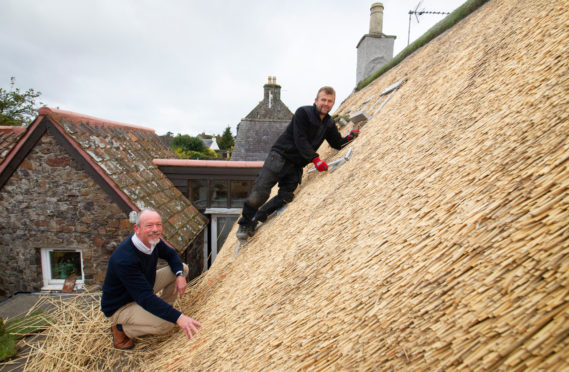 Thatched buildings form an iconic part of Scotland's heritage. But what place do they have here in the 21st Century, asks Gayle Ritchie…
Nothing evokes the charm of the British countryside quite like the humble thatched cottage.
Today, these idyllic, snug-roofed buildings can be found all over Scotland in various states of repair, and sadly, disrepair.
That may come as a surprise to many who had rather imagined the chocolate box homes to be a feature of the rural English landscape, as opposed to that of Scotland.
The sad truth, however, is that historic thatched buildings are becoming increasingly rare in Scotland.
In 2016, the Society for the Protection of Ancient Buildings (SPAB) and Historic Environment Scotland (HES) published a record of the 305 examples believed to be surviving, with some in Tayside and Fife.
So, what happened to thatch, and how is its future looking?
ANCIENT CRAFT
As the first waterproof roofing material used in Scotland, thatch can be dated back as far as the Bronze Age.
Historically sourced from whatever materials were cheap and locally available, it's one of the most harmonious roofing materials, blending naturally into the surrounding landscape.
Country dwellers often used long-stemmed plants like reeds found along the Tay, or straw. heather, bracken, broom and marram grass.
The plants were dried out, bundled together and piled up to create a robust roof that sloughed off rain and kept houses cool in summer and warm in winter.
Reasons for the loss of thatched buildings are complex. The rural landscape of Scotland underwent a period of rapid change during the late 18th and early 19th centuries and previously common vernacular building types disappeared as housing standards improved and rural populations declined.
By the end of the 1790s, thatch in Scotland was increasingly confined to poorer rural communities and agricultural structures.
It didn't help that the fire risk posed by thatch made it undesirable and sometimes illegal in towns, further increasing the association with a class divide between urban and rural populations.
It was also regarded as high maintenance thanks to its perishable nature, and consequently many buildings were abandoned. Because they were built of organic material and needed to be regularly maintained and heated to stave off decay, they quickly deteriorated.
In more remote areas, the local traditions of thatching continued well into the 20th century but, even to Victorian visitors, thatched buildings had largely become a nostalgic symbol of a bygone age.
As cheaper and more durable roofing materials – slates, tiles and corrugated iron – became more widely available, thatched buildings increasingly became regarded as sub-standard and were replaced with more modern housing.
THATCH TODAY
Once thought to be a poor man's roof, thatch has come to be regarded as a rich man's. Why? Because when you take one on, you also take on a load of costs.
Roofs need to be replaced or rethatched every few decades, and that could cost anything from around £16,000 to £50,000 and beyond, depending on the size and type of material.
You'll need to employ the services of a qualified thatcher – thin on the ground these days and not exactly going cheap.
The postcard-perfect buildings are deemed a high fire risk, so you'll need to up your home insurance, too.
It's perhaps no surprise then that many people regard the prospect of buying a thatched home with a suspicious eye.
But wouldn't it be a crying shame to allow those that do indeed remain to crumble and rot to the ground?
Matthew Price, Fife Council's conservation officer, believes so.
"Thatched buildings in Scotland are part of our rich, diverse built heritage and contribute to our sense of place and regional distinctiveness," he muses.
"Their increasing rarity and vulnerability is what makes them special.
"However, within a generation or two, thatch can disappear if neglected."
Matthew reckons more funding should be pumped into conserving thatched builds, plus support for reinstating "lost" thatched roofs and promoting the building of new thatched homes. "The bottom line is we need more money because some thatched builds are quite literally hanging on by a thread."
Indeed, the 2016 report – A Survey of Thatched Buildings in Scotland by HES and SPAB – was an important step in identifying the state of remaining thatched buildings so that funding, training and support could be directed where it is most needed.
"Thatched builds are highly sustainable and energy efficient, create work for skilled crafters and blend harmoniously into the Scottish landscape," says Matthew.
"They provide a real insight into the craft skills and traditional practices of our past."
"It's important to ensure the availability of grants and provide support for owners to maintain these distinctive and beautiful buildings."
Colin Tennant, head of technical education and training at HES, says since the landmark 2016 survey, the body has been working closely with landowners, building owners and craftspeople to inform discussions on how to conserve thatched buildings for future generations, whether through skills training, technical advice or different funding approaches.
Matthew Slocombe, director of SPAB, refers to thatched buildings as "quintessentially Scottish" with "immense" historic value.
"Yet perhaps because they are humble working structures or perhaps because of the very way they were built – lying low to protect and shield their former occupants – we have allowed them to slowly vanish from the radar," he laments.
"The survey plays an important part in helping to safeguard and understand these valuable and iconic buildings."
Sounds encouraging. But Matthew reflects that some people believe thatched homes are difficult and costly to maintain, perhaps becoming quickly infested with pests and catching fire easily.
"Where thatch has been lost, people are not always aware their home was once thatched and could be once again," he says.
"It's also the case that the use of thatch for new buildings is not often considered an option due to prejudices and misconceptions."
TAY REED BEDS
The Tay reed beds at Errol – once the largest in the UK supplying many thatched buildings locally and beyond – ceased to be commercially harvested in 2005.
They are said to have once produced 40,000 bundles a year annually for thatching.
With the demise of Tayreed Company 15 years ago, cutters in Norfolk became the last in the UK to work reed beds, while the majority of reed used these days is imported cheaply from Eastern Europe.
As the last person to harvest the Tay beds commercially, Graham Craig made a good living supplying reed to thatchers for 40 years.
These days, he advises RSPB Scotland, which took over the management of the Site of Special Scientific Interest, on how best to maintain it for a wide range of important species, notably the bearded tit.
"For decades, I was cutting large areas of reed for thatching but these days, it's just small pockets," says Graham.
"It's done these days more for conservation than commercially – there's still a demand for it on heritage projects."
Back in the day, Graham's reeds went worldwide – he even sent some to Madonna!
"A guy filled a lorry with them and went off to America to thatch Madonna's summerhouse," he recalls. "I never did get to hear what she thought of it!"
The good news is that the Tay reed beds are once again being cut – to create a mosaic of habitats, ensuring different ages of reed suit the needs of a range of wildlife species.
The cut reed is a by-product which can be used for thatching, but it's being cut on a very small scale.
Following the 2016 survey, HES have agreed to help financially support RSPB with the cutting of reed along the Tay. The body is also investigating how to support the production of raw materials in local areas to stabilise supply, and reduce reliance on imported or inappropriate material.
CASE STUDIES
Right now, in 2020, thatch is still being used in prestigious new homes across Scotland, notably in the Outer Hebrides, and is being lovingly maintained in some surviving examples across Tayside and Fife.
I was lucky enough to witness the rethatching of Pam Gillespie and Robin Morris's modest B-listed 18th century, single-storey, cottage on Auchtermuchty's Bow Road.
Of the 40 thatched buildings in Auchtermuchty noted in a survey in the 1970s, it alone survives.
Last thatched in 1991, the retired social care professionals got a grant via HES to help them with the costs of rethatching.
"We've always lived in quirky old places," says Robin, who reveals the couple moved here from Culross five years ago.
"I remember seeing lots of thatched buildings when I lived here as a boy. Now it's all slates and pantiles."
Pam and Robin admit they deliberated "getting rid" of the thatching. "We thought rethatching would be terribly expensive, but it turned out to be just over £12,000, and we got a grant for 50% of that, so it was affordable and well worth it to keep thatch alive," says Pam.
Indeed, HES continues to support thatch maintenance through the historic environment support fund, and this year have grant-funded a range of thatching activity across the country.
Cheshire-based master thatcher Peter Brugge and his apprentice Tomasz Obara are "combing" the thatch and completing the turf on the ridge during my visit.
Peter says while demand is "steady", with many thatched cottages being restored and turned into holiday cottages, many are also being "lost".
Recently, he's worked on homes in Aberfeldy, Kinrossie, Bridge Of Earn, Glenisla, a summerhouse at Cupar and many years ago, a boathouse near Kinross.
"Some of our biggest jobs have been in Scotland, such as the thatching of a new property in Helensburgh, a roof at Gifford in East Lothian, another at Killearn and one at Drymen, both in Stirlingshire," he says.
"We thatched Loch Tay's crannog in 1996, plus new holiday cottages at Oban and on Skye. Our next project is rethatching Burns Cottage at Alloway."
In terms of sourcing reed, Peter hopes more can be cut at Errol.
"It seems crazy to bring reed in from Europe to thatch blackhouses on Lewis!" he says.
While the spotlight has been on thatching museums and older listed properties, Peter believes more needs to be done to promote new-build thatch.
"Conservation is about looking to the future, not just the past," he says.
Other local examples of thatched buildings can be found in impressive A-listed Moncrief House in Falkland, built in 1610 and rethatched in 2018, and the stunning reed-thatched "arts and crafts style" planned estate village of Fortingall near Aberfeldy.
The village of Glamis in Angus boasts a beautiful thatched cottage, built in 1745 and known as the White House. It was last rethatched in reed in 2010.
There are also a cluster in the Fife village of Collessie.
THATCH'S FUTURE?
Thatching is a craft that requires a wide variety of skills.
The challenge for the industry is giving the next generation of aspiring thatchers the best possible training and experience.
However, while grants are available from HES to owners of historic thatched properties to help towards the cost of maintaining roof structures, there are limited training opportunities. The result of this is that there are just a handful of thatchers practising in Scotland.
The continued use of thatch will therefore only be sustainable if local materials can be accessed affordably and the necessary skills can be found at a price that is viable for the building owner, supported by heritage agencies.
There is good news, though. This year, HES will be supporting a Thatching Craft Fellow in collaboration with the Highland Folk Museum in Newtonmore. He or she will learn a variety of thatching techniques and work towards an SVQ in Thatching.
And on the back of the 2016 survey, HES is developing an action plan to prevent further loss of thatched buildings and to support their conservation.
This includes a nationwide review of listed thatched buildings, with several being upgraded to category A status, reflecting their rarity and importance.
Without action now, it's likely thatched buildings will soon be confined to open-air museums and holiday cottages.
However, with concerted action and dedication, there's a chance to reverse this decline and avoid the preventable loss of a beautiful and distinctive type of Scottish vernacular building.
info
Historic Environment Scotland have produced two films about thatching in association with the Highland Folk Museum, which you can view here: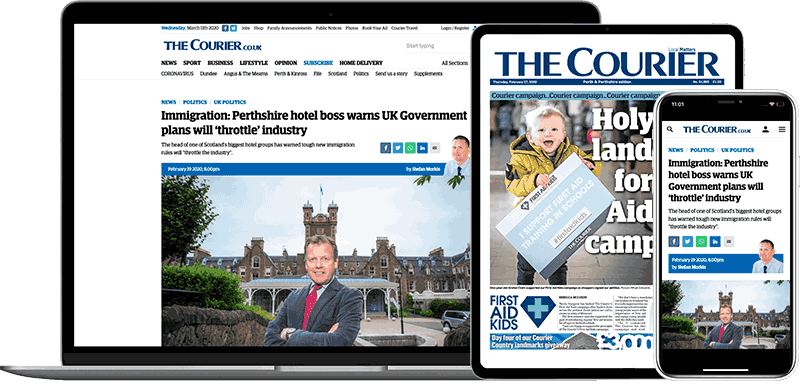 Help support quality local journalism … become a digital subscriber to The Courier
For as little as £5.99 a month you can access all of our content, including Premium articles.
Subscribe