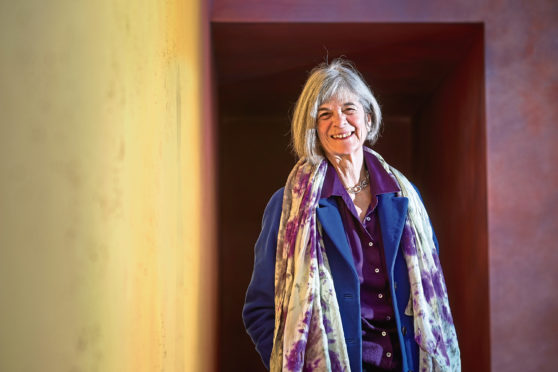 The new head of the DCA Board, Jacquie Roberts, makes sense of the connection between social work and the arts. She's got a lifetime of love and work invested in both, and there's more to come, as Gillian Lord discovers
As the neurologist crossed the bridge, he fell in love. The River Tay sparkled in the sun, the city sprawled against the hills, beneath blue sky. He was enchanted. He told his wife he didn't want to live anywhere else, and that is how Jacquie Roberts came to live in the City of Discovery more than two decades ago.
"Where is Dundee exactly?" Jacquie's London friends asked.
What would she and her two young children would make of the place that had captured her husband Richard's imagination so, on his way to a job interview at Ninewells?
Jacquie and her young children, Charlie and Ellie, arrived in Dundee in 1986, just weeks after the RRS Discovery was delivered from St Katharine's Dock. Her first impression of the city was "there's so much sky".
Jacquie Roberts, MA, MSc, OBE, CQSW, DL Biography, is the new chair of the board of the DCA after a long and celebrated career in social care, with a specialism in child protection research and practice. She was awarded an OBE in 2010 for her services to social care in Scotland. Now retired, she was also appointed deputy lieutenant for Dundee city last year.
An elegant, vibrant polymath, Jacquie says she is a "film addict" who sees everything going, and pretty much lived at the DCA before she got this gig anyway. She also did a Masters in film studies at St Andrews when she retired.
She describes herself as a "very visual" person who loves looking at things, loves art exhibitions, and is always "going to things". She's not sure if she's creative herself, but says she's soon to try her hand in the DCA Print Studio.
She makes sense of the links between social care and the arts, and arts administration. She's always been interested in getting the best out of people; art brings the best out of people, and the DCA is open and accessible to all.
"Everyone can come," she says, more than once, almost in wonder.
But let's go back to where Jacquie Roberts came from.
After a degree in Latin, Greek, Philosophy and Ancient History, she went into social work because she realised in all her studies "there were people in there."
She began working with troubled families, including children, before moving to managing children's services, then services for older people. She was director of social work in Dundee in the late 1990s, and in 2001 she was appointed the first chief executive of the national social care regulator, the Care Commission. This she helped shape into the Care Inspectorate, of which she was interim chief executive, before she retired.
Jacquie Roberts is defined by the kind of achievements motivated by both compassion and passion. Her career is noted for extensive research into the causes, effects and survivors of abuse. She's also linked this to art and accessibility. When she won a prize for her work, the Fidelio (named for the only opera Beethoven wrote), which was presented to her by the Queen of Belgium, Jacquie gave her prize money to Dundee City Council to give opportunities to children whose families can't afford to support their talents.
Her journey from social work to chairwoman of the DCA Board is a short leap. With her experience of running large organisations she brings administrative strengths as well as a great knowledge of the arts, and even fundraising.
While the beauty of the DCA is that it's free to enter, the challenge is to keep it alive, sustainable and relevant into the 22nd Century and beyond. It's an integral part of Dundee's social and cultural life, a world-class institution much loved by the locals who visit it most.
Of course the ripple effect of the V&A's opening has been of great benefit to the DCA, Jacquie says, and she is part of a drive to connect the dots between Dundee's institutions and attractions, to encourage visitors to stay longer.
It makes sense. Along with the DCA and V&A, we have the McManus, Verdant Works, Dundee Rep, the Museum of Transport and RRS Discovery, all within walking distance.
You need a few days just to take those in, before you've even stepped beyond the DD1 postcode. The trick, as all arts and culture institutions know, is to keep prices affordable, the quality high, and the interest of an audience.
Jacquie and husband Richard travel and enjoy their time in the city they love. She loves that she can walk to the beach, walk to world-class art exhibitions and theatre productions, that it's all within such easy reach.
She is a keen swimmer at the Olympia Leisure Centre, Richard is a keen skier, and they both love hiking. Life is full. There is son Charlie, a medical graduate of Dundee University, to visit in California; daughter Ellie runs a boutique hotel in south London.
Looking back to her days as a young mother in a new city, she remembers strangers helping her to get the children on to the bus. She remembers that people were kind. She says sometimes friends ask if they'd consider moving.
"Why?" she asks, surprised. "Why would I ever leave?"