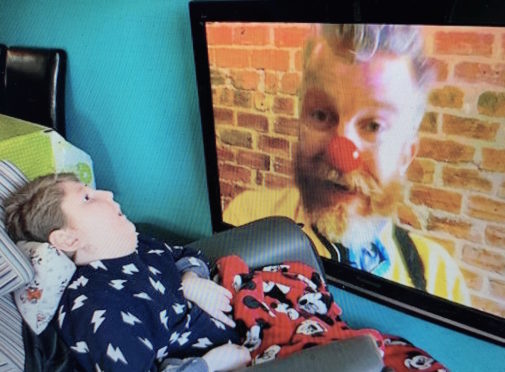 Meet the Clowndoctors and the Elderflowers – they're not letting lockdown stop them from bringing laughter and joy to sick children and adults with dementia​, discovers Caroline Lindsay.
They say laughter is the best medicine and what better way to cheer up poorly children than by sending in the clowns?
In 1997 a group of Edinburgh-based artists decided to bring The Big Apple Circus concept of Hospital Clowning to Scotland.
Using specialist clowning skills and taking on the characters of hospital doctors, the group put on red noses and adopted funny names to make the children smile and laugh.
From this small but heartfelt start, the charity Hearts & Minds was born.
Since then, countless children in hospitals, hospices and respite homes across Scotland have enjoyed the antics of these zany characters.
Of course, lockdown has put a temporary stop to the Clowndoctors' visits but if you thought that would stop them, think again. They're delivering LIVE online – virtual visits and personal messages which are going down a storm with the kids, their parents and carers alike.
Rebecca Simpson, CEO for Hearts & Minds, explains: "We use the art of therapeutic clowning to bring joy and laughter to children in hospital, hospice care, and Special Educational Need Schools and to adults living with dementia in residential care across Scotland.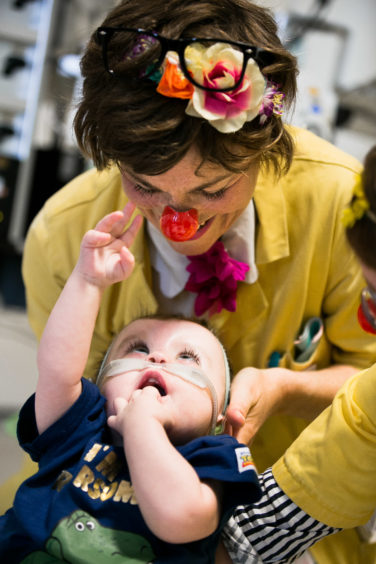 "Playfulness, empathy and kindness are at the heart of everything we do," she continues.
"We deliver two programmes, The Clowndoctors and The Elderflowers, and we use professional artists who are specifically trained to use clowning in the environments we work in and with the people we visit.
"We believe that meaningful human connection is vital for wellbeing, and that this is especially important when we are at our most vulnerable.
"Through the art of therapeutic clowning we connect to people's humanity and transform experiences of adversity to ones filled with lightness and joy."
The Clowndoctor programme usually visits around 17 locations across Scotland every week and they work in close collaboration with healthcare and educational staff to develop partnerships that have a huge impact and benefit for the children and people living with dementia.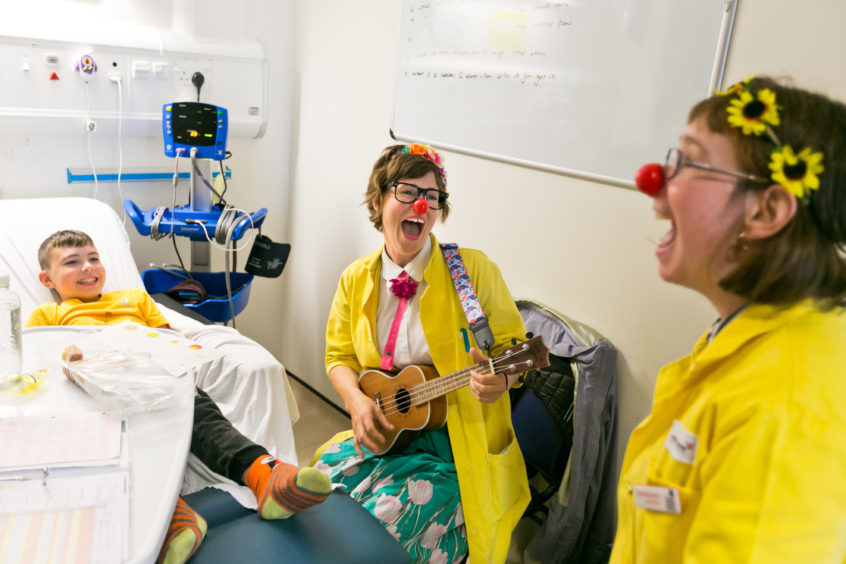 Rebecca reveals that the coronavirus crisis is a two-edged sword for the charity.
"The positive side is that is has enabled us to work in new ways, be innovative, creative, still reach people and develop a whole new programme, all of which for an organisation full of artists is very exciting and we have embraced it fully," she says.
"However, as with a lot of charities across Scotland, there is a negative side.
"The loss of funding and uncertainty of funding makes this a very worrying time but with the demand for our new digital programme being high we are determined to continue delivery and support the children, families, adults living with dementia and our partners during this time.
The Clowndoctor and Elderflower visits are face to -face and often interactive, so when the Covid-19 crisis hit and visits to locations were paused the charity faced the challenge of staying connected.
"Whatever came next we knew that we wanted to maintain the human connection that is vital to our work," says Rebecca.
The Hearts & Minds team sprang into action and over a couple of weeks developed an online campaign.
"We decided that with the help of our partner organisations we could deliver LIVE online virtual visits beamed direct into the hospital, hospice, school or unit," she says.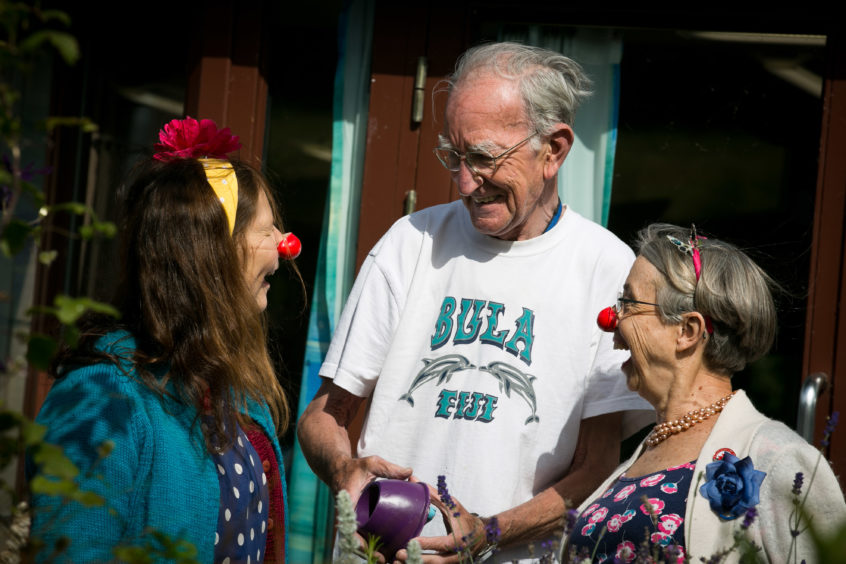 "We were very excited when we got the offer to partner with Children's Hospices Across Scotland (CHAS) and be part of their Virtual Hospice.
"This has enabled the Clowndoctors to still visit children and families live online for their weekly session at the two hospices, Rachel House and Robin House, and still deliver, fun, laughter and lots of smiles at a difficult time for everyone.
"We are also working with Melburn Lodge in the Borders to sustain our Elderflower visits and ensure that we are sustaining that relationship," she continues.
"We have also been providing personalised videos for children who are now completely isolated due to their medical conditions, providing them with some light and joy."
So how does a virtual visit work?
"The new Clowndoctors on Call and Elderflower Visits has three strands which we hope will reach as many children, families and units for adults living with dementia as we possibly can and help deliver a smile," says Rebecca.
"There's the Virtual Clowndoctor Visits and Elderflower Visits beamed live into the unit; then there's a series of short films by the Clowndoctors and Elderflowers suitable for anyone aged six to 106!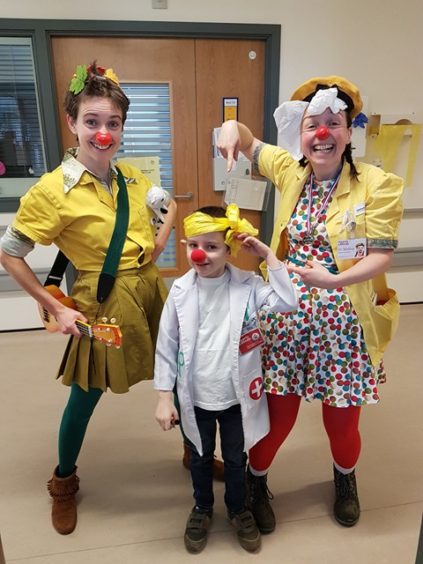 "And thirdly, the Personalised Clowndoctor Messages which can be requested by parents or healthcare staff.
"The reaction to the LIVE digital programme has been quite overwhelming and it is fantastic to see we can still keep in touch and share moments of joy," she smiles.
"Parents have been sending us in videos of their child watching their personalised videos and the reactions are simply beautiful, watching the happiness spread over their face is a very magical moment to watch.
"During live visits our artists engage with the child, family, adult and combine different art forms and fun including music, song, play, miming, games, role play and magic.
"They create a safe place where the child or adult can interact physically or simply relax and enjoy.
"However, our Clowndoctors and Elderflowers are looking forward to when they can get back on the wards and into the classrooms and bring happiness into the lives of the children and families."
One Clowndoctor, Fiona Ferrier (Dr Spritely), took part in the first virtual visit and says: "As Clowndoctors we normally connect with children in the same, shared space but online the challenge is connecting from the different spaces with a little portal into each other's space.
"We're adapting and learning quickly that, despite its limitations, an online visit through a camera has lots of possibilities and finding immense joy in passing fun through the camera."
Nine-year-old John Paul Rooney had a virtual visit with his Clowndoctor at his home where he is isolating as he has chronic renal problems. He has been in and out of hospital all his short life and he loves the Clowndoctors.
"They make me laugh when I'm in hospital when I'm not well. They make me forget I'm in hospital. I love them that much I want to be a Clowndoctor," he says, while John Paul's dad, Frank, adds: "The Clowndoctors interacting with John Paul at home gives me, as a parent, some me time and helps John Paul when we are isolating at home.
"It has taken it to a different level and it's really great for John Paul."
Rebecca has the last word: "Laughter builds resilience, lightens the mood, reduces stress and releases the happy chemicals in our body, but most importantly it forms connections and creates happy memories and moments – all of which are important but especially so at the moment.
"If we can laugh, we can smile, we can feel positive, have a holiday moment, create fond memories of these time in amidst all the worry and look after ourselves mentally and physically.
"Laughter can bring people together and form connections that are vitally important especially at a time when we are all feeling isolated."
If you'd like to donate to Hearts & Minds, organise your own fundraiser or adopt a Clowndoctor, visit heartsminds.org.uk to find out more.