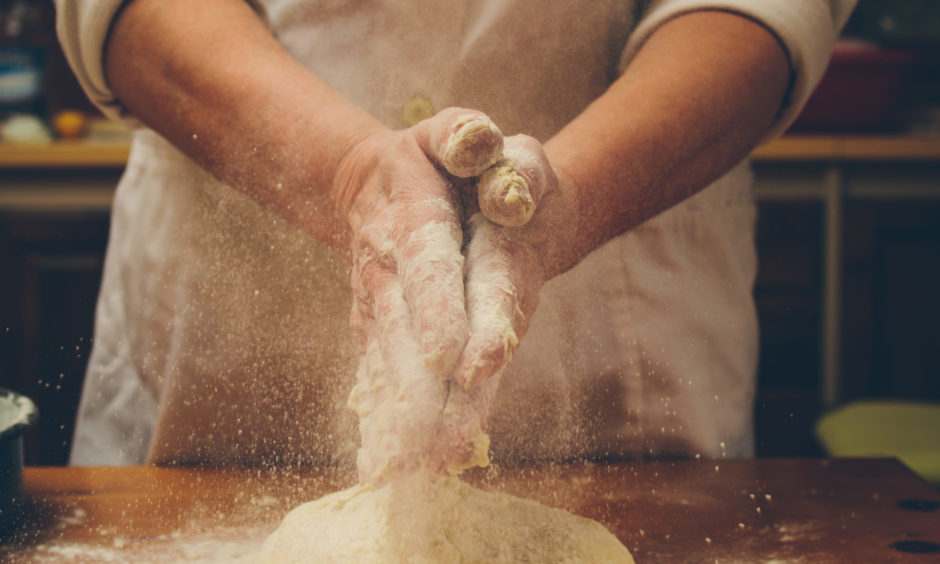 As lockdown life becomes normal life, Murray Chalmers joins the club, and starts baking his own bread.
"What's real and make-believe? Baby Jane's in Acapulco, we are flyin' down to Rio."
Recently, as our minds do indeed try to work out what's real, I've been playing a lot of music from my adolescence, including Roxy Music's first single Virginia Plain – memories of travel, glamour, escape and happy days of freedom. It's not just me.
During this protracted lockdown one of the most heartening human things has been people sharing their memories and old photos online, to the degree that "Throwback Thursday" has become every day of the week. It figures.
Just as we've lost the intrinsic ability to mark certain days of the week through familiar responsibilities and actions, we've also tuned our minds into retro mode and turned our homes into fortresses.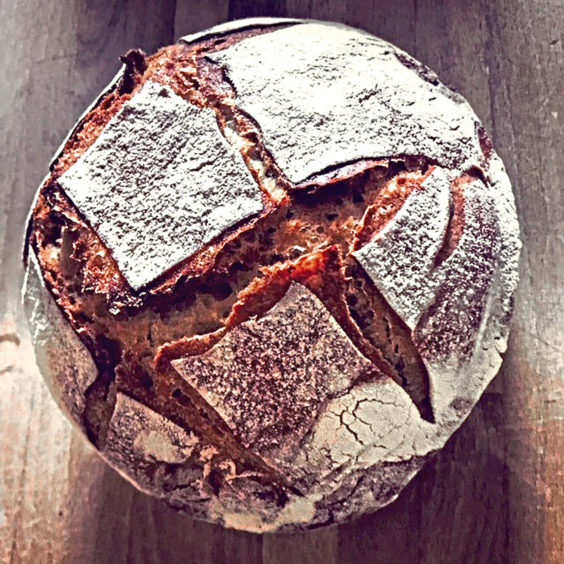 Our house is now a place where a potential intruder isn't so much after our valuables but must be seen as a possible threat to life. As such, happy memories have been crucial in offering us a sanitised promise of an untethered future where it's summertime, the living is easy and it's not just young hearts which run free. Bring it on!
Although a lot of people have found lethargy to be their defining mood of lockdown – busy doing nothing has never killed more time – many of us have taken solace in cleaning and baking. Again, it makes sense; a basic desire for human life to continue has meant battening down hatches we never knew existed and manically trying our best to banish anything unwanted, hazardous or extraneous from our messy lives.
"The science", that nebulous being which has been such a handy prop for our Westminster leaders, has only led most of us to conclude that the distinctly unscientific term "winging it" might seem more appropriate to the modern age of grand illusion. Science and winging it formerly made unlikely bedfellows, what with science normally being an absolute and winging it being the mark of a chancer – but now we just don't know which discipline to trust; the mystery of science or the authoritarian yet strangely inconclusive smack of government.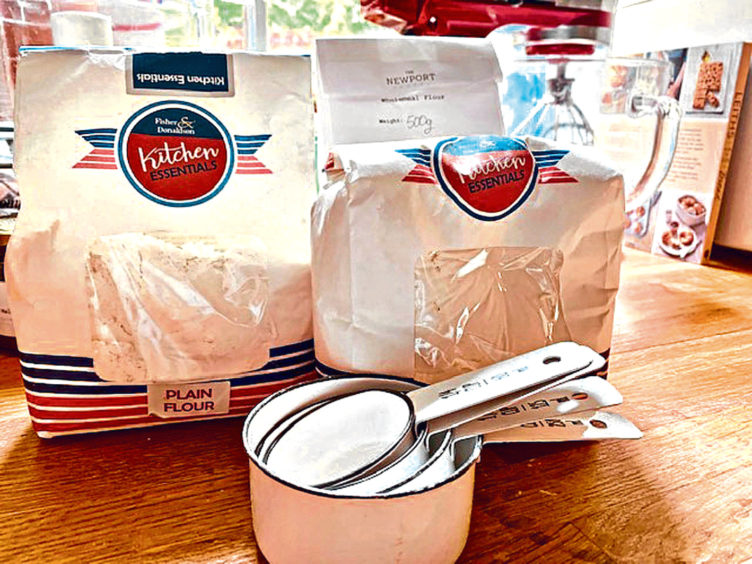 If "the science" could incubate a truth serum right now it would be most welcome and I'd line the Tories up for first trials; given the huff, puff and bluster our leaders expel daily as their spin gets faster and faster, they could probably take off from Downing St for a weekend at Chequers without the benefit of a helicopter.
So we hopeless, hapless civilians clean, sort, file, make piles of stuff to take to a car boot sale in 2022 – and we cook. Then we go to bed. It can be quite a productive day, really – even if other times it can seem like we're trapped in a cave with Michael McIntyre screeching.
Making bread has got serious
I've been making bread and I'm not alone. There's a whole tribe of us, it's gone viral (hardly a compliment these days) and it's become competitive.
Men are posting pictures of their risings and their bubbles and, for once, there is nothing below the belt – although the notches are maybe getting more strained. Truly, if bread is the staff of life then our waistlines are the battleground they end up on.
Since when did bread become such a thing that it's now as vitally instagrammable as an influencer's new lipstick? I can't criticise this because my Instagram nadir was possibly a lampshade. Whatever, it sure wasn't anything exciting like Victoria Beckham filling out a furlough form with one hand as she designs a new fashion collection with the perfectly manicured other.
It also wasn't nearly as thrilling as Jake Gyllenhall who is apparently in a relationship with his sourdough although only one of the couple has come out in this love that hithertoo dare not speak its name. But if Jake's sourdough could talk! What a raconteur it would be; tales of fishing expeditions to Brokeback Mountain where it wasn't just the sap and the trout levels that were rising, stories of past exes like Kirsten Dunst, Reese Witherspoon and Taylor Swift… that sourdough needs to sign an exclusive book deal now – Touched by Jake's Knead would be my choice for title.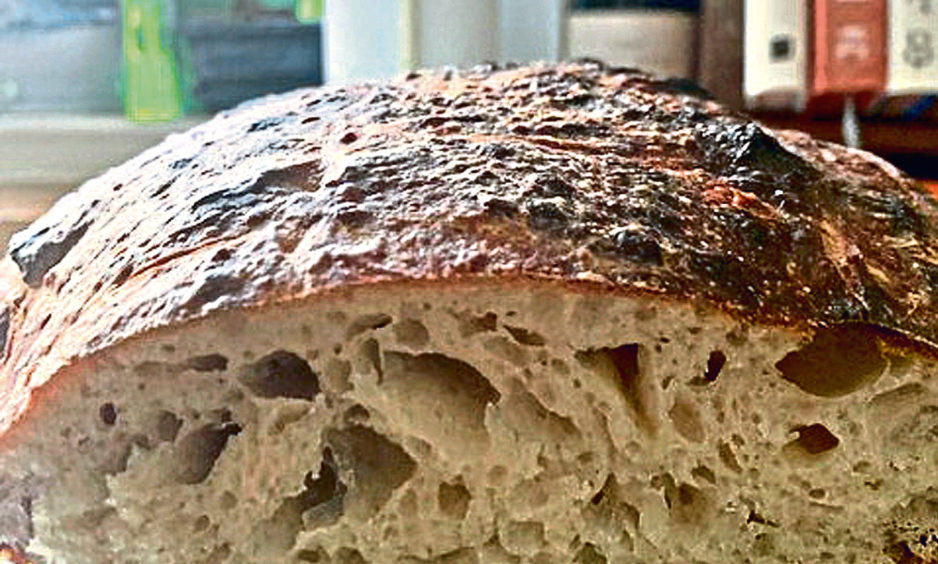 Sourdough is a thing
Sourdough is suddenly a thing and I can totally see why. It takes time and nurturing and right now we have all the time in the world.
I first came across sourdough in the late 80s when Deborah Madison published her great vegetarian cookbooks, The Greens Cook Book (1987), and The Savoury Way (1990).
At the time, vegetarian food in the UK was largely still knitted by a small gang of cranks, although Sally Clarke had brought the ethos of California to London in 1984 with her game-changing, no choice restaurant in Kensington. Deborah Madison who, along with Alice Waters from Chez Panisse, definitely influenced a whole generation of UK chefs, published a recipe in The Savoury Way that was so simple and yet so perfect. That it would now be seen as a cliché 30 years later only adds kudos to the original which was simply billed as what it was – avocados on sourdough bread. It was delicious, and as far away from a traditional British sandwich – pappy bread, soggy tomatoes, rubbery processed cheese – as it was possible to be.
Deborah Madison wrote: "I think this sandwich was just about all I ate during my last two years of college and it never became tiresome. When it's made with a fresh loaf of sourdough bread, there's nothing better. It's my idea of a perfect snack to take to the beach before sundown."
At the time I lived in a tiny one-bedroom conversion in Hackney Downs, which was the only bit of London I could afford. There was a reason why it was affordable; the streets around me were so rough the area was called Murder Mile. You'd check in at the local off-licence but you might never check out. My flat cost me £45,000 and a few years later I sold it for £47,000. Hackney had yet to become the epicentre of cool it now is.
Although I loved my flat, this scenario is a long way from the kind of life that featured a visit to a beach before sundown, although the optimist in me would rejoice that at least we shared the same sun as San Franciscans.
Now, at last, we could also share the same sourdough. That sandwich was my first introduction to this wonderful bread which, like the avocado, would become ubiquitous decades later and which is now keeping a new generation of isolated bakers sane.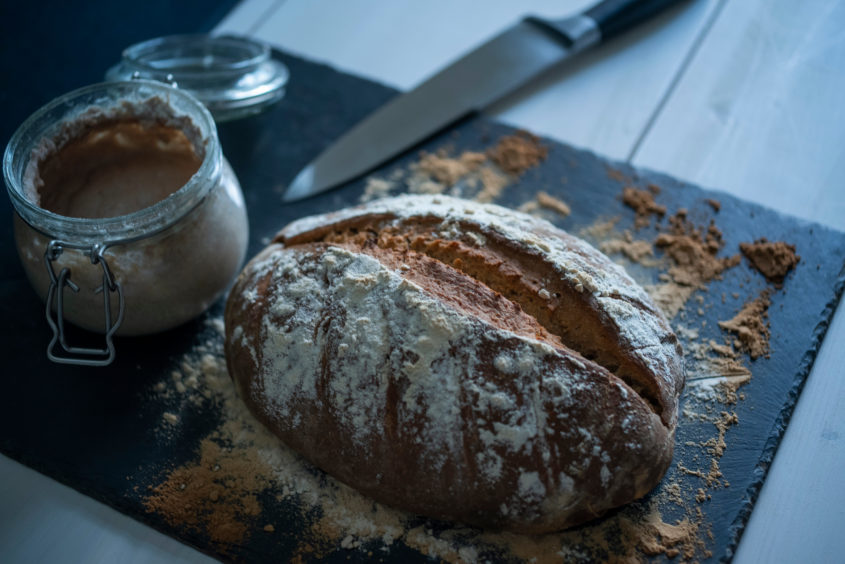 Mothership of fermenting yeast
My sourdough journey started when my neighbour Mel gave me a starter, telling me that I had to feed it daily.
Little did I realise then what a strange relationship I would develop with this mothership of fermenting yeast. It's not a conventional father/child relationship in that I sometimes forget to feed it, which you can just about get away with around something that can't answer back. But in a way this ferment does have a voice and it's one that becomes increasingly agitated the less it's looked after.
The smell changes according to what and when you feed it; and by feeding, you can't just chuck in a few sprout tops from the compost heap and hope it will behave.
No, this child demands the correct quantity and ratio of flour to water, served daily and served with love. Jake taught me that. It's a living thing that might possibly see me out on this Earth and thus I have started to feed it the equivalent of a healthy diet – spring water from a bottle and Shipton Mill's best flour.
Shipton Mill is so good and posh a wheat that you don't need to worry about separating it from the chaff because it's never even met a chaff in its rarified life.
So you nurture your starter and you make your bread. I use a Leiths book called How to Cook Bread which I picked up remaindered for £4 in Dobbies before the lockdown (you can still get it online).
Follow the recipe to the letter – baking is precise, so you can't just bung it all in and hope for the best. Their sourdough loaf takes quite a few hours to bring together, but most of that time you're not doing much except peering at it anxiously for signs of good behaviour.
The result is glorious and each bake is different. There are variables involved in baking but, when they come together, it's like God has smiled on you.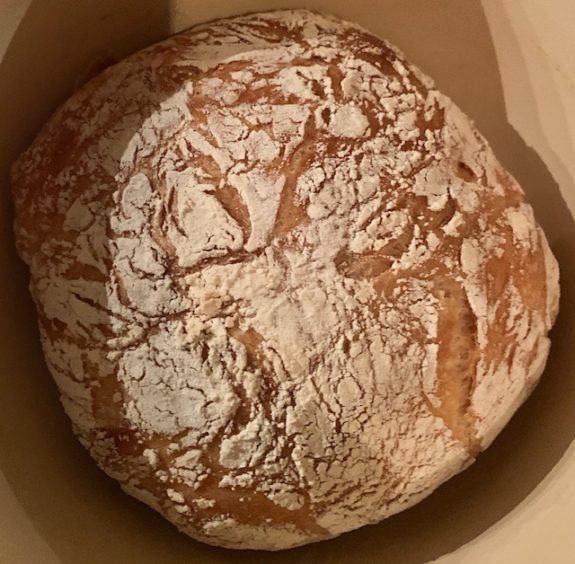 No-knead bread
The other bread to try is the now infamous no knead bread which seems to have travelled the world via various chefs (Nigella has a recipe on her Instagram) but actually was popularised in the New York Times in 2006 and became one of the most successful recipes they have ever published.
It was created by Jim Lahey of the Sullivan St Bakery in New York and you can easily find it online or in his book, My Bread (2009).
Again, the overall time it takes is quite long but the effort is minimal – it's foolproof and you will wonder how you have created something so life-affirming just by leaving things alone to do their work. It's magic!
I asked writer and broadcaster John Dingwall, a champion sourdough maker, to explain what hooked him: "A few years ago when I went freelance I wanted something to take me away from staring at the computer screen all day, but not something that would interfere with working from home.
"I picked up a 50-year-old sourdough starter from a bakery in the Lake District and started nurturing it. Soon I was baking sourdough loaves for sandwiches and family breakfasts at the weekend. For me the appeal is doing something that's very different to my other interests. I hand-knead and the fact that every loaf you make could turn out different or not work out at all is part of the romance and the pleasure."
I love the fact that sourdough bread has existed for thousands of years and is the most natural way to make bread. I've read stories about people in London who have needed house-sitters to look after their starter while they went on holiday. See, even the mad and rich are hooked on sourdough!
John's bread tips and photos can be found on Instagram at fearandloafinginglasvegas.
Nigella's Instagram is nigellalawson
Sullivan St Bakery is sullivanstreetbakery