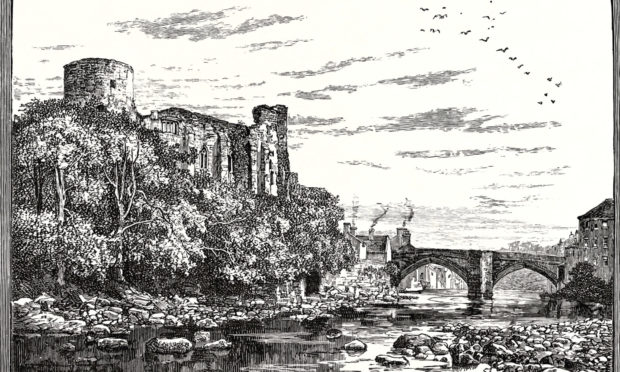 Long before Dominic Cummings' infamous journey, Barnard Castle's tale of an illicit tryst and a fatal duel was immortalised in song by the likes of Joan Baez and Fairport Convention. Rob Adams tells the story.
When Boris Johnson's chief adviser Dominic Cummings drove to Barnard Castle to check his eyesight during his recent Durham odyssey, the impression given by much of the media coverage was that this was the first thing of note ever to happen in the Teesdale market town.
Even the hastily summoned evidence that, as "Barney Castle", the town's name was a Durham term for "pathetic excuse" belittled Barnard Castle's reputation.
And yet, to music fans of different persuasions around the world, Barnard Castle is known as the location of one of the great epic ballads, Little Musgrave. More about that song, and what it's about, later.
Artists as diverse as Joan Baez, Peggy Seeger and Ewan MaColl, Tom Waits, bluegrass master Doc Watson and classical composer Benjamin Britten have been moved to sing the song or set its story to music. It even has a connection to O Brother Where Art Thou, if you include O Brother soundtrack hero Ralph Stanley's version.
Closer to home, the great Aberdeenshire traveller-singer Jeannie Robertson sang it to song collector Peter Kennedy in 1958, with the suggestion that it had been in her family for centuries. A little over 10 years later, as Matty Groves, it entered the folk-rock canon as one of the stand-out tracks on Fairport Convention's trail-blazing Liege & Lief album. It became a favourite with the band's fans and remains in their concert repertoire today.
In the Fairport Convention version, the survivor of the love triangle at the song's heart is called Lord Donald. Elsewhere, versions that made their way over the Atlantic and have been discovered in Kentucky and the Carolinas, refer to him as Lord Arlen or Lord Darnell. He sometimes appears as Lord Daniel or Lord Barnett.
What tilts the balance in favour of Lord Barnard being the song's cuckolded husband shamed by his wife and a lower-born citizen, however, is that Little Musgrave, rather than being some diminutive rascal who got lucky, as is sometimes assumed (he's referred to as Little Matty Groves in places), is his lordship's rival's name. Little Musgrave is where he comes from – a few miles from Barnard Castle. He's the lord of a pretty small-time manor – there's also a Great Musgrave, just along the road.
Exactly which Lord Barnard we're talking about here is a bit hazy. There has been a fortification at Barnard Castle at least since the time of the Norman invasion. One Guy de Balliol is reputed to have built it in the late 11th Century. It was then extended by his nephew, Bernard and then his nephew's son, also Bernard. Did one of these Bernards become Barnard? Maybe, but what is known is that following their kinsman John Balliol's brief reign as the King of Scots, the castle and its lands passed into the estate of the Bishop of Durham in 1296.
The origin of Barnard Castle as a pathetic excuse came about in 1569, when Sir George Bowes, who can apparently be tied to the current Queen Elizabeth's maternal family line, refused to leave his fortified position in the castle to engage in the Northern Rebellion, which saw Catholic lords trying to replace the first Queen Elizabeth with Mary Queen of Scots. Thirty years later the first Baron Barnard was created. He – Christopher Vane – was the MP for County Durham and Boroughbridge, and so could have been away from home, as the song says, when his lady fair had an assignation with Little Musgrave.
If he was at Westminster he would have to have had some horse to get back in time to catch Lady Barnard and Little Musgrave in flagrante. Or perhaps, as some versions of the song suggest, he was a gentleman farmer as well, and was closer at hand on farm business.
Whatever, and whichever Lord Barnard was the wronged husband, it seems that Lady Barnard had had her eye on Little Musgrave for some time – and that he had had his eye on her.
As coincidence would have it, their fateful tryst fell at the same time of year as Dominic Cummings' fruitless trip to the Barnard Castle branch of Specsavers, a holy day in April, no less.
As the song takes up the story, Little Musgrave goes to church, where he ogles a few local beauties. As he's doing this, he's being ogled himself and, as he spots Lady Barnard casting an appreciative eye he thinks, I'm on to a winner here. The two fall into conversation and discover they've been admiring each other from afar.
Lady Barnard tells Little Musgrave that she has a bower at nearby Bucklesfordberry (Boroughbridge?), where they can meet for some quality time together.
Unfortunately, Little Musgrave is not the only one to hear this invitation.
One of Lord Barnard's men-at-arms is doing double duty as his lady's page and he makes off to apprise his master of the situation.
Believing their secret is safe, the couple head for Lady Barnard's bower. The page must have been pretty determined to keep in Lord Barnard's favour because there had been spring floods and bridges had been washed away all along his route. Undeterred, he sets his horse at the river at every crossing and they swim over.
Then, when he reaches Lord Barnard and tells him what his wife's up to, the lord doesn't know whether to believe him or not. If what he says is true, the page will be rewarded more than handsomely. If not, he'll be hanged from the highest tree.
With Lord Barnard's two best horses saddled, they ride off to Bucklesfordberry with a small retinue. Lord Barnard warns the page not to sound his horn but another member of the party takes Little Musgrave's side and toots a warning as they approach.
When Little Musgrave hears the warning and suggests they get out of bed and escape, Lady Barnard tells him it was only a shepherd bringing in his flock and pulls him back under the covers.
Big mistake.
Lord Barnard crashes in and, being a gentleman, tells Little Musgrave to get dressed because he's not in the habit of killing naked men.
He even gives Little Musgrave his best sword to defend himself with and, although Little Musgrave gets in the first strike, Lord Barnard's too good for him and fatally runs him through.
What, Lord Barnard asks his wife, do you think of your lover now?
And she says, I'd rather have him dead than you alive. To which her husband responds by stabbing her repeatedly.
In the aftermath it turns out Lord Barnard had thought highly of Little Musgrave.
He has the lovers buried in the same grave, with his wife on top to denote her higher rank, and promptly disappears from the pages of history, although the song has been dated as originating in 1607.
The late Sandy Denny, who sang Matty Groves with Fairport Convention on Liege & Lief and later when she rejoined the band in the mid-1970s, grew to hate it "because everybody knows what happens at the end."
On the other hand, the great Irish troubadour Christy Moore recorded it as Little Musgrave twice – on his eponymous solo album in 1976 and again with leading Irish band Planxty when they re-formed in 1981.
"It's a special song," he says. "It's from a time long before we became bombarded with aural pollution, music and news 24 hours a day – and that's why I think it still resonates."