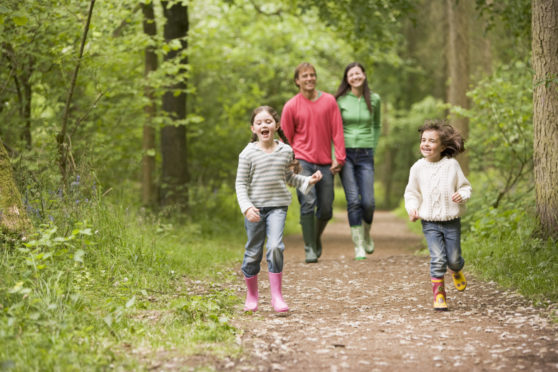 Get the kids outdoors this summer and you'll discover you don't have to go far to benefit from nature for free.
Jeff Waddell, senior nature conservation adviser for National Trust for Scotland (NTS) recalls happy days playing outside when he was a child.
"When I was a kid I used to play in the woods near my house and once I was older we would go further and climb the local hill," he says.
"It was free and we were happy and healthy kids who were never bored.
"This wasn't too long ago and we did have computers then, but they weren't so dominating," he continues. "I have a 10-year-old son now and I know times have changed and he likes a lot of time to play games online with his mates.
"But I feel it's important he gets outside and has some time in nature for his health and happiness. We live on the edge of the city and we have some nice local woods to walk in by the river."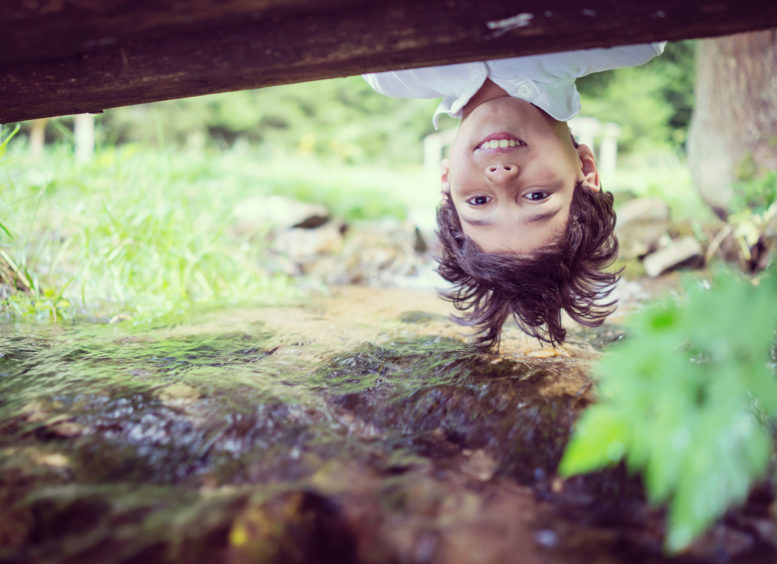 So why is it important for children  – and adults – to spend time outdoors in nature?
"So many reasons!" smiles Jeff.
"It's good for physical and mental health. Kids can play naturally, without games consoles, and form friendships through adventures and other activities.
"Nature is a great environment for learning and a great place for having fun.
"Kids know what to do instinctively once they get a chance," he reasons. "Young kids might be bored to start with if they haven't tried it before, but after they relax, they will start looking at their surroundings and finding things to do instinctively, like climbing on a rock or a tree, or throwing a stone in a puddle.
"Older kids may need some more prompting so a good first step is to get them to leave their mobile phones at home and just go for a walk in a local wood or hill," suggests Jeff.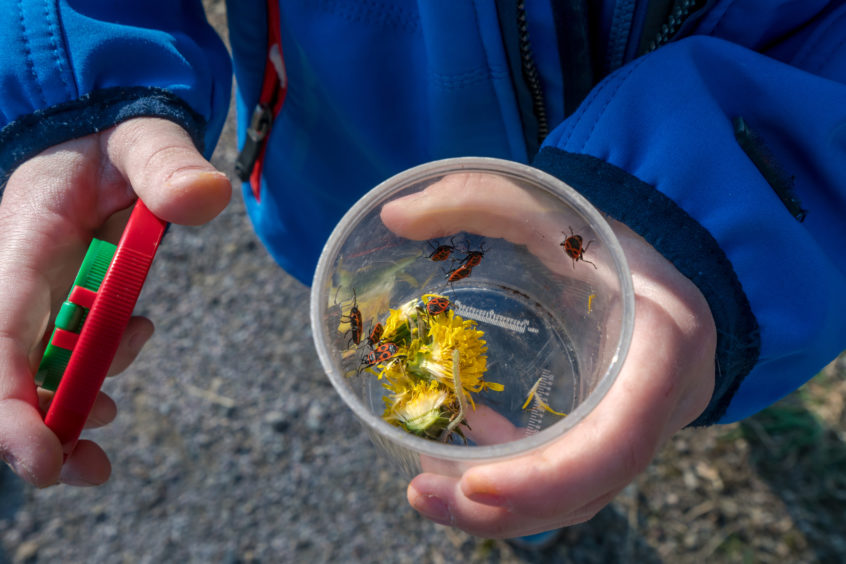 "Guided walks by rangers may be a good introduction for older kids and could spark a deep interest that may stay with them the rest of their lives."
And don't let rain stop play either – just make sure you're dressed appropriately and it's not too cold.
"Kids tend to be less bothered by the rain than adults," he says. "Woodlands can be good places to visit when it's raining as they are more sheltered. And be careful not to get caught out by the weather if you're climbing a hill."
It's good to encourage children to take home souvenirs of their time outdoors, like feathers and pine cones, but Jeff adds a proviso: "I would encourage folk to take things responsibly from nature. Plants that are obviously abundant in an area are OK to collect as long as you're not on a nature reserve – just take a couple and don't uproot them," he advises.
"Any insects you find are likely to be common too. I remember one day I was amazed to find mosquito nymphs in a jam jar that had been left outside – they were so unusual and beautiful.
"I had no idea what they were at the time, but that didn't matter. I used to like collecting and rearing tadpoles as a kid.
"Cones or leaves can be interesting, as there are not too many types and they can be identified using a book or online," he continues.
"Children can get a lot of satisfaction through collecting and finding out more about what they have found.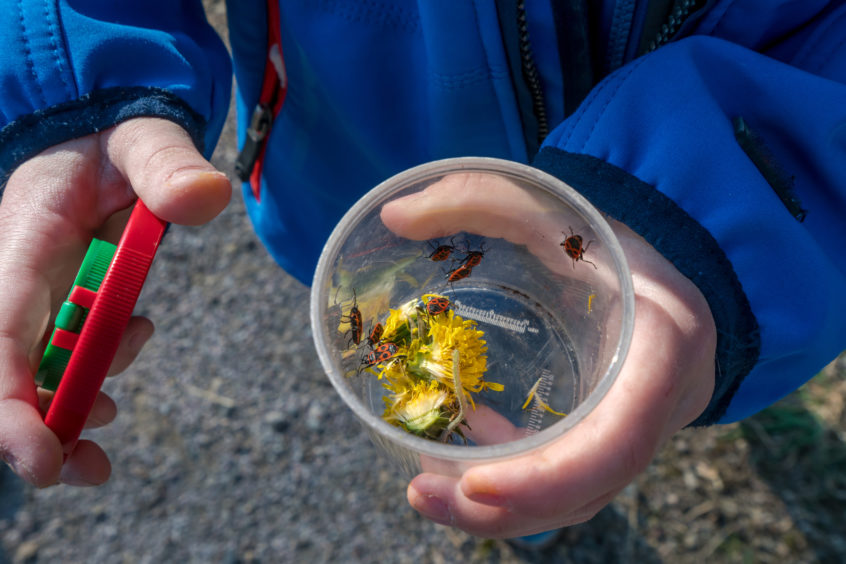 "Ensure your child is supervised or informed so they don't touch irritating plants such as nettles or giant hogweed – the two main species to watch out for in Scotland,but watch out for anything with jaggy stems or spines."
The National Trust for Scotland has teamed up with Lidl supermarkets to keep creativity going during the lockdown and have put their heads together to come up with family-friendly craft activities that can be done from home and the garden, including a marvellous mini beasts spotters guide, and making your own binoculars and bird feeder.
The activities are included in the latest edition of The Lidl Book of Big Adventures, available from Lidl stores and selected Trust properties.
Thinking differently
The coronavirus crisis and the ensuing lockdown have given the country's tourist organisation VisitScotland an opportunity to think differently.
"As restrictions ease, we will be focusing on helping Scots rediscover their own country, showcasing hidden gems and highlighting little adventures that are close to home," says Eva Kwiecinska, VisitScotland senior content marketing manager.
"We know that travelling has many benefits, not just physically but mentally," she continues. "Holidays and trips are often a chance to escape and destress from the hustle and bustle of day to day life and this includes children too.
"Being outdoors opens a world of new opportunities – the chance to run around unrestricted, use our imaginations and learn about our history and environment.
"This is particularly important as we all start to take responsibility for protecting and preserving our natural resources," Eva reflects.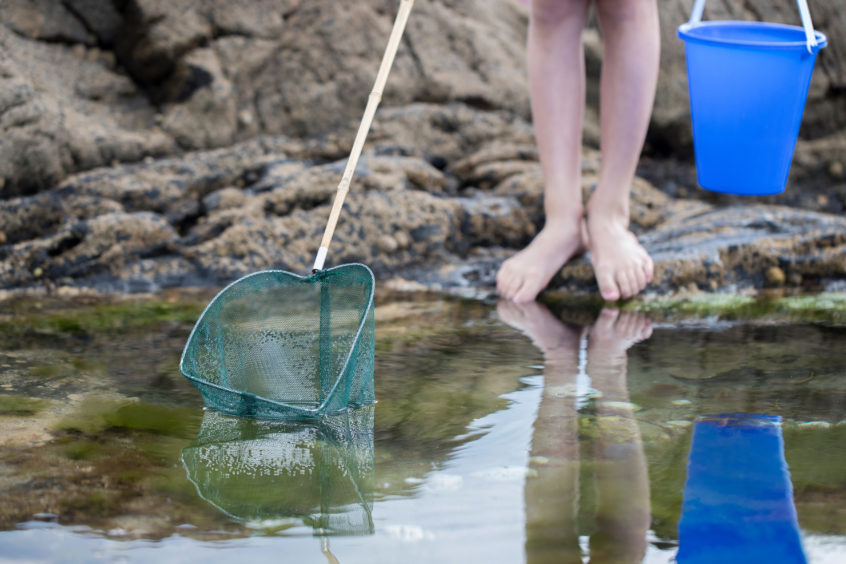 "Inspiring a love and an appreciation of our outdoors at a young age will help encourage a desire to look after it for future generations."
There's no doubt that Scotland is a spectacular outdoor playground, with a vast array of wide-open spaces, which is important as we adhere to physical distancing restrictions.
"2020 is the Year of Coasts and Waters and this has gifted us a fantastic opportunity to shine a light on Scotland's water ways," says Eva.
"A trip to the seaside is always a winner. We have some beautiful beaches, especially locally within Tayside. Arbroath, Montrose and Silversands, to name just a few, are ideal for rock pooling, picnics or a paddle in the sea. And of course, the lochs in Perthshire are another great way to enjoy Scotland's beautiful landscapes.
"Locally, we can't forget the River Tay. There are so many gorgeous places to pull up for a picnic, look for wildlife or try a spot of stone skimming," she says.
Back on dry land, parks are also another great option.
"Many now have playparks to entertain younger visitors, but you'll also find activities, wildlife walks or simple trails which are perfect for exploring. Tayside has some excellent parks such as Pittencrieff in Dunfermline or Camperdown in Dundee, as well as bigger country Parks such as Craigtoun in St Andrews or Monikie in Angus.
"For parents keen to help their children learn more about Scotland's past, download the free In the Footsteps of Kings augmented reality app and see historic sites across Fife come to life," she suggests.
Finally, later in the summer why not try stargazing?
"There is something truly magical looking at the night sky. Scotland has some of the largest expanses of dark sky in Europe making it a perfect destination for stargazers of any age.
We've recently launched a stargazing toolkit packed with activities and information to get you out and looking up," says Eva.
The beauty of Scotland is that it's a fantastic place for an adventure whatever the weather but VistScotland always advise svisitors to be prepared with their clothing.
"Only in Scotland can you experience four seasons in one day," smiles Eva. "However, I don't think children are put off by the weather. Splashing in puddles, listening to the rain pattering down on your window or pulling on a raincoat over your shorts and T-shirt just adds to the excitement.
"Our beautiful coasts and enchanting woodlands are the perfect background for family fun come rain or shine."
Eva and the team want people to take home happy memories that last a lifetime after exploring Scotland. "We hope days out in Scotland capture their imaginations and instil a lifelong love of their home country," she says.
"We are a country packed with little adventures, perfect for visitors of all ages."
And it is this concept that VisitScotland used for their new family activity which we will be launching shortly.
"Little Adventures looks at Scotland through the eyes on children, taking landmarks and attractions and using them as the settings for exciting quests and epic journeys," Eva explains.
"For example, the Scottish Crannog Centre is an informative look at Scotland in the Iron Age but for children it's a chance to go back in time.
"Meanwhile, most of us know Dunfermline Abbey for its historical links to royalty but maybe for our younger visitors it's a unique opportunity to be king or queen for a day.
"It's been really exciting to imagine Scotland in this completely new way. I can't wait for families to see it and start recreating their own stories."
Info: As restrictions ease and we begin to travel again, it's important to remember that our experiences might be a little bit different than they were before. Please do keep a physical distance from others by 2 metres at all times, both indoors and outdoors. For the time being stay local and before travelling make sure you know before you go whether attractions and facilities are open and welcoming visitors.
For more information and inspiration visitscotland.com
Top tips from the Woodland Trust
1. Spot signs of summer
Can you see certain summer flowers blooming, or spot butterflies fluttering by? Keep your eyes peeled for caterpillars, bees, grasshoppers and trees in full leaf, too.
2. Have a twig boat race
On your marks, get set, go! Why not have a go at making your very own raft out of twigs and challenge another member of your family to a boat race? Simply gather some twigs from your garden, line them up and fasten them together with string. Slot an upright stick into your raft to make a mast and thread a leaf or two onto it for the sails.
Once you've made them, try your boats out in a paddling pool or in your bath. Have a race and see who can blow their boat from one side to the other first! For an extra challenge add some cargo, such as small pebbles, nuts or berries.
3. Make a minibeast mask
If your kids are fans of minibeasts, this is a super fun craft for you to do together, while teaching them all about creepy crawlies. Cut a paper plate in half, or cut out a semi-circle from some card. Make two eye holes and cut out a notch for your child's nose. Now decide which minibeast they'd like to be and get creative with the decorating! You could paint your mask, stick on scraps of paper or fabric, or even use natural materials from your garden.
When you've finished, punch a hole at either side and attach some string so your child can wear it. Afterwards, why not do some research about your child's minibeast and see what you can find out?
4. Listen to the sounds of summer
You can definitely tell that summer is in the air, even without having to open your eyes! Encourage your children to listen to the sounds of summer with this mindful activity and help them use their senses to connect with nature.
Head out into your garden or open a window, and listen for sounds of summer. You might find closing your eyes helps you focus. Can you hear chirping grasshoppers, buzzing bees, tweeting birds or leaves being ruffled by the breeze? What else do you hear?
5. Go butterfly spotting
Butterflies are all around at this time of year – but which ones can you spot? Butterfly spotting is a great way for kids to hone their observational skills, and summer is a great time to do it. Keep your eyes peeled in your garden or while you're doing your daily exercise and see how many you can spot! Once you're back inside, why not research them and have a go at drawing your favourite?
6. Try stick weaving
This natural craft is a wonderful way for youngsters to get creative. Find a Y-shaped stick and wrap some wool around it to make a loom. Then gather natural items from your garden or while you're doing your daily exercise and weave them into it. Just make sure you don't pick wild flowers or pull bits off trees – look for fallen petals and leaves instead.
And there you have it – these activities will help keep your kids occupied while teaching them all about nature this summer.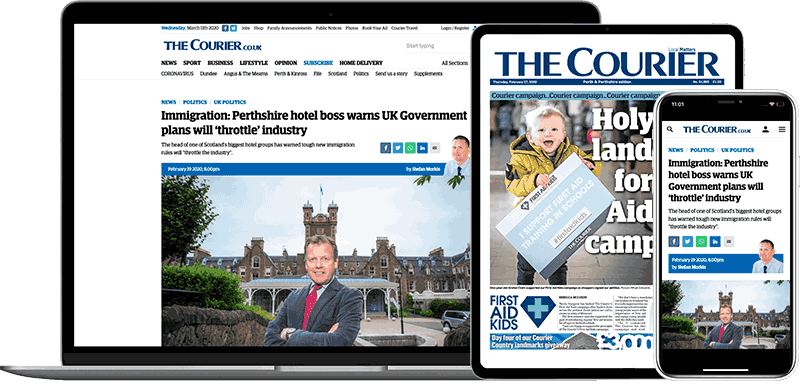 Help support quality local journalism … become a digital subscriber to The Courier
For as little as £5.99 a month you can access all of our content, including Premium articles.
Subscribe