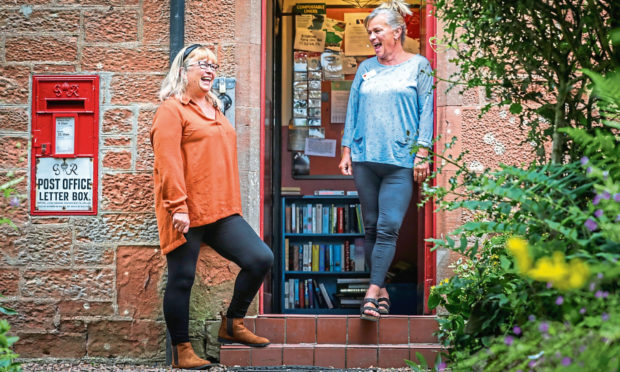 It's hard to imagine a more charming post office than the one in Inchture. A wrought iron gate opens on to a path through a beautiful, mature garden, leading to a handsome red sandstone cottage.
Inside are Jennifer Ford and Lisa Ford-Logie, two sisters who are the fifth generation of women in their family to run the post office in an unbroken line going back to the 1890s.
Jennifer, 53, runs the post office while Lisa, 56, lives in the adjoining cottage and helps out day-to-day, as well as running the business when her sister takes holidays.
The original Inchture Post Office occupied a building across the road. The current building was once a temperance hall – the temperance movement campaigned against the consumption of alcohol – and then a soup kitchen. The post office moved to its current location after the end of the Second World War.
In 1896, a professional cricketer called John Broadley moved to Inchture to play for Rossie Priory Cricket Club. He lodged with a Mrs C Jamieson and married her daughter, who took over the running of the post office. The couple were Jennifer and Lisa's great-great-grandparents, and the post office has been run by the female side of their family ever since.
Jennifer and Lisa's mum Joyce Broadley ran it for 37 years before retiring in 1994. "Our granny Elizabeth ran it up until the 1950s but then retired through ill health and our mum took over," Lisa explains. "Officially she ran it for 37 years but she had already been helping out our grandmother so really she worked here for well over 40 years. Our mum was quite a character and she was known for delivering parcels around the village on horseback.
"Back in our mum's day, Rossie Priory was an RAF recuperation centre. A lot of the servicemen who were recovering walked down to the post office but weren't strong enough to walk back again. They would sit outside and get tea and cake and then be given a lift home."
"Our mum ran it as a shop and post office but gave up the shop element when she had me and Lisa," Jennifer adds. "She felt it was too much with two little girls. Since I took over I've built the shop back up and it's become very popular now. We sell a lot of cards and we've been very busy since lockdown."
Running a small post office has its challenges. "Mum loved her holidays to Spain so she kept a couple of retired postmasters on the books and they would fill in for her when she needed a holiday," Jennifer continues. "Similarly I wouldn't be able to run the place without Lisa here to help. When I need some time off she fills in for me."
Jennifer was just 27 when she took over as postmaster. "My mum said I shouldn't do it and should just do my own thing but I really felt the weight of generations and I didn't want to be the first generation in our family not to look after the post office," she says.
Over the years Jennifer has diversified from the traditional business of sending letters and parcels. "People do a lot of banking with us now and we're also in demand for travel money because the Post Office does one of the best rates. I can do dollars and euros right here and order up any other currency.
"It's certainly a different business than it was when I started. Doing banking was challenging to learn about. There are lots of rules, like we're not allowed to recommend any particular account to a customer. We also have data protection rules and there's a lot more paperwork involved than there was in my mum's era."
Inchture was not one of the branches affected by the Post Office Horizon IT scandal. Horizon was a piece of software brought in by the Post Office in the late 1990s to automate payments, however it was riddled with bugs and regularly made accounting errors.
The Post Office denied their system was at fault and blamed postmasters, making them repay non-existent shortfalls and prosecuting many cases, which led to convictions for many postmasters, jail terms for some and at least one suicide.
Last year a civil lawsuit brought by 550 sub-postmasters was settled out of court and so far the Criminal Cases Review Commission has referred 47 Post Office workers' convictions for appeal.
"We were never caught up in that, blessedly," Jennifer says. "Occasionally over the years we have had shortfalls – usually just a few pounds but on one occasion it was £1,000. It was probably nothing more sinister than me accidentally pressing an extra zero on the keyboard but it has to come out of my income."
Inchture is a sleepy little village but even the quietest places are occasionally hit by crime.
Jennifer says they feel fortunate that, in more than a century of her family running the post office, it has never been held up.
"For generations there was no crime at all," she says. "Over the last few years 450 new houses have been built which has changed the character of the village a wee bit. We got our first few bits of shoplifting after that and had to install CCTV, which has solved that.
"Of course some of the shoplifting was just wee ones picking things off the shelves when their parents weren't looking.
"We'd get them coming back in with their mums to return the items they had taken, along with a note saying they were very sorry."
The Covid crisis has brought out the best in the village, Jennifer says.
"Lockdown has been a time when the community has really pulled together. A lot of people who live in Inchture are commuters and they've been working from home for the past few months, so they've been coming in here for the first time and have enjoyed being part of village life.
"We have some elderly people who come in because they need company.
"We're in touch with the community council and Carse volunteers so if someone is alone or vulnerable we can get help for them.
"With shops shut everyone has been doing their clothes shopping online, so returns have been going through the roof. And when all the children were off doing homeschooling, a lot of them were in here to post things to grandparents.
"They were sending everything from jams and cakes to nappies and toilet roll, back when supermarkets were running out of those kind of things.
"We've also received lots of little presents and treats from customers, from home baking to bottles of wine. It made us feel quite special."
Sadly, Jennifer and Lisa will be the last of their family's five generations to run Inchture Post Office.
Jennifer says: "I don't have children and Lisa only has one son, who is a police officer in Dundee and very settled in his job. When I retire that will be the end of a very long era, sadly."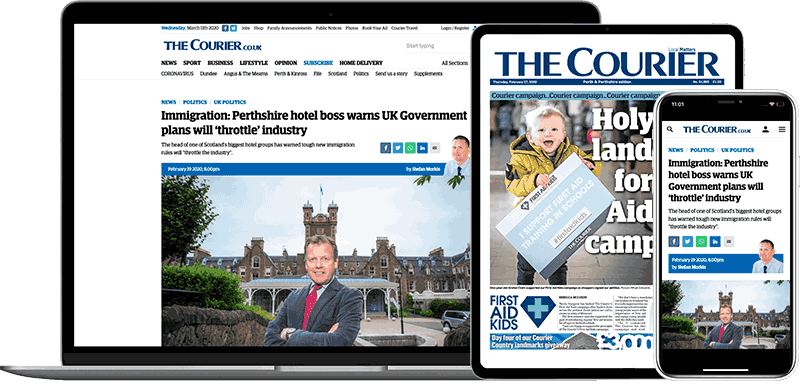 Help support quality local journalism … become a digital subscriber to The Courier
For as little as £5.99 a month you can access all of our content, including Premium articles.
Subscribe