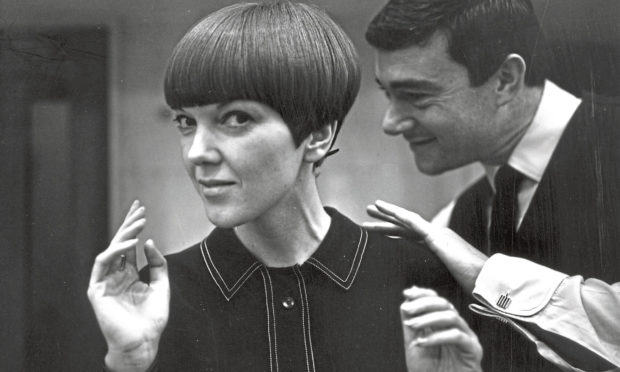 V&A Dundee is reopening in style with a Mary Quant retrospective that captures the spirit of the Swinging Sixties and much more, writes Gayle Ritchie​.
The most iconic designer of the 1960s, Mary Quant rocked the world with her mini-skirt revolution and made women's clothes fun, irreverent and affordable.
Her bright, exuberant fashion catered to young women's sense of freedom and inspired them to rebel against the traditional, stuffy outfits worn by their mothers and grandmothers.
Fashion lovers looking forward to exploring Quant's legacy were disappointed when V&A Dundee's retrospective on the designer, due to launch in April, was postponed due to the coronavirus pandemic.
But as it gears up to open on Thursday, in tandem with the reopening of the museum, excitement levels are hotting up.
First shown at sister museum V&A South Kensington in London, the exhibition features many of Quant's most iconic designs, including wet-look PVC macs, bright jersey shifts, groovy A-line dresses, schoolgirlish pinafores, micro-miniskirts – including one made from jute – matching knickers, and vibrant, daisy-logoed makeup.
It also showcases designs which playfully subverted menswear – at a time when women were banned from wearing trousers in formal settings such as restaurants.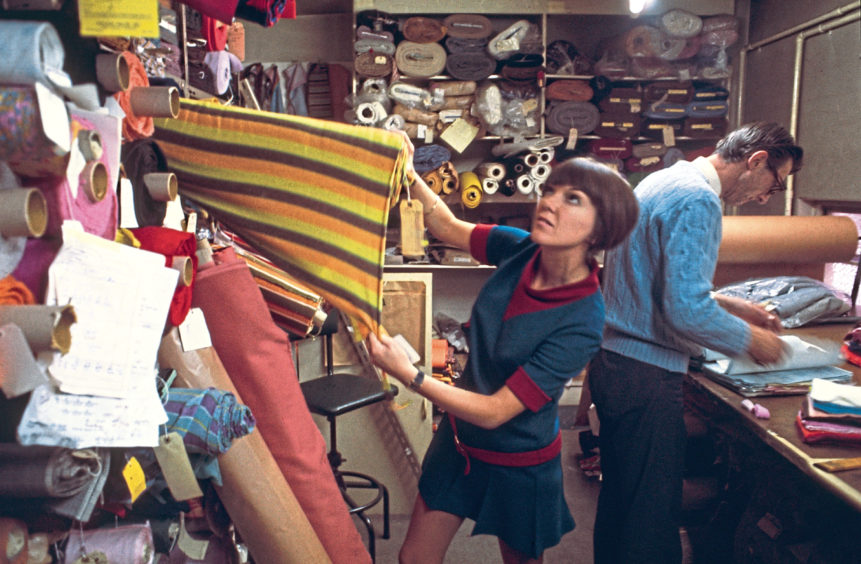 Step inside the vast exhibition space on the banks of the Tay and your senses will immediately be assailed by the treasure house's transformation. Think bold, bright colours, wild patterns, compelling film footage and jazz music, favoured by Quant.
Pinks, reds and yellows are in abundance, as are wacky geometric designs, polka dots and risqué fabrics.
The exhibition is at once fun, flirty, arrogant, aggressive, sexy and playful – a bit like Quant herself, back in the Swinging Sixties.
The sheer flamboyance of it all is sure to reignite the memories of Quant fans who saved up to buy the trailblazing designer's products.
"The exhibition aims to capture the feel of 1950 and 1960s London," says Kirsty Hassard, curator at V&A Dundee.
"As people walk through, they'll get a strong sense of what it was like to go shopping in Quant's Bazaar boutique in Chelsea.
"They'll also find themselves transported back in time to her fashion shows."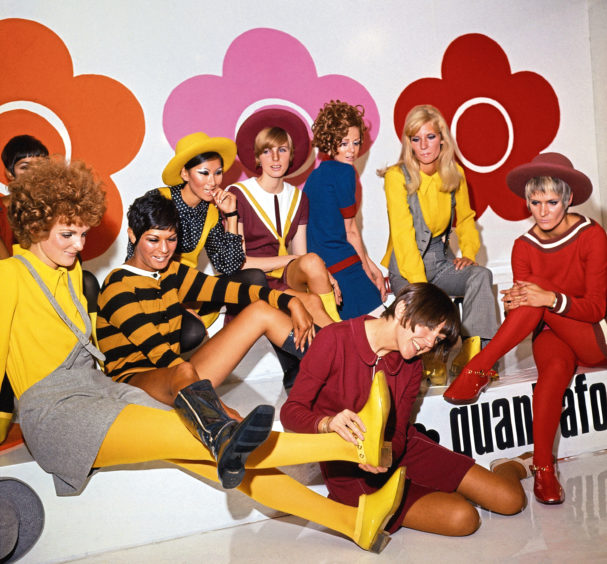 The Quant exhibition is the first international retrospective on the fashion designer, born in 1930 in Blackheath, London, and the first major fashion exhibition at V&A Dundee.
It explores the period from 1955-75, the two decades in which her influence was at its peak.
"It demonstrates how even to this day, Quant influences how we shop and dress," says Kirsty.
"Visitors will see many examples of her fashions, from dresses to cosmetics, underwear and dolls."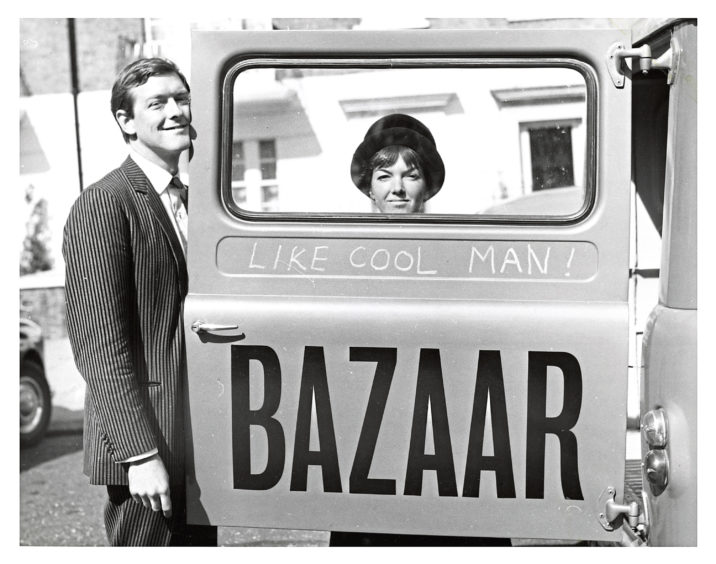 Archive footage, including films and interviews with Quant and her contemporaries, is another highlight.
The exhibition is split into two parts with the first introducing 1950s Chelsea and the beginnings of Quant's first boutique, Bazaar, which opened on the King's Road in 1955.
The iconic Mary Quant look – short skirt, flat shoes, tights and cropped Vidal Sassoon haircut – was created in her own image and the exhibition explores how this found a ready market among young people in London, using case studies of women who bought Quant for social occasions.
Quant's models were showcased in extravagant and provocative window displays overlooking the King's Road, which became a mini-skirt catwalk and drew photographers from across the globe.
"City gents in bowler hats beat on our shop window with their umbrellas shouting 'immoral!' and 'disgusting!' at the sight of our mini-skirts over the tights, but customers poured in to buy," Quant recalled in 1966.
"The mini-skirt was a symbol of the growing confidence of the young of that time as they broke away from the rules and inhibitions of the post-war period."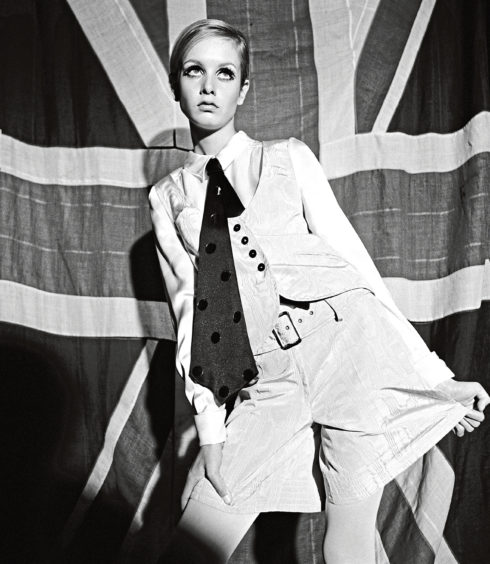 Almost overnight Quant, who had always been obsessed with clothes, cutting up bedspreads to make dresses as a child, became a fashion sensation although, of course, she had been working away behind the scenes for years.
With utopian ideals of free love and liberation in full force, and women keen to forget the dreary years of rationing and prim and proper dressing, it seemed Quant had tapped into a zeitgeist moment.
Her sassy and sexy designs were a way for women to express their independence; she famously liked shorter hemlines because it made it easier to run for the bus, or head straight from work to dance at a club.
Hers weren't clothes made to restrict the wearer, but to give them more freedom and movement and she favoured a stretchy, wearable jersey material for many designs.
Quant was also ahead of the curve in terms of androgynous dressing and increasingly experimented with masculine tailoring.
"Some of the dresses in the exhibition come from the V&A's #WeWantQuant social media campaign that asked people who owned original Quant designs to get in touch," says Kirsty.
"So many people identified with her – they wanted to join her revolution – and bought her clothes, and it's great to be able to showcase these now, in 2020."
The exhibition also looks at how Quant's garments were marketed in the US, and how her wholesale brand, Ginger Group, was stocked by boutiques and department stores across the UK and internationally.
The second part of the exhibition looks at the Quant company's diversification into other products including paper patterns, shoes, underwear, makeup and dolls.
"Quant was one of the first designers to make fashion accessible to a wider audience, when fashionable clothing had been mainly haute couture – expensive and rather elitist," says Kirsty.
"As a result, London replaced Paris as the centre of fashion in the 1960s.
"She designed clothes that made people feel good and we hope the exhibition has that same feel-good effect on visitors."
It also looks at how Quant revolutionised fashion shows. These had previously been orderly, structured affairs, with serious-faced models slinking down catwalks.
Quant turned this around, asking them to run, dance, hop and skip to a background of loud music.
People loved it.
She designed clothes that made people feel good and we hope the exhibition has that same feel-good effect on visitors."
The most affordable way for fans to get their hands on Quant's fashion was to make it themselves.
Quant's sewing and knitting patterns were perfect for home dressmakers to copy and they were hugely popular; some patterns sold more than 70,000 copies.
Ahead of the exhibition, V&A Dundee ran a social media campaign called #SewQuant which invited people to share their experiences and photographs of dressmaking using Quant's patterns.
There was a huge response from across Tayside.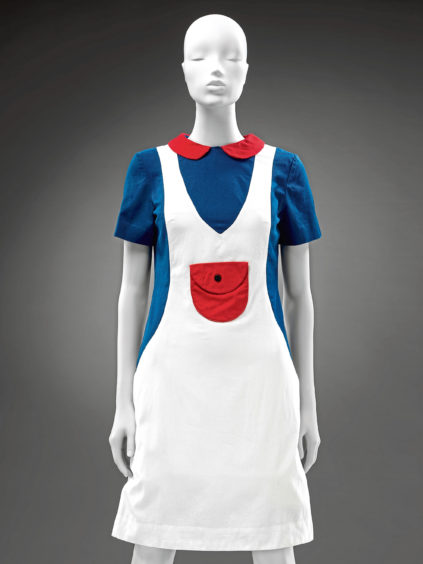 Many of the key objects in the exhibition perfectly capture Quant's daring and far-reaching influence on the fashion world, says Kirsty.
"A beige PVC raincoat from the Wet Collection (a similar one in red ended up on the cover of Vogue) shows Quant's innovative and experimental use of materials.
"Her 1963 show in Paris was the first time a collection of PVC clothing had been presented."
There's also the "Working Wardrobes" display, which features wrap, pinafore and simple mini-dresses.
Kirsty is a huge fan of a blue and white skirt-suit boasting a William Morris print, dating from 1967 and produced under the Ginger Group label.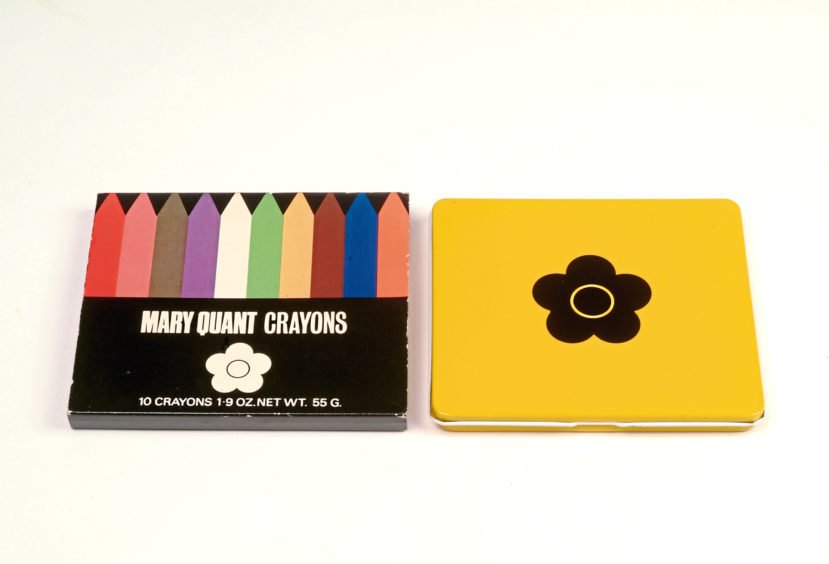 As well as being a feast for the senses, the Quant exhibition has a real educational value.
It teaches us about the radically different versions of femininity offered by Quant – influences of traditional children's clothing, menswear and the emergence of her increasingly androgynous look. There's also the myth of the mini-skirt – she didn't invent it, but she did make it popular.
Ultimately Quant disrupted the fashion establishment, connecting with an energised, youthful audience looking for something fresh and fun.
Alongside the Quant show, V&A Dundee is running a dedicated fashion programme with many talks and workshops taking place online.
"We're delighted to be in a position where we can reopen with such an exciting, uplifting and colourful show for our visitors to immerse themselves in," adds Kirsty.
---
Design director
Quant's director Heather Tilbury Phillips, 77, helped put the V&A exhibition together.
Having worked with Quant as a director for 15 years, she was the right woman for the job.
Initially, she approached the V&A with a view to producing a book.
"I felt Mary had been sidelined, if not marginalised, both by the industry and the media," she muses.
"Jenny Lister, the curator of the exhibition, sent me off to do some research. I went back and said, hey, this can't just be a book, it's got to be an exhibition, and she agreed to work towards that."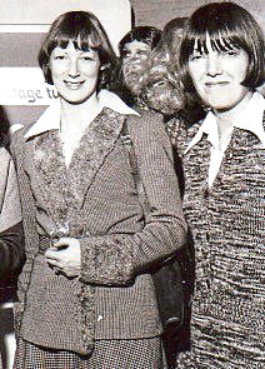 The V&A came up with a slogan – We Want Quant – that invited members of the public to either send in details of garments they owned, or photographs of Quant garments they wore back in the heady days of the '60s and '70s.
"I loved being incognito at the Quant exhibition in V&A London last year," says Heather.
"It was fantastic hearing the older generation recalling garments they'd worn, but also the younger generation saying, 'I want to wear that now!'
"It was a great example of how far-sighted and enduring Mary's designs are.
"To see it at V&A Dundee will be breathtaking. People will be bewitched by it in that marvellous space."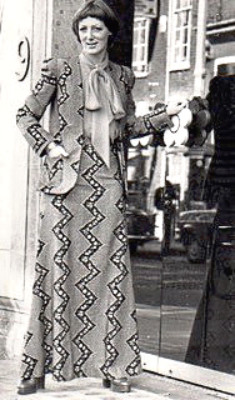 Heather reckons people fell for Quant's designs because they were "hugely different" from anything else available.
"Mary was all about colour and new fabrics. She was using black and white stripes – men's suiting – for womenswear. It was a complete shock to girls of that age.
"Mary understood they wanted something different to what their mothers wore. They wanted the freedom to be able to move."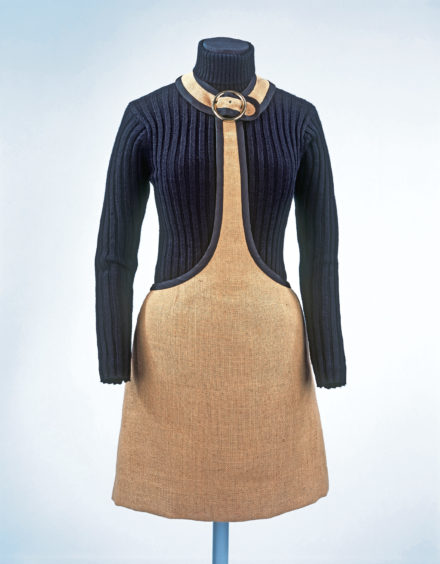 ---
Gamechanger
Fashion director, stylist and writer Wendy Rigg regards Quant as a "gamechanger" who can be credited with inventing young street style.
"Prior to Quant, your mum made your clothes for you, and fashion was just for rich older women. Her youthful designs were synonymous with swinging London – miniskirts, hot pants, Twiggy, The Beatles and Carnaby Street," she says.
Wendy says Quant created the first global lifestyle brand, with her instantly recognisable daisy motif.
"As teenagers we all wanted to buy into Quant's modern world.
"The power of the Quant daisy even reached the tiny village of Dairsie, near St Andrews, where I grew up.
"I remember sending off for a pair of stripy over-the-knee socks, and being so excited when they arrived in Fife, encased in plastic packaging emblazoned with that famous daisy."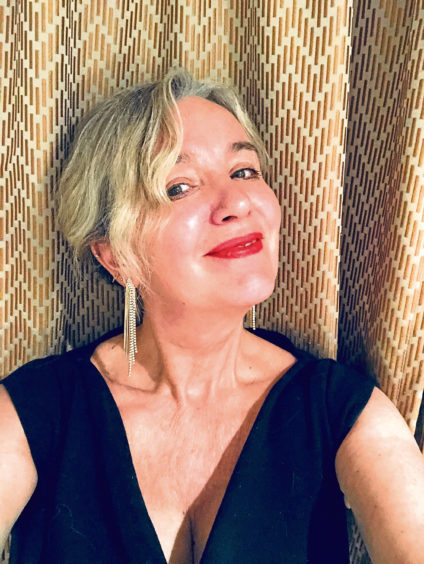 While Quant's clothes were a "bit out" of the average teenager's price range, and not readily available in Fife, Wendy says it was possible to buy into the brand via cosmetics.
"No self-respecting teenage girl was without her Quant nail polishes.
"I had a bewitching shade called Evil Emerald from the Naughty Nails collection, brought out in 1973."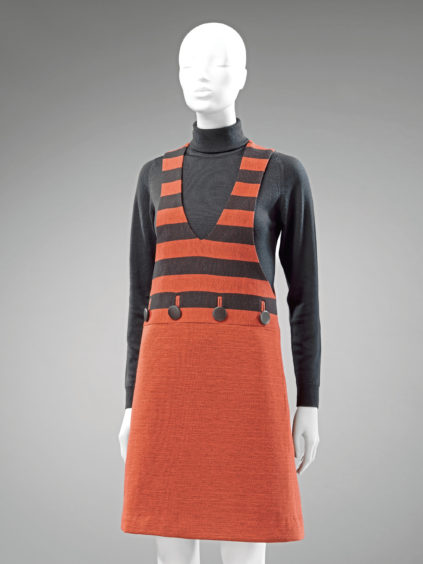 Info
The Mary Quant exhibition runs at V&A Dundee until January 17.
All visitors must book free timed-entry tickets as part of steps to keep people safe and ensure physical distancing.
For more details, and to book, see vam.ac.uk/dundee
Tickets also give access to Now Accepting Contactless – a new exhibition about the design world's response to the coronavirus pandemic.
There's also Making Room, a major project with Turner Prize-winning architecture collective, Assemble.
Meanwhile, the project Sewing Box for the Future looks at how we can reduce clothing waste.