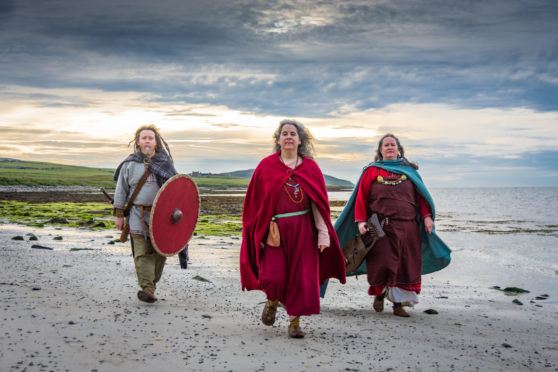 This autumn, the Scottish International Storytelling Festival (SISF) takes audiences on a voyage, exploring Scotland's coasts and water through music and storytelling.
The festival, which will run from October 17-31, has a title theme of "In the Flow" and aims to spellbind its viewers so they are kept as such through small-scale performances which celebrate Scotland, a nation shaped by water.
The events will shine a light on lost stories of Scottish and international culture, giving a new perspective on historical experiences while captivating, entertaining and educating audiences on everything from Scottish colonial history to its connection with the natural world.
Speaking at the Festival launch Scottish International Storytelling Festival Director Donald Smith said: "Stories and songs are vital for human survival; they carry our emotions, memories and values.
"They bind us together as families, communities and a nation, especially through tough times.
In the challenging year of 2020 – living with the impacts of the coronavirus – storytelling, music and other forms of art have become a form of healthy escapism for many, improving resilience, mental wellbeing and creating a sense of belonging.
Culture Secretary Fiona Hyslop, added: "The Scottish International Storytelling Festival 2020 is backed by £100,000 from PLACE (Platforms for Creative Excellence) funding and over £88,000 from the Scottish Government Festivals Expo Fund and will greatly benefit artists and performers across the country.
"I'm so pleased that in connecting people and communities with culture in new and inclusive ways, Storytelling Festival is continuing Scottish festivals' proud traditions of innovation and creativity."
SISF's "In the Flow" will present "Voyage" a series of new works developed by storytellers and musicians for Visit Scotland's "Year of Coasts and Waters", also supported by the Scottish Government Festivals Expo Fund.
Premiered as a series of pre-recorded studio broadcasts to be streamed online, "Voyage" is a collection of fourteen performances by Scotland based storytellers sharing tales of real and imaginary voyages that have connected Scotland to other coastal countries, near and far. Supported by the Edinburgh Festival Expo Fund and Cal Mac Ferries, its highlights include performances by Apphia Campbell, Mara Menzies, Donald Smith, Nicola Wright and many more exceptionally talented artist.
Flowing alongside the Voyage series, the Festival will be celebrating Scotland's own coastline and rivers, collaborating with The Orkney Storytelling Festival and The Wild Goose Festival in Dumfries and Galloway. Socially distanced small-scale in-person events are planned for the festival, including tall tales and spirited shanties, open-mic indoor cafes, outdoor promenade performances and storytelling walks departing from the Scottish Storytelling Centre.
Edinburgh's long running story night "Guid Crack" also returns online throughout the festival as does the Storytelling Festival's famous Open Hearth, with live digital participation in a ceilidh of cultures, hosted by some of the finest traditional storytellers from Scotland and around the world.
As well as all of this, the Community and Families Programme will bookend the festival, running between October 12 and November 30. This programme will pair local storytellers with partner organisations in online and small-scale live settings, unlocking the ethos of 'going local'.
As this year's festival closes with a celebration of the Feast of Samhuinn, the 2020 Scottish International Storytelling Festival is on the hunt for Scotland's Greatest Ghost Stories. The call is going out to find local ghost stories and to encourage people in Scotland to discover the spooky side of their home town's history. As part of the festival, a ghoulish storytelling workshop will be held to encourage storytelling enthusiasts of all ages to become frighteningly good!
This year, more than ever, people are longing to be transported to different places and times. And through sheer innovation and cooperation, the Scottish International Storytelling Festival is able to do just that – delighting viewers with different realms, kingdoms and castles of by-gone eras, all through power of words and movement.
Whether you are close by, or joining from afar, connect with SISF this autumn and celebrate the true diversity of the traditional arts of Scotland and beyond.
---
For more information on tickets and events, both live and online, visit www.sisf.org.uk.