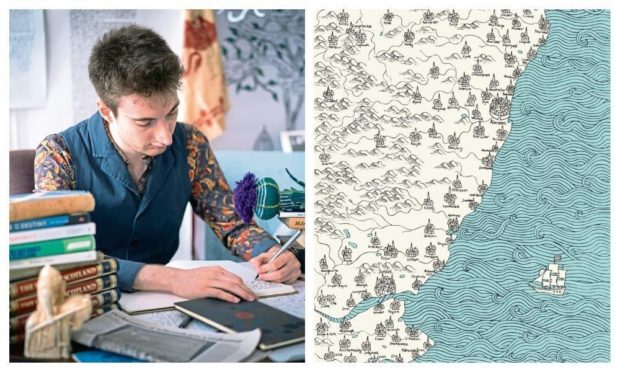 Artist and writer Andrew Redmond Barr has launched an ambitious new project to create the first major Scottish atlas for over 100 years.
Combining text with illustrated maps, the Atlas of Scotland will shed new light on Scotland's size and resources, its cultural and political history, as well as its long standing as one of the ancient kingdoms of Europe and the richness of its international connections.
Andrew explains the inspiration behind the project: "When I graduated from university in the summer of 2014, there was a lot of anticipation and excitement building around the independence referendum.
"Since then, the question of what Scotland is and what it could be in the future seems to have stuck in people's minds.
"Creating an atlas feels like a way of taking stock, of looking in detail at what Scotland actually is, what it's made of and where it stands, as well as telling the story of Scotland's rich past.
"I hope the project brings some clarity and illumination to those who read it, whatever their own view on the future might be," he continues.
Although Andrew doesn't have any formal training as an artist, he has always liked writing and drawing and putting the two together.
"I also have a passion for Scottish history and culture, which is what I try to promote through all my creative projects," he reveals.
He is the author of two published books, Summer of Independence (Word Power Books 2016), looking at the 2014 independence referendum from a cultural perspective, and The Illustrated Declaration of Arbroath (Saltire Society 2019), which was designed to celebrate the 700th anniversary of one of Scotland's most important artefacts earlier this year.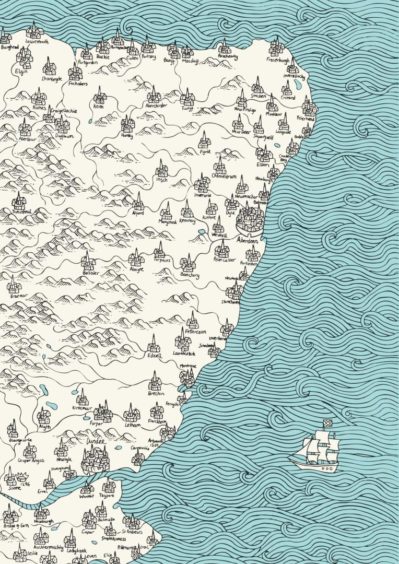 So when was the last major Scottish atlas created and by whom?
"Looking at the collections kept by the National Library of Scotland, Bartholomew's 1912 Survey Atlas of Scotland seems to have been the last major atlas-making project, with the whole of the country being observed and drawn out on a large scale," Andrew explains.
"The 1912 survey used newly available printing methods to add colour, and brought together experts in the natural sciences to give fresh insight into the formation of the land.
"It was also notable for being a self-made Scottish initiative, being designed, printed and published in the capital."
Wile there is no shortage of digital maps to be found onlne, Andrew believes that a hard copy atlas of Scotland still very uch has its place in the 21st Century.
"Digital maps are very useful if you're looking for something specific, but I think paper maps are better for exploration and discovery," he says.
"I like the traditional idea of an atlas being a way of travelling in the imagination from the comfort of your living room, which in my mind means having a printed book in front of you."
The Atlas of Scotland crowdfunder was launched on September 26 and reached its £12,000 target within just four days, attracting support from all over the world.
Andrew plans to use some of the money raised in the crowdfunder towards digital content such as short social media films, looking at different aspects of the Atlas and telling the stories of some of the locations depicted.
"It would be a good way of engaging with a broader audience if restrictions on physical events are still in place when the Atlas is launched in 2021," he says.
"I've said that this Atlas will explore Scotland's international connections and its place in the world, and I think that global angle may have appealed to the Scottish diaspora in particular.
Contributing to the crowdfunder and being listed as a patron might also be a nice way for people to connect with an idea of home."
Describing the atlas as a "rediscovery", Andrew explains: "Scottish history is sometimes presented through the lens of major events, with parts missing in between.
"I'd like to try and give a more rounded picture of Scotland, and to me that means seeking out some of the important things which have been overlooked or undervalued in some way.
"To give one example, I'd like to map out the route of the 1902 Scottish National Antarctic Expedition, which was an important self-made Scottish scientific venture, but for various reasons didn't receive the same recognition as other expeditions at the time," he divulges.
"I'd like to leave readers with the impression that every corner of Scotland has some sort of historical or cultural significance, and not just the places and events that are already widely known about."
Although work is already underway on the research and some of the illustrations, the finished atlas isn't expected to be ready until autumn 2021.
"It will be a lot of hard work over the coming months, but the support I've been receiving through the crowdfunder has given me a stable footing to get the project finished," says Andrew.
"Scotland has changed an enormous amount over the past 100 years, from the way people live and work to the reopening of the Scottish Parliament and more.
"For me the overarching story has been one of Scotland rediscovering itself, exploring degrees of political self-government as well as expressing ourselves more fully through culture, literature and the arts.
"This atlas will in many ways be a reflection of Scotland in its current state, just as atlases have been throughout history."
He strongly believes there is something of interest and significance to be found in every corner of Scotland, and admits that one of the challenges will be deciding where to stop!
"The amount of detail you could delve into for every place is enormous. So the challenge is to try and create an all-encompassing depiction of the county, and to cover as much of it as I can, whilst also bearing in mind my own time and resources.
"It's a little bit daunting, but it's a challenge I'm ready for.
"While the atlas will cover some of what is already widely known about Scotland and its history, it will also deliberately seek out the unusual, the forgotten or the overlooked.
"Those are the parts I think will be most enjoyable for readers," he smiles.
"I want it to be a kind of treasure trove of discovery and challenge people's perceptions.
"The atlas isn't aimed at children, but you never know what side-projects could come out of it.
"When my last book The Illustrated Declaration of Arbroath was published, I was also invited to produce some illustrated schools packs in collaboration with Historic Environment Scotland and the National Records of Scotland.
"I'm always open to new ideas to make my work accessible to different audiences."