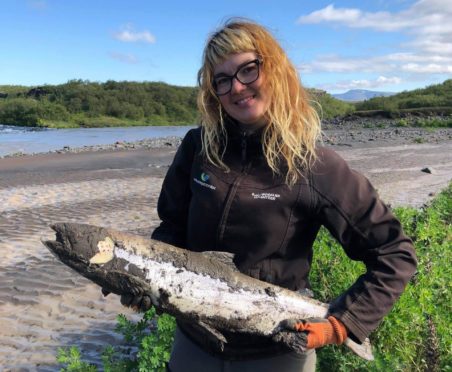 A stint of volunteer conservation work in Iceland resulted in an enduring love affair with the country and a TV appearance for SRUC student Kerry Ireland.
Kerry, 30, who is from Glenrothes in Fife, is currently studying Wildlife and Conservation Management at Scotland's Rural College (SRUC) in Aberdeen. The student has always enjoyed travel and the great outdoors but Iceland has won a special place in her heart.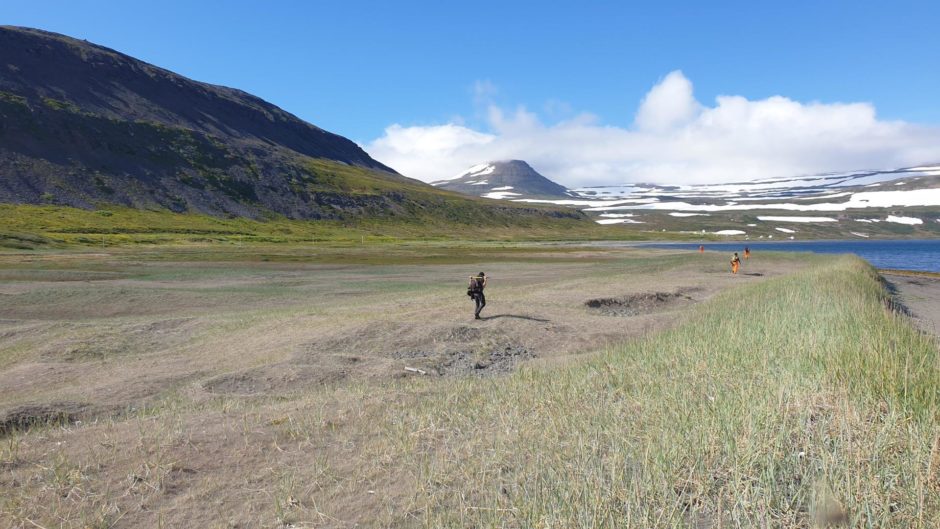 "Believe it or not I just googled 'volunteering in Iceland'," she explains, "and hit the first search result! I remember being in high school learning about Iceland, how it experiences regular earthquakes, volcanic eruptions and northern lights in the winter and just being really fascinated by it all. When I was in Greece in 2016 I had a friend who had been to Iceland on a university photography trip and it reminded me that Iceland was somewhere I had wanted to go for a while but never thought it would be possible. That's when I looked for volunteering opportunities there."
Finding her calling in conservation
Kerry has found her niche in the wildlife and conservation course, having had a few false starts in the past. "When I got to 25, I was fed up of working in dead end jobs that I wasn't happy in so I decided to try and find something that would get me outside as I enjoy hill walking and camping," she says. "I took a few years away from education to have a good think about what I wanted to do and used up the time in between to travel – I went to Greece for a month to volunteer with a loggerhead sea turtle research centre, three months in the Netherlands at a seal research and rescue centre and also did a three month backpacking trip around South East Asia where I volunteered at an eco-garden and an elephant sanctuary."
Now based at SRUC's Aberdeen campus she says that, "I prefer coming to college as the classes are far smaller (6 other students in my class) meaning we can spend more time with tutors and I feel its just a far better way of learning."
The first time I went to Iceland was 2017 – I paid for a 4 week volunteering programme that was based in Skaftafell on the south coast, right under the Vatnajokull ice cap. The programme is called Iceland Conservation Volunteers (ICV) and is part of the Department of Conservation at 'Umhverfissstofnun' ('Environment Agency' in English)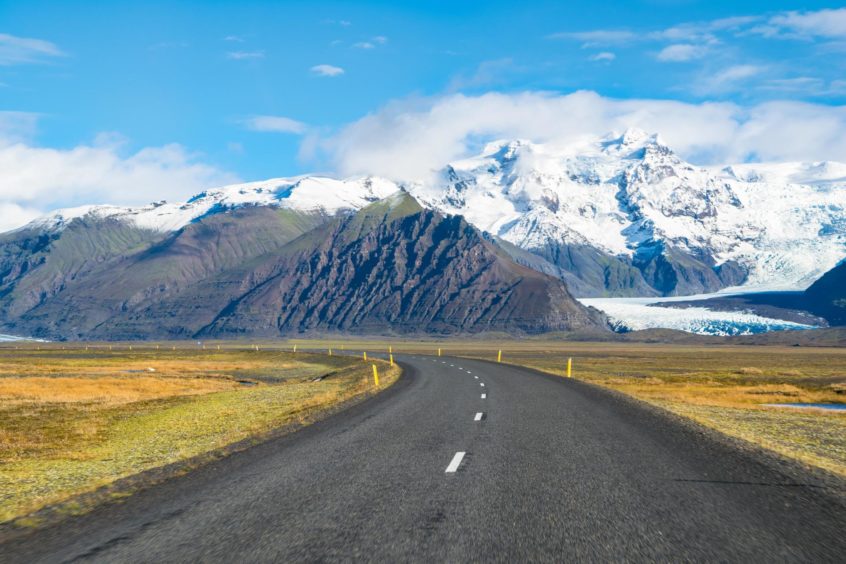 Kerry enjoyed the programme of fixing hiking trails, removing non-native plants and camping in the wild so much that she was disappointed when the four week programme ended. "I was gutted to come home!" She says, "I kept in touch with my leader as we got on really well and she informed me that someone from the next group wasn't able to make it and there was an extra place if I wanted to have it so of course I jumped at the chance!"
Not only did she get the chance to return to, "the country I had quickly fallen in love with," but Kerry also bagged herself a role as a team leader for the following year. "That was back in 2017," she explains, "and I've now spent four full summers in Iceland, one as a volunteer/co-leader, three as a leader and programme deliverer and I even extended my stay this year so I could work for 'Stokkar og Steinar' (translates to 'Sticks and Stones'), Iceland's best known landscape contractors, until I had to return home to move to Aberdeen for college.
"We work in nature reserves, national parks and country parks with the local rangers, all over Iceland. As Iceland hosts over 2 million visitors in a normal year, many are coming to experience the country's unique and dramatic nature. The work we carry out is to help preserve the flora and fauna by fixing and maintaining hiking paths. We mainly do rockwork where we gather all materials on site to build steps and drains to make walking more comfortable and ensure tourists stay on the path. We also do a lot of landscaping – covering up desire lines where people have used an unofficial path to make the area look natural and unspoiled. In some places with high footfall we install wooden boardwalks and steps."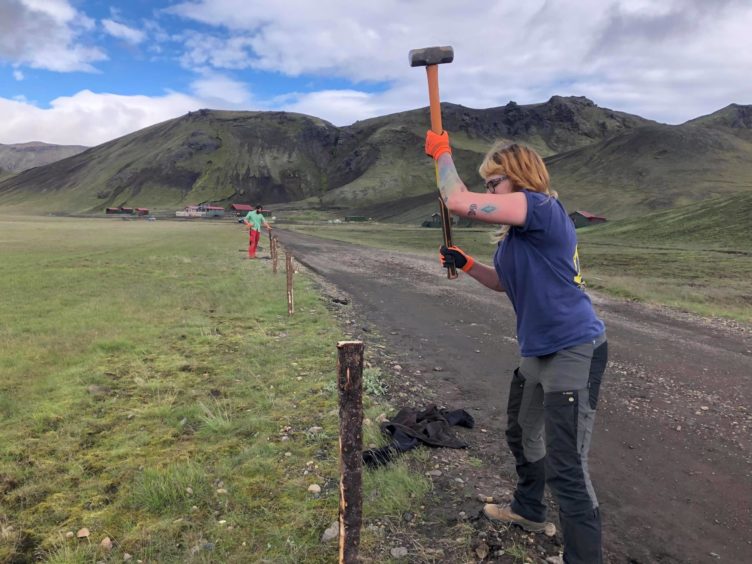 One of the biggest challenges for Kerry has been getting to grips with the local language, "As we were working alongside local rangers obviously you hear a lot of Icelandic," she says. "It's an extremely difficult language to understand as it's so different than English. It's so hard to wrap your tongue around the pronunciations of words as a lot of sounds and letters we don't have in the English language. I practise it on my own in front of the mirror as my big dream is to end up living in Iceland – I think its a very beautiful sounding language – so different from home!"
A different way of life
She is also drawn to the Icelandic way of life, "Icelanders are so chilled out and everything is very slow paced largely due to how often the weather changes – for example, an unpredicted storm happened when 10 of us where camping in the highlands. We were faced with 55mph gusts with horizontal rain in the middle of the night and had to be rescued by rangers who helped us grab all our tents and belongings with only their car headlights to help us see! Nothing can be planned more than a few days in advanced and even then, the weather can change within the hour. It may sounds cliched but has taught me to slow down in my own life.
Despite the Covid-19 pandemic, Kerry still made it to Iceland this year, although some adjustments to the usual set-up had to be made: "This year the training week (volunteers usually meet in March in the English Lake District) obviously didn't go ahead but it was only called off the morning of the day we were all to arrive due to lockdown happening. It wasn't until two weeks before the programme was supposed to go ahead that Iceland announced that it was opening its borders to tourists from June 15  provided you got a Covid test at the border." Many of Kerry's friends were unable to travel from the USA and there was also a lack of tourists. "I was working on the famous 'Laugavegur hike' in Landmannalauger (the Icelandic West Highland Way) where thousands of people visit daily – this year in late August the most visitors that walked past me in a day was eight."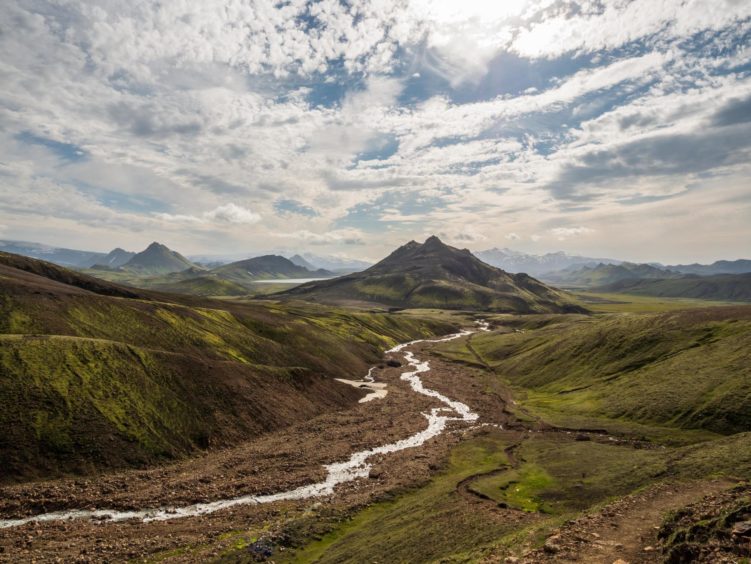 Kerry also became something of an Icelandic media star this summer, and appeared both on TV and in the local paper. "A news reporter turned up at one site I was working at in late August," she says, "wanting to speak to the ranger about how Covid had affected tourism and how Icelanders have been spending their holidays in the country, The reporter also wanted to feature the work that ICV do I volunteered myself to be interviewed – that sort of stuff doesn't bother me in the slightest."
Then, a few days later, "I found a massive Atlantic salmon beached about 1 metre away from the river itself. My friend took a daft picture of me carrying it about and we thought no more of it. When we met up with the ranger later that day we showed her the picture of the fish we found. Within the hour the picture had made its way into the municipality's newspaper!" she laughs.
Dramatic flood
Later, they found out that there had been "a 'mysterious flood' during the night from the near by ice cap. There was no warning of it happening and because it happened during the night, no-one witnessed it. It had been recorded that the river went from 95 cubic cm a second to 257 cubic cm a second for about half an hour then returned to normal flow. As a result, areas next to the river where it rose was covered in a grey glacial deposit."
Kerry's highlight of her 2020 volunteering experience was also the most remote. "My favourite memory of this year was spending 10 days on the remote Hornstrandir Nature Reserve. This reserve is only accessible by boat and only has a small bunkhouse/cafe and a few summer houses. The area used to be used as a British and American army base and a small population of people did live here and work at a whaling station but the weather worsened over the years which forced people out of the area.  The reserve is now used mostly for multi-day hikes but it's really not for the faint hearted as most days we were lucky to meet anyone else.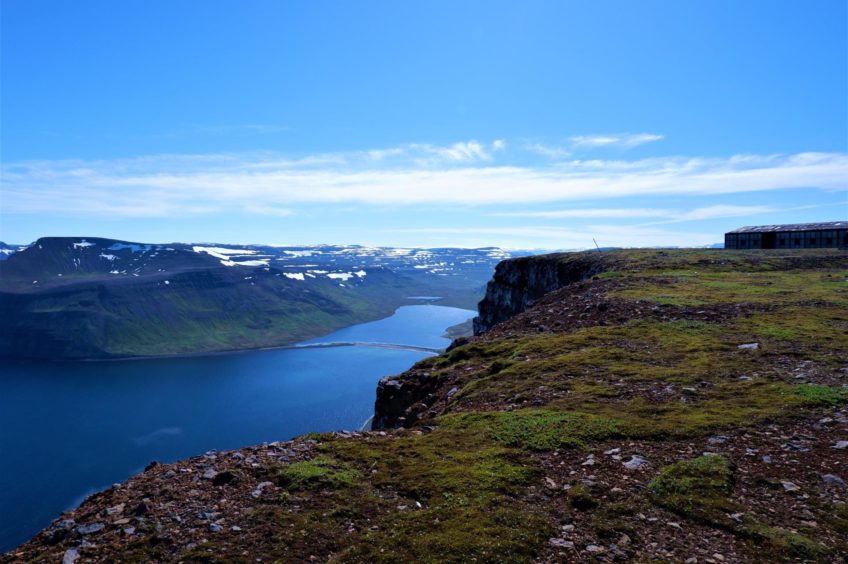 "As there were no amenities (only a latrine!), no phone signal, no electricity, no hot water, we had to get creative and more or less live off the land. We had infinite water supply from melting snow, foraged the beaches for mountain spinach and oyster plant and swam in the sea to wash – most people would feel disadvantaged having to live like this but it's honestly one of the best experiences of my life."
Truly an opportunity to get away from it all – and one which she hopes to continue to grasp in years to come.