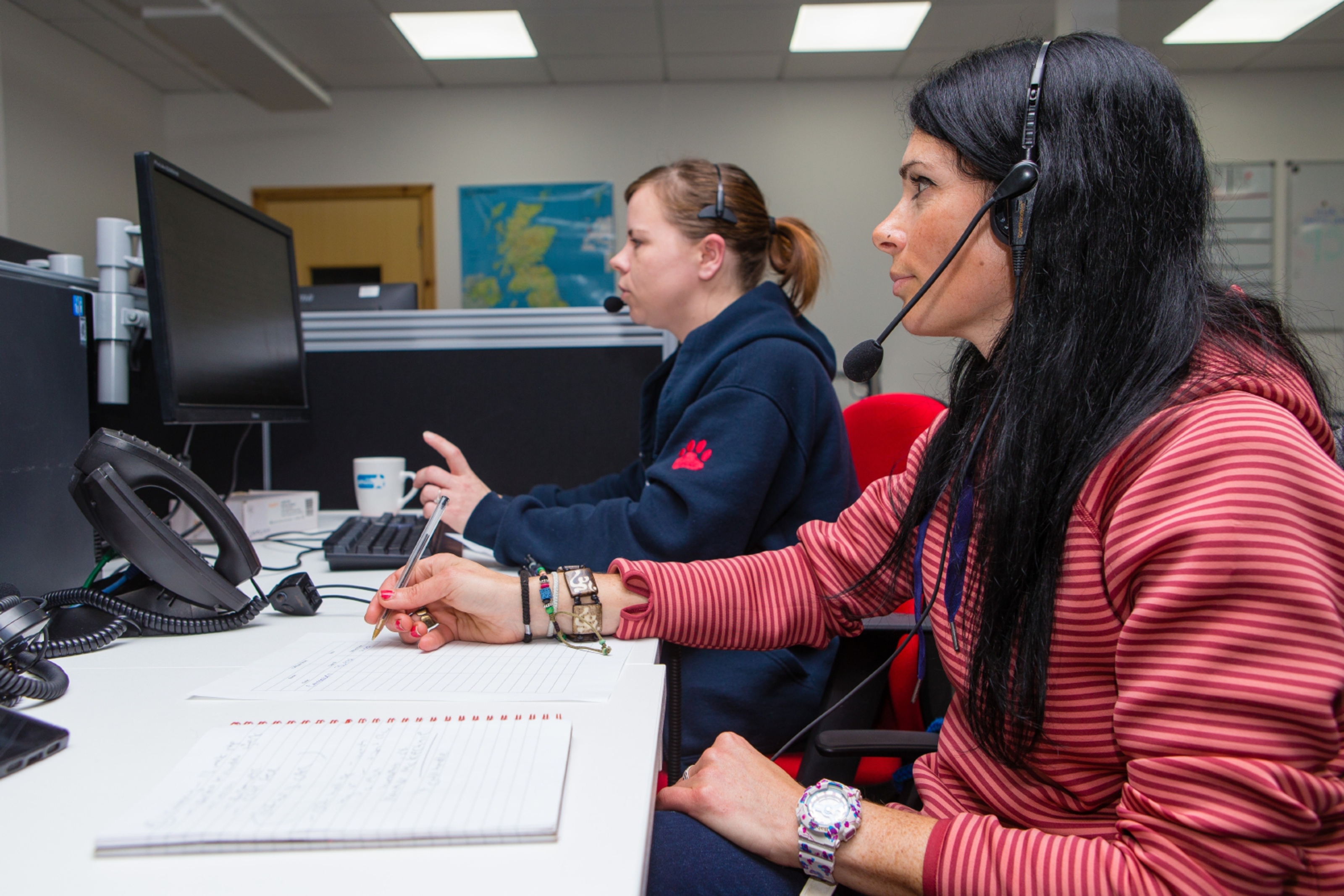 As Vets Now, the leading provider of out-of-hours emergency pet care, launches a festive recruitment drive for its Dunfermline contact centre, Gayle Ritchie spends an evening shadowing its call handlers
The phones are ringing off the hooks inside the emergency vet care contact centre, despite the fact it's just gone midnight.
Pulling on a headset, I tune into call handler Heather McKechnie's conversation with a worried dog owner who has phoned in from Liverpool.
His four-month-old boxer puppy has swallowed a pair of pants – a thong, to be precise – and is hiccupping madly.
Heather runs through a series of questions and then seeks advice from on-duty veterinary nurse, Steph Dobbs.
"There's a high chance the thong won't pass and it gets stuck, he might need surgery," she says. "He needs to go to the emergency vet clinic as soon as possible."
Heather relays this information to the owner, provides the address of his nearest clinic and warns that while the call and advice is free, there's an out-of-hours consultation fee.
Reassuringly, the boxer pup should be seen within 15 minutes and hopefully all will end well.
There's no time to dwell on this because no sooner than the call has ended, the phone rings again.
This time it's a woman from Canterbury who fears her 13-week-old spaniel has been hit by a car, as he's jerking and juddering. Again, the advice is to get to the clinic.
During the shift – which runs from 6pm to 1am – the 20 call handlers at Vet Now's Dunfermline headquarters hear from more than 600 pet owners.
This number will rocket by as much as 40% during the festive period, with animals eating dangerous items such as chocolates, batteries, decorations, pine needles, baubles and toxic plants.
When I visit in October, calls range from the traumatic (dogs and cats hit by cars, and in one case, dying at the scene), to the bizarre (a "stoned" American pit bull that's eaten a lump of cannabis) to the humorous – including an "aggressive hamster" with "large" testicles and a nasty bite.
However, the majority of phone-ins are distressing.
There's a French bulldog suffering an epileptic fit, a Jug (Jack Russell terrier and pug cross) which had hot sticky liquid spilled down his back, a hypothermic rabbit, a dog in distress having given birth to a litter of puppies, a shaking, yowling cat and a breathless Newfoundland puppy who's lost his appetite.
How do the call handlers deal with the emotional fall-out?
"It can be very sad, especially when an animal is really ill, but ultimately, you're doing a good thing," says Heather.
"We deal with some very distressing situations but it's a great working environment in a happy, relaxed atmosphere.
"It's a fascinating job. The calls are varied so it's never boring. And we've got a pet-friendly policy, so there are usually three or four dogs around to stroke."
More than 1,000 veterinary practices across the UK use Vets Now to provide clients with a seamless out-of-hours emergency care service.
The Fife contact centre handles around 250,000 calls a year, the majority of which come from pet owners needing reassurance at the weekend or in the evening when their vet is closed.
Steph describes Vet Now as "NHS 24 for animals".
"A few call handlers are clinically trained but most come from a customer service background and they go through some training," she says.
"Most are pet owners so they're able to empathise with clients and take them through the steps to get their pets quickly and safely to clinic, or how best to care for them at home.
"They don't need experience of animals and rather, should have a willingness to speak to people on the phone, and be calm and caring.
"And there's always a trained veterinary nurse on hand to offer expert clinical advice whenever it's required."
The festive time is the busiest time of year for pet emergencies, with increased hazards around the house.
That's why the centre is recruiting now for call handlers with great communication skills and the ability to stay calm under pressure.
"It's vital that distressed vet owners get the best possible service right from the moment they pick up the phone to us," says head of client service Lisa Maxwell.
"We're dedicated to urgent critical care and we'll advise whether you need to bring your pet into the clinic for immediate treatment and provide free advice over the phone."
info
Vets Now staff are dedicated to urgent critical care, and are particularly skilled at dealing with emergencies.
They will advise whether you need to bring your pet into a clinic for immediate treatment.
Temporary positions across a variety of shifts will be available between November 15 and January 15. Go to jobs.vets-now.com