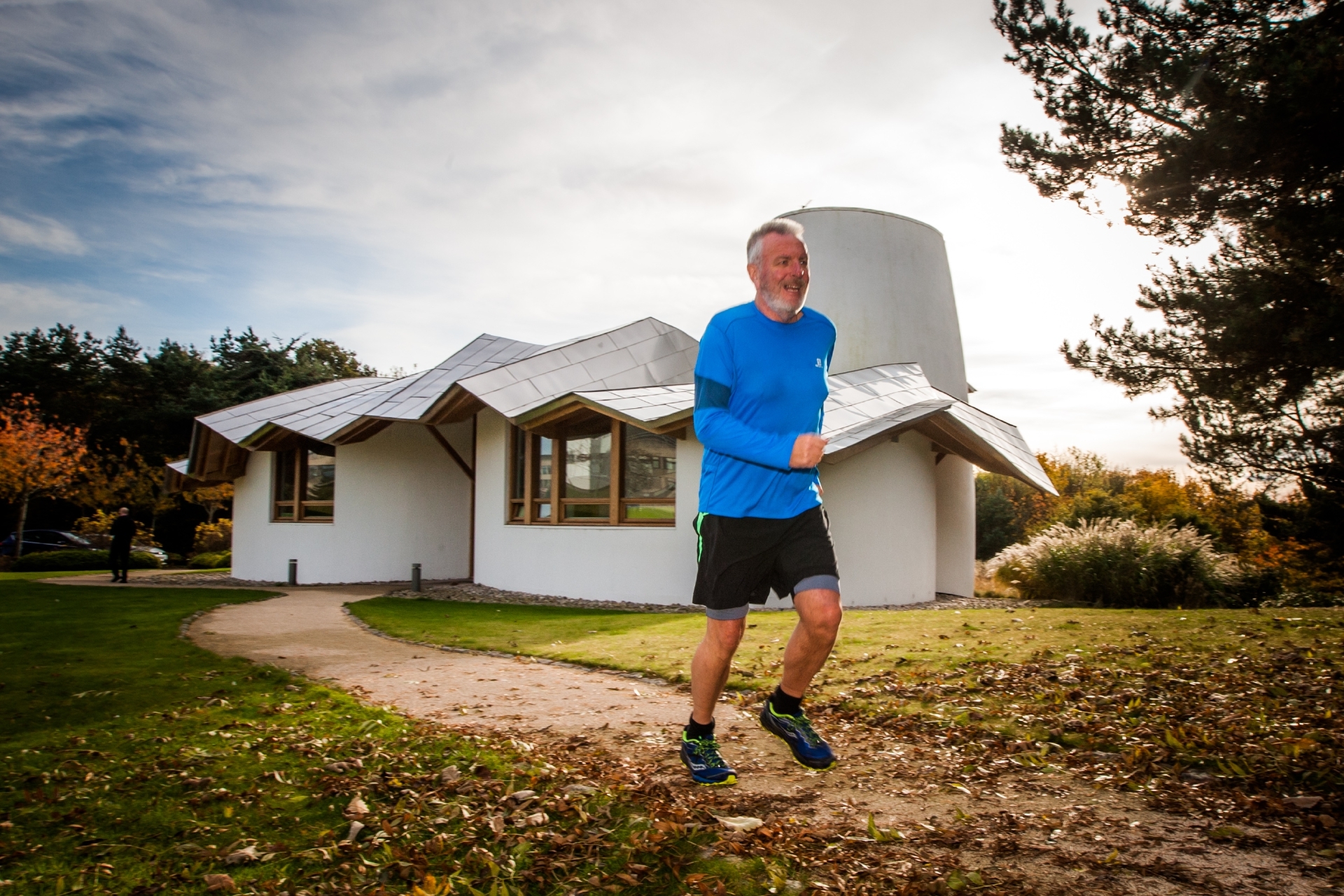 Ahead of a BBC documentary which marks the 20th anniversary of cancer charity centre Maggie's, Gayle Ritchie meets one particularly inspirational Dundee centre user
Eric Hamilton's world fell apart in April last year when he was diagnosed with an inoperable, incurable and terminal form of lung cancer.
His consultant gave him just three months to live.
But thanks to the new drug Afatinib and the support he received from Maggie's Dundee, Eric was able to pick himself up off the floor.
That's when he started running – and, having completed a half marathon in September, he's now he's in training for next year's London Marathon.
The forestry officer, from Dundee, went to his doctor after failing to shift a cough and developing a sore neck.
Amazingly, Eric was only off work for 28 days after getting radiation treatment and being matched with what he terms a "wonder drug", which he hopes will prolong his life.
"After the diagnosis, I was a mess," said Eric, 60. "I was told I had a tumour in my left lung that was inoperable and incurable.
"The impact was astounding. It took the wind out of my sails.
"I would wander round woods near my house in the dark, shouting and bawling my eyes out. Then one gloomy morning, before treatment, I fell over a big root, and when I got up, I just ran and ran.
"Running made me feel better – I didn't have any chest pains – and I've had pretty much daily runs ever since. My philosophy was basically this – exercise or die. I was initially scared I was going to die tomorrow, so I did this to prove that wasn't going to happen."
While the tumour is incurable, father-of-three Eric said it's no longer deemed terminal, and he is very happy to be living, breathing and running.
This summer, he ran both the Glasgow and Edinburgh 10Ks and the Scottish Half Marathon in East Lothian in September.
"I was disappointed with my time but I was ill with a fever and had dragged myself out of bed," he said. "I hit the wall at 10 miles but managed to finish in two hours 30."
Prior to his diagnosis, Eric used to be a social smoker, enjoying the odd cigar with a pint. "If I'd been a 20 to 60 a day man, I doubt I'd have survived this long," he said.
He hadn't run since the 80s and had allowed a beer belly to develop, although he had always been a keen hillwalker, regularly climbing Munros.
Having heard the phrase "tumours love sugar and hate oxygen", he completely changed his diet, cutting out sugar and losing two stone in the process.
He exercises with a personal trainer at Maggie's on a regular basis as well as clocking up daily runs of around six miles.
"Going to Maggie's was such a great help," he said. "The staff picked me up and showed me how to live with cancer. I didn't need to put on a brave face – I could open up and talk to people.
"Some prefer to deal with cancer themselves but Maggie's is a fantastic place where you can go for a cry or a hug. You can be with other people or have a one-to-one session, or simply just spend time there reading in a quiet corner.
"The staff are amazing. They've shown me how to ease the pain and lift the despair. The darker mental issues can be difficult to deal with but family, friends and Maggie's all work together to help you through."
Eric goes to Maggie's three or four times a month and attends a lung cancer support group and mindfulness sessions, as well as meeting his personal trainer and simply chatting to staff, reading and enjoying the peaceful and relaxing atmosphere.
While lesser mortals are cosied up inside over winter, Eric plans to train hard, with the goal of running in the London Marathon next year spurring him on.
He's also planning to run up Ben Nevis in summer 2017, climb the Rocky Mountains and scale the tallest tree in the USA.
"I'm only as good as my next scan, but I'm very happy to be living, breathing and running," said Eric.
"My motto is 'I'm not deid until I'm deid'. I plan to live as much as I can."
Lesley Howells, Maggie's Dundee centre cead, said Eric is a "truly incredible guy" and a wonderful example of how the support Maggie's offers empowers people.
"At Maggie's Dundee we offer bespoke support to anyone affected by cancer, helping them to find their way through whatever they may be experiencing," she said.
"For some people that may mean accessing our evidence-based programme of support, while for others it may simply be taking time to reflect over a cup of tea in our beautifully design building.
"For Eric, Maggie's has helped him to find a way to cope with his cancer experience through exercise and I'm sure he will inspire others to visit our centres and find the support they need."
info
Eric's story features in the documentary Building Hope: the Maggie's Centres, which is on BBC Two Scotland at 8pm on Sunday November 6.
It tells the fascinating story of Maggie's which began life in Edinburgh 20 years ago.
In 1993, Maggie Keswick Jencks was diagnosed with terminal cancer and told she had three months to live.
On hearing this devastating news she was left to sit on a plastic chair in a hospital corridor. The only place she could find to cry was a toilet cubicle.
Her husband Charles Jencks, who is co-founder of the charity, said: "I think that initial shock was the moment when Maggie thought we can do better than this.
"You don't have to suffer in a corridor on death's row having just been told that you are going to die. That was the moment architecture and medicine met in our minds."
Maggie spent the last year of her life working on an idea for a cancer centre which she hoped would change the lives of others with cancer, as well as their friends and family.
Since her death, the most prominent names in architecture from have designed astonishing landmark buildings bearing her name.
The documentary features interviews with world-renowned architects Gehry, Richard Rogers and Norman Foster.
This year Maggie's celebrates its 20th anniversary, and will soon open its 20th centre in Larbert, Forth Valley.
Other Scottish centres featured in the programme include Edinburgh, Lanarkshire and Glasgow.
For more information, see www.maggiescentres.org/