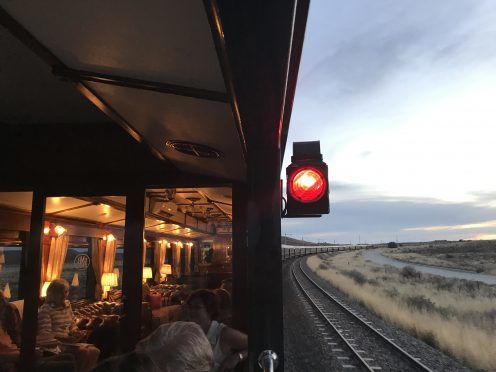 Welcome aboard what for me is the finest train in the whole of Africa. I'm writing this on Rovos Rail – which definitely justifies its tag as the 'Pride of Africa' – as I watch the parched plains of South Africa unfurl all around and an ostrich kicking up the scorched earth just feet from my suite windows.
I say 'suite', but I'm not  getting preferential treatment. Everyone has suites on this luxurious train, the ideal venue for honeymoons (indeed I meet a honeymoon couple from Aberdeen) or just a very special once-in-a-lifetime adventure through some of the most striking parts of South Africa. You can even continue on deeper into Southern Africa.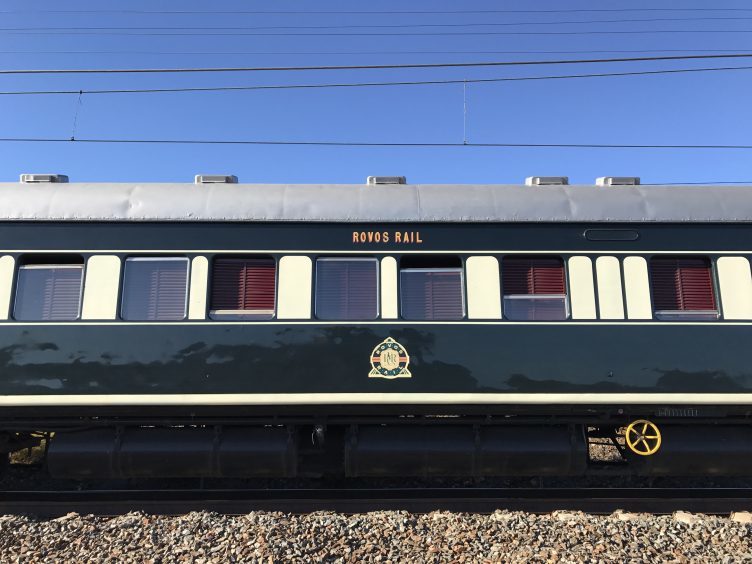 On the face of it Rovos has stiff competition in South Africa from the more famous Blue Train. Having been on both twice now over the years I can personally vouch for Rovos. The Blue Train is state run, Rovos charmingly steered by a passionate family. The Blue Train is sterile and modern, Rovos full of character and bursting at its steam-spouting seams with heritage.
The story of Rovos Rail dates back to 1989 and is very much the vision of one man, Rohan Vos, who has dedicated his life to conjuring up and maintaining this most impressive of trains. It's exclusive too, with only a maximum of 72 passengers housed in its 36 opulent suites.
The flagship route is Pretoria to Cape Town, but there are also longer trips into neighbouring countries like Namibia and Botswana. The epic one, which I dream of doing one day, is a remarkable trans-African adventure for a whopping 15 days that sweeps all the way up through a volley of countries to reach Dar es Salaam in Tanzania.
It's hard not fall in love with Rovos and that is even before the train rolls into view.
The company base is a trainspotter's dream. Rohan Vos and his family team have created an entire private station on the outskirts of Pretoria. In its railway museum the curator – a retired driver who once drove steam trains around Scotland – is delighted to see my kilt and gives me a personal tour of a museum alive with all manner of railway bric-a-brac.
As a burst of steam swirls around myself and the other 72 lucky passengers (this service is fully booked) we enjoy a celebratory glass of South African sparkling wine aboard . We are pulled by Rovos' own locomotives as we try to shake off Pretoria, but by the time we reach Johannesburg we are being hauled by engines from the state-run operator. On our relaxed two nights we saunter towards Cape Town almost 1,000 miles away. The Blue Train rushes the same route in just one night.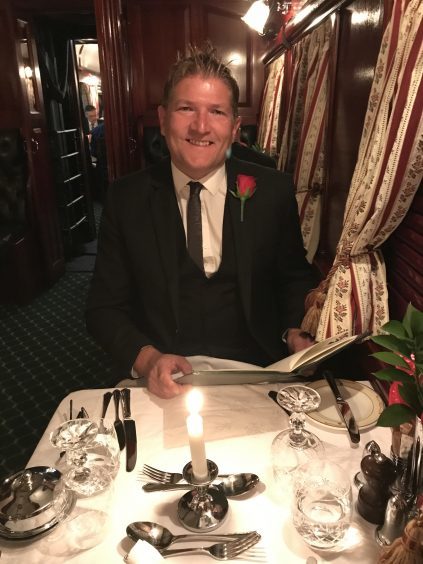 Nothing is rushed on Rovos, bar the train staff. In a good way. They busy around swan-like for the entire trip, making sure guests have everything they need, while all the time staying calm on the surface and always on hand with a beaming smile. I appreciate that my hostess Monique spirits off my two-week trip battle-hardened suit and shirts for a well-needed press. No extra charge. On Rovos everything is included.
While some 'luxury' trains understandably struggle to produce culinary miracles in the confines of a cramped train carriage, Rovos excels. The food is both fresh and delicious, packed full of local ingredients and flavours. My highlights are a decadently rich shank of Karoo lamb, an ostrich fillet spiced up with balsamic vinegar and a huge Cape lobster.
Then there are the wines. And what wines they are! The wine list reads like a who's who of South African wine and that is a joy, as I reckon South Africa is the most underrated of the New World wine producers. Before the train ride I'd spent a week exploring the Cape Winelands and they are just going from strength to strength. You can still read all about that trip on the Courier website.
I am delighted that they have one of my favourite local whites, Southern Right Sauvignon Blanc, onboard. It comes from the cooler vineyards down in the Walker Bay area and it's gorgeous. Then on the red front there are two real stunners, the Warwick Wine Estate's Trilogy and the multi award-winning Meerlust Rubicon, both delicious Bordeaux blends.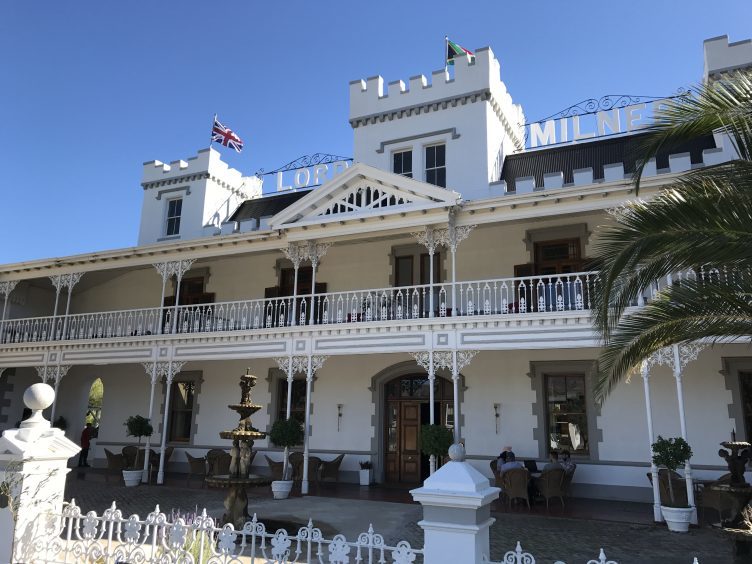 Enjoyable as it is to just sit and eat world class food and drink, mercifully there are a number of opportunities to get off the train. The first morning we stop at Kimberley. Not before we cruise by a colony of over 20,000 pink flamingos on the edge of this famous mining town at Kamfers Dam.
Kimberley is most renowned for once being the very epicentre of the global diamond mining industry. Indeed one of the most famous names in the industry today, De Beers, has its roots in the area. We learn all about this and more at the mining museum before peering into the black depths of the massive Big Hole, said to be the largest hand-dug hole in the world.
The final day's excursion is inspired. Passengers have the option to detrain and stretch their legs for a 5km walk along a solid bush track into the historic town of Matjiesfontein. I feel at home in the town in my kilt as there is a strong Scottish influence with the Laird's Arms and Tweedside House. I find out why in a local café when the waitress informs me that the town was actually founded in 1884 by the legendary Scottish railwayman James Douglas Logan.
Matjiesfontein is bedecked in glorious colonial era architecture, a legacy of the days when it was a popular spa escape. The old bright red London double decker bus idling by the train sums up what is a wacky, charming desert oasis it is easy to lose time in. I do just that, eschewing a tour (I was here a decade ago and it's tiny) to just wander the dusty streets and chat to a few locals in that café.
I almost forget that the train is there. It's good to be back aboard, though, in the world of air-conditioned luxury. On Rovos there is always a staff member with a cool towel or a glass of chilled bubbly on hand. You really feel like you are being looked after and I notice how relaxed all the other passengers become as the hours drift by. We all by now feel like old friends.
Now I settle down to enjoy the most spectacular part of the route as we push between the rugged mountains of the Karoo, seeking to break through to the verdant winelands of the Cape, which lead the way into Cape Town. We make it through the imposing mountains – some vault up well over Munro height – by way of a series of tunnels, the longest a whopping 13.5km long!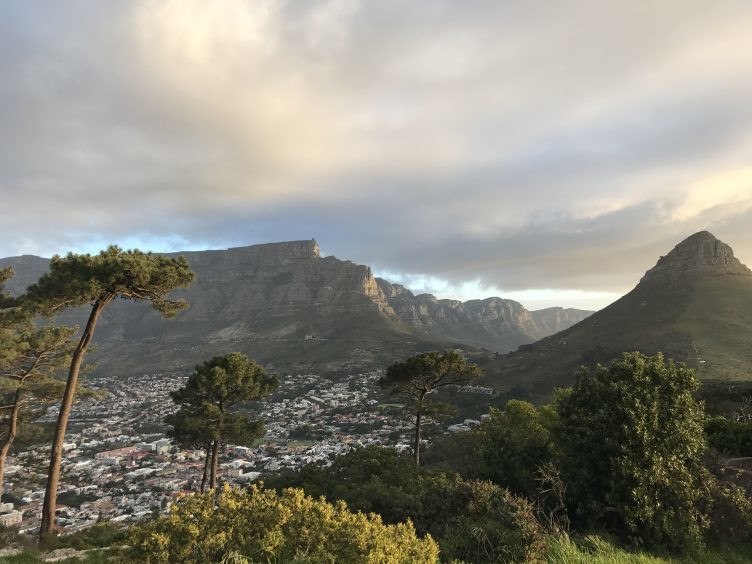 On the final push into Cape Town we drift through the Cape Winelands. Green, verdant vineyards ripple across the hillside, a burst of life after the harsh aridness of the vast Karoo. Passengers swap addresses and some even rearrange plans to meet that night for dinner to continue their new-found friendships.
I end the journey as I began it in the elegant observation car. I savour a glass of Boschendal, one of the excellent new breed of Methode Cap Classique sparkling wines. I'm in the open air deck taking in the sights, smells and sounds of this ever-intriguing continent. I raise a toast to utterly unique Rovos Rail and hope that I'll be back again. If you get the chance I thoroughly recommend you hop on board Africa's greatest train ride too.
Factfile
Rovos Rail – www.rovos.com
Tourist information – www.southafrica.net
For more on South African wine – www.winesofsa.co.uk.
Hotel of the Fortnight
City hotels can be, well, a little boring, but you certainly cannot say that about K West in London. There used to be BBC studios here and famous names like David Bowie have recorded here. The public rooms and bedrooms are bedecked with memorabilia from those halcyon days and there are splashings of music-themed art too. To fit in with all that they now offer Glam Rock Afternoon Tea, with brightly coloured bread in the sandwiches and all sorts of playful touches. A breath of fresh air. www.k-west.co.uk
Travel Tip
Keen skiers will be delighted to learn that easyJet have just started direct flights from Edinburgh Airport to Sofia, the capital of Bulgaria. The country is a real emerging hot spot for winter sports, with prices much cheaper than those in the likes of France and Switzerland. There are health spas in the snow-clad mountains if you don't want to hit the slopes. Sofia actually stacks up well as a city break too, so these new flights open up myriad options. www.easyjet.com