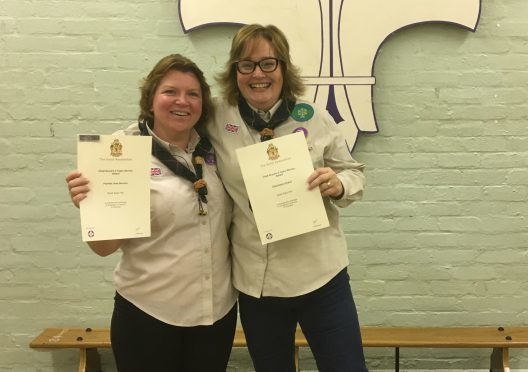 Volunteering as an Explorer Scout leader has become a passion for Fife woman Charmaine Duthie – helping young people fulfill their potential. Michael Alexander finds out more.
By day Charmaine Duthie is business development manager for award winning St Andrews ice cream shop Jannettas Gelateria.
But by night, and in her spare time, she volunteers as an Explorer Scout Leader.
"It all started when I happened to go along to an 8th Fife (St Andrews) Scout AGM initially to watch a presentation being given by two Explorers, who I knew, who had been to Malawi," recalls Charmaine, 46.
"It was announced at the AGM that the Explorer Scout unit (age 13.5 to 18 years) was about to be disbanded as a result of the present leaders retiring and if there was anyone present interested in getting involved could they please leave their name as there was no real succession plan going forward.
"I had been lucky enough to have enjoyed amazing experiences in Girl Guiding and was keen to give back, so I left my name and also my good friend, Pam Duncan's – a local dentist and farmer – as she, like I, had a love of the outdoors, had been in the Girls Brigade and had a daughter in Scouts.
"I knew without even speaking to her she would hate for the unit to collapse and for the next Scouting generation not to be given the same amazing opportunities that the current and past Explorers had been given and so here we both are five years later."
Charmaine, who lives in Cupar, describes the last five years as "incredible" and a "massive learning curve" – particularly from a self-development perspective.
She adds: "It's also been hugely rewarding as well as fun particularly when seeing the young people you are responsible for grow not only in stature but also in confidence becoming altogether more rounded."
Scouting gives young people the opportunity to gain new skills, build confidence in their own abilities and allows them to foster new and lasting friendships.
Recent highlights for Charmaine include putting the first group of St Andrews Explorers all the way through from bronze to gold in the Duke of Edinburgh Award scheme and a trip to Kandersteg International Scout Centre in Switzerland last summer.
"There are so many fantastic opportunities afforded to Explorers, sometimes it can be difficult deciding which to do," she says.
"As an Explorer Scout leader you not only take on the responsibility of delivering a weekly program that excites and entices the young people back but you also take on the responsibility of managing the Young Leaders program.
"Additionally, we are responsible for putting Explorers through a number of awards including bronze, silver and gold Duke of Edinburgh Awards, which involves a lot of time spent training, planning, supervising expeditions and completing necessary paperwork in order to safeguard all concerned.
"Whilst our meetings are weekly and only two hours long the planning and organisation way exceeds this and sometimes parents don't always appreciate this and forget we are all volunteers trying to juggle, work, family, life as well as Explorers.
"Getting the right balance isn't always easy but we all seem to get there in the end!"