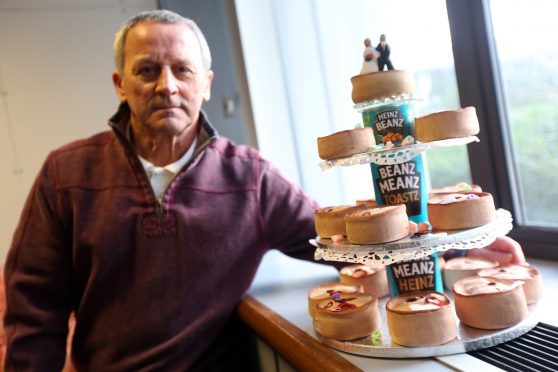 When Craig Knight joined the Men's Shed it meant he could take up an old hobby – and make new friends. Caroline Lindsay finds out more
The pie's the limit for local wood carver Craig Knight. His showstopping Dundee wedding cake, comprising 17 individual wooden 'pehs', supported by real tins of baked beans, raised awareness – and a big smile – for the Carse of Gowrie's Men's Shed.
Although Craig, 67, first discovered a talent for woodcarving as a pupil at Grove Academy, it was to be more than 40 years before he took the skill up again. The former quantity surveyor from Liff joined the Men's Shed in 2016, and has since made full use of its wood workshop, creating a magnificent scuplture of Che Guevara from two woods and brass, and lifelike animals including an American bison, a panther and a Highland cow.
When the Men's Shed wanted to drum up a bit of publicity, Craig came up with the idea of the Dundee wedding cake. "I designed it myself, but I can't take all the credit for it," he admits. "I had heard a joke on TV about a wedding cake made out of pies and that triggered the notion."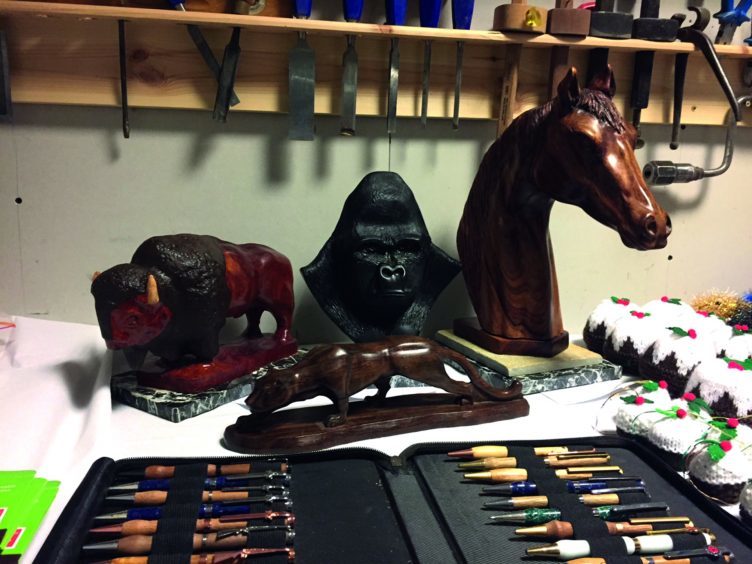 More or less entirely self taught, he is modest about his talent. "That's just another way of saying I've learned through trial and error," he smiles. "All you need is a bit of imagination, to be able to draw, and have lots of patience."
Not having a workshop at home to indulge what can be quite a messy hobby, the facilities available at the Shed meant he was able to carry on carving in style.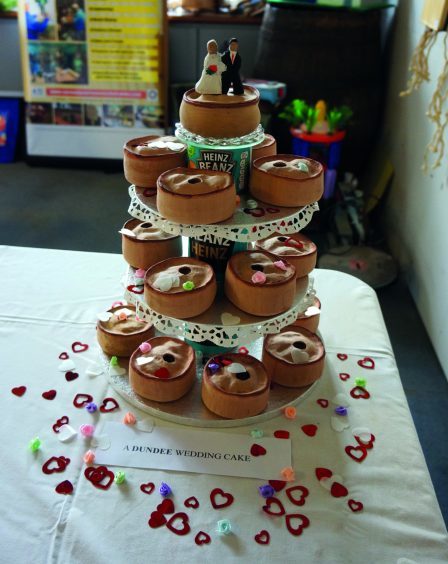 Taking his artistic inspiration from designs and works of art he sees in shops, art galleries and on the internet, he sources much of his wood from a supplier in Nottingham.
"For 'serious' pieces I use very hard exotic woods like ebony, padauk, bubinga or purpleheart, to get the detail which is not possible in a soft wood," he continues. "For fun stuff like the pies (which take around three hours each to carve) I use something lighter; pear is good as it's the right colour and doesn't have a noticeable grain – if it just looks like a wooden pie it defeats the point!" he chuckles.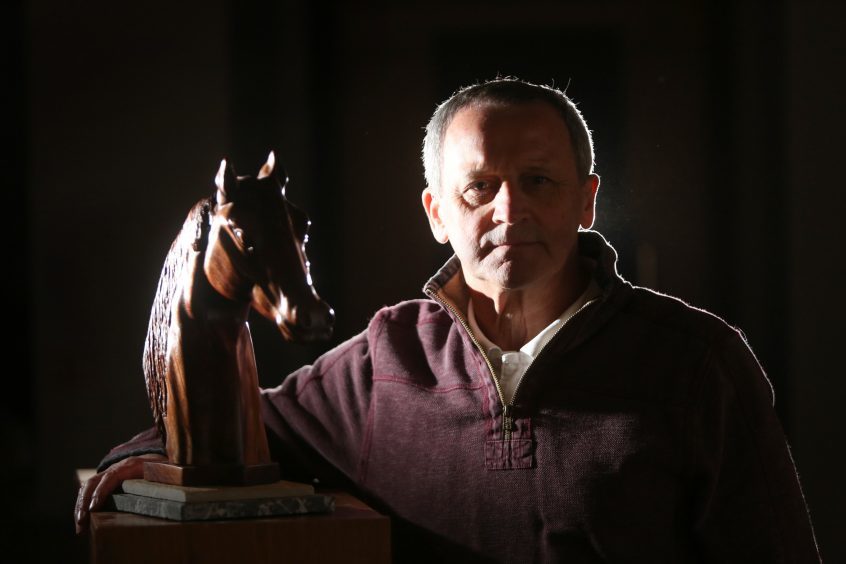 But, as Craig explains, there's more to the hobby than merely filling in a few hours.
"I enjoy the challenge of turning a plain block of wood into something pleasing to look at in the company of folk with similar interests," he says. "But the main benefit for everybody is that it is very therapeutic. Doing something practical gives satisfaction and a feeling of wellbeing.
"Some guys are perfectly content in retirement, and don't have any trouble filling their time. Others have time on their hands, and some are just looking for company. If that's you, join the Shed…"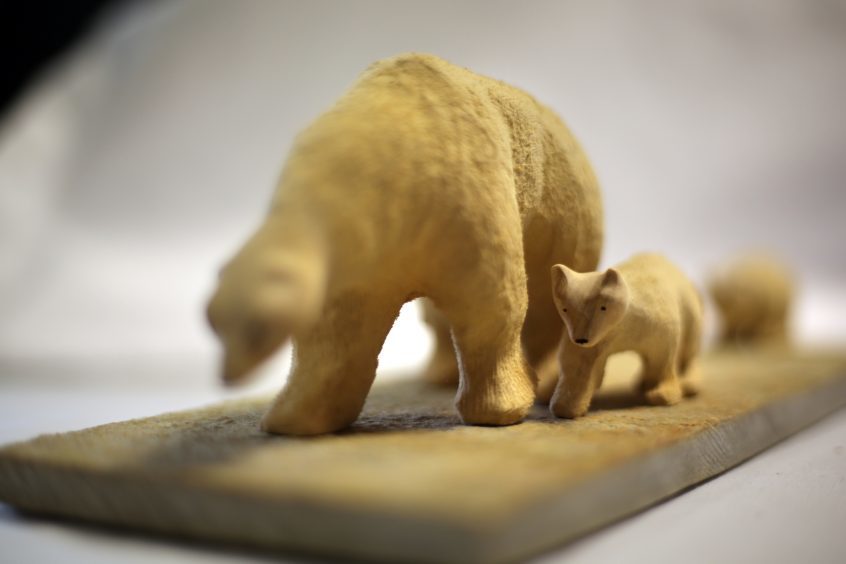 As for the Dundee wedding cake, which has pride of place in Craig's home, it may well start a new trend.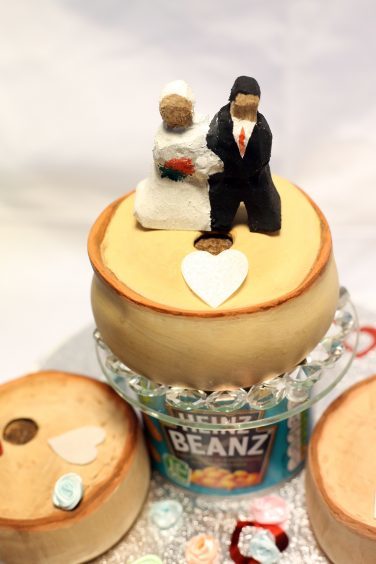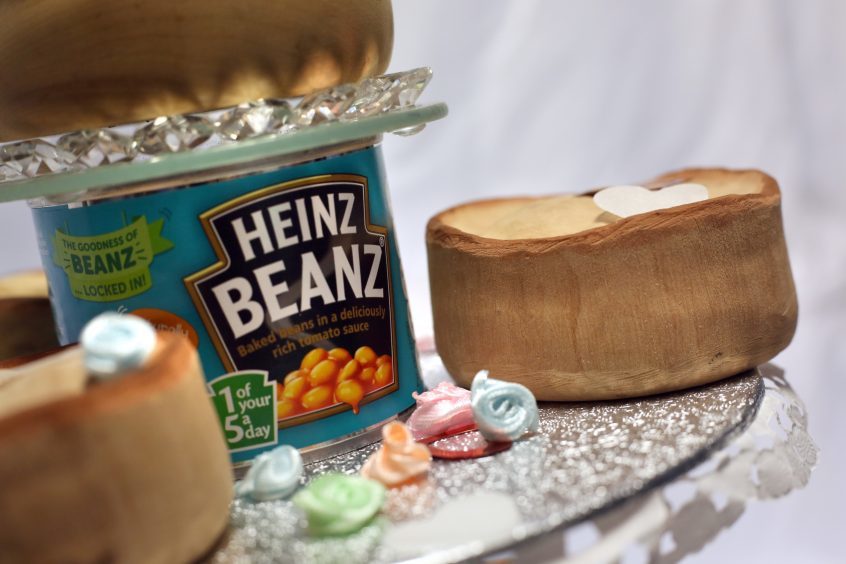 "It may just catch on," he reflects. "In fact if a bride wanted a more expensive version, the beans can be upgraded to the sausage and bean variety!"
The Carse of Gowrie Men's Shed meets at Swan House, Dundee Technology Park, DD2 1GB every Monday, Wednesday and Friday from 1- 4pm. http://carseofgowriemensshed.webs.com