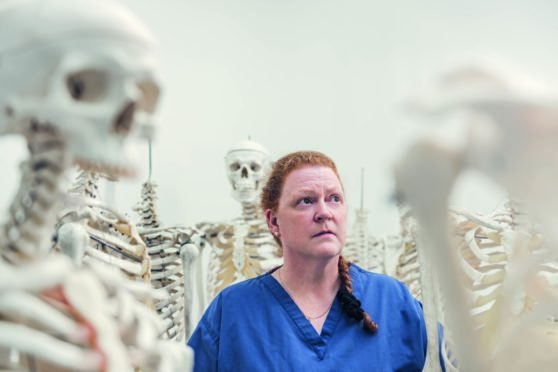 World-renowned forensic anthropologist Professor Sue Black discusses her career and her new book with Caroline Lindsay, examining the many faces of death and the lessons she has learned from it.
Three human skulls sit on Professor Sue Black's office shelves, two in profile and one looking directly into the room. While some people might prefer a nice paperweight or other cosy knick-knacks, Sue is entirely at home with the skulls – after all, they represent what she does and who she is.
One of the world's leading anatomists and forensic anthropologists, Sue has led the award-winning Centre for Anatomy and Human Identification (CAHID) at Dundee University for the last 15 years. Focusing on mortal remains in her lab, at burial sites and scenes of violence and murder, her work has been crucial to many high-profile criminal cases.
In 1999 she was lead anthropologist for the British Forensic Team's work in the war crimes investigation in Kosovo, and was one of the first forensic scientists to travel to Thailand following the Indian Ocean tsunami of 2004 to provide assistance in identifying the dead.
You might think that when someone confronts death every day, it might make them a little melancholy and introspective. Sue, however, is warm and engaging and indeed one of the purposes of her new book All That Remains: A Life in Death is to challenge our preconceptions about death.
As Sue, 56, points out in the book's introduction: "We seem to have forgotten who death is, what her purpose is, and, where perhaps our ancestors perhaps considered her a friend, we choose to treat her as an unwelcome and devilish adversary to be avoided or bested for as long as possible."
Neither sad nor macabre, All That Remains reveals the many faces of death Sue has come to know and what her work has taught her. But it was perhaps her job as a teenager that first prepared her for what lay ahead.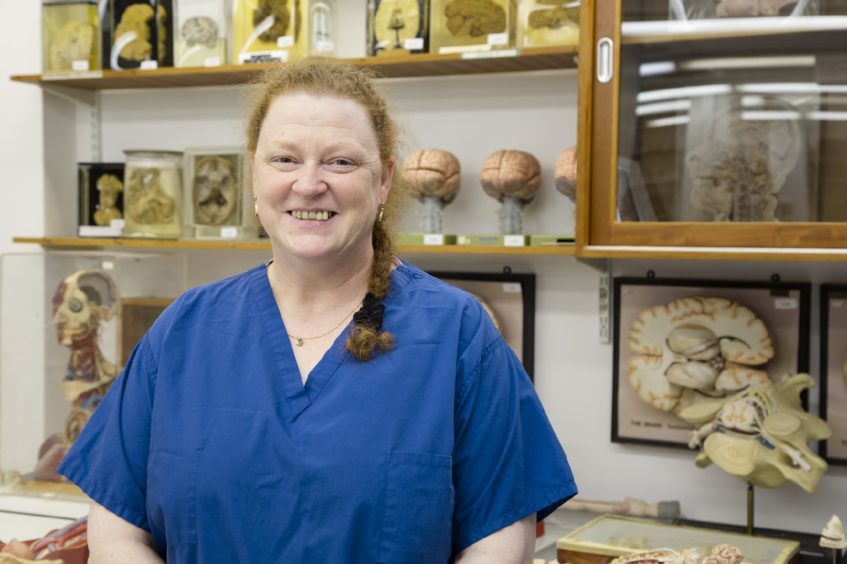 "From the age of 12, I spent every Saturday and all my school holidays for five years up to my elbows in muscle, bone, blood and viscera in a butcher's shop at Balnafettack Farm on the outskirts of Inverness," Sue recalls.
Sue loved the clinical precision involved and learned a multitude of skills.
"It was an extremely useful training ground for a future anatomist and forensic anthropologist."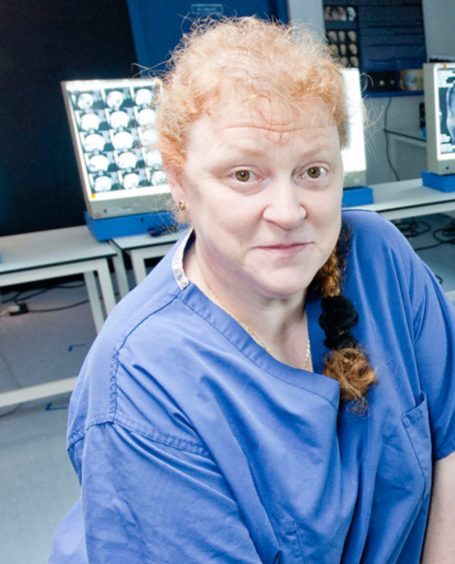 However, the young Sue had no idea what to study at university and, following in the footsteps of her biology teacher Dr Archie Fraser, whom she idolised, she opted for biology.
"I found I was best at botany and histology," she recalls.
"The prospect of studying plants for the rest of my life made my eyes bleed so that left histology."
This turned out to be her route into anatomy where she would be able to dissect a human cadaver.
She recalls her first experience of a dissecting room as "daunting."
"It assaults every sense and I can still smell the formalin (embalming fluid), a chemical stench so thick you could taste it," she says.
"It is also an experience that immediately challenges your perceptions of yourself and others.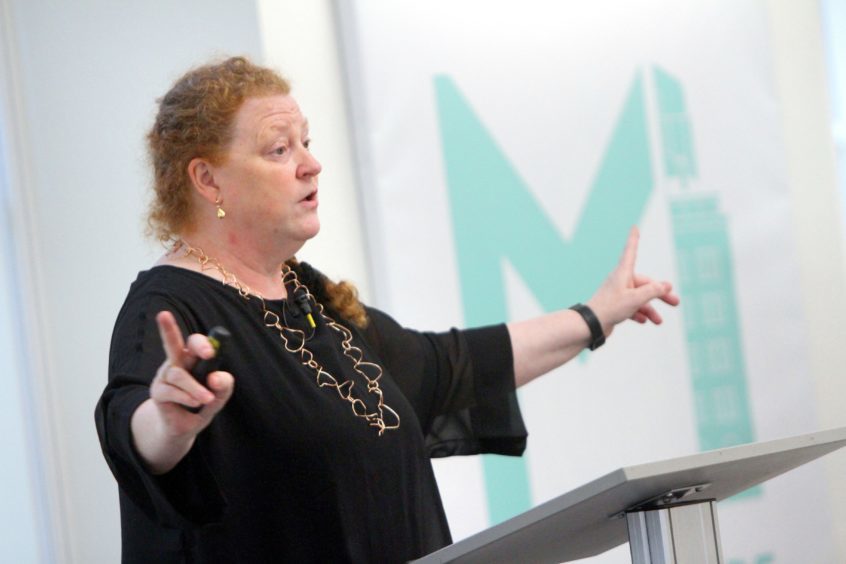 "You feel very small and insignificant when it dawns on you that here is someone who, in life, made the choice to give themselves in death to allow others to learn," she continues.
"It is a noble deed that has never lost its poignancy for me – we wouldn't have a department if people didn't choose to give their remains."
When Sue first arrived in Dundee, the department was in capable hands but she was keen to make changes.
"There were three marvellous men running the department and I must have seemed like a strip of a girl to them!" she remembers.
"They said: 'We know you want to make changes' and I couldn't have asked for better support," says Sue.
The first change was sparked in Kosovo when she discovered the students didn't have the background of knowledge she expected of them.
"I wanted to make sure our graduates understood soft tissue anatomy as well as hard tissue and so getting forensic anatomy into the curriculum was the first step," she explains.
The next big change was the introduction of facial reconstruction and forensic art, led by Professor Caroline Wilkinson, who recreated the heads of Robert the Bruce and Richard III.
A third change was destined to inspire one of Tayside's most unusual campaigns: the wonderfully-named Million for a Morgue. Sue explains: "When the law changed in Scotland in 2006 to allow surgeons to practise on dead bodies, they complained the formalin made the cadavers too stiff.
"We needed to find a way to keep the flexibility of the body to work on to mimic a live body so I sent two members of my staff over to Graz in Austria on a reconnaissance mission to check out the Thiel method of embalming.
"Walter Thiel's goal was to find a better way of preserving bodies, one that would leave the tissues flexible without compromising the longevity of the material, and which would at the same time ensure a healthier environment for anatomists and students."
There was only one small problem: to introduce the Thiel technique to Dundee University would require a new mortuary – at the cost of £2million.
The university put up half the money but it was down to Sue and the team to come up with the rest. Together with long-time close friend crime writer Val McDermid, they came up with Million for a Morgue.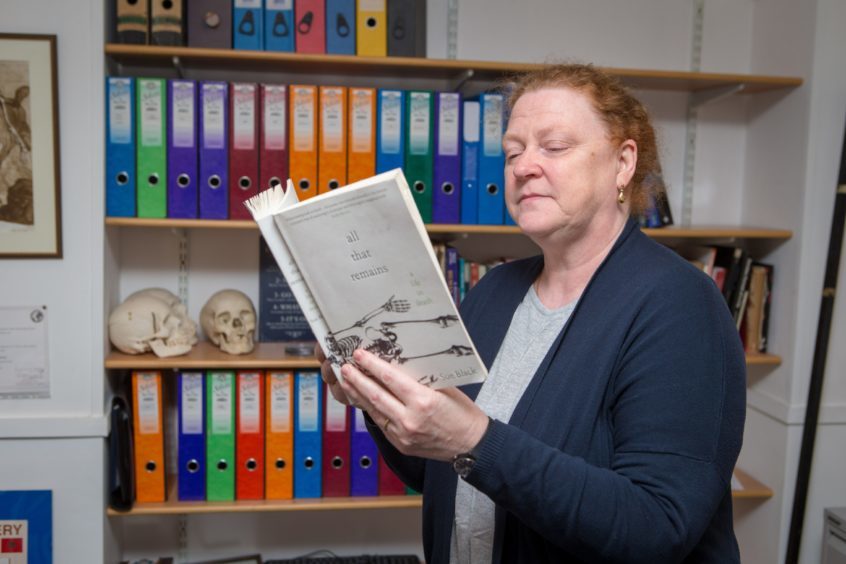 "It was completely mad," Sue chuckles. "We had to get inventive so we came up with the idea of launching an online competition in which crime-writing enthusiasts could vote for the mortuary to bear the name of their favourite author in return for a small donation.
"Jeffery Deaver said he should win because he was the closest looking to a cadaver!"
The brand new mortuary was formally opened in 2014 as, "to the surprise of nobody," the Val McDermid Mortuary.
"It was a fantastic example of public engagement and proved that with the right approach you can tell a story and change the world," says Sue.
While All That Remains is highly readable, it's also an honest account.
"I wanted to avoid sensationalism but there are so many myths around death and what we do so I wanted to be honest about what happens, and why," says Sue.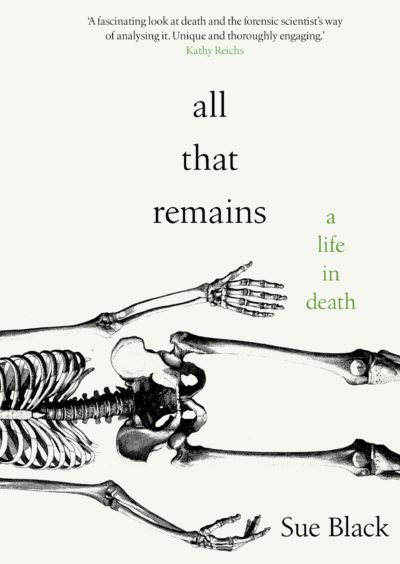 "In my world you can't separate the physicality and practicality from the ephemeral nature of death.
The book includes poignant accounts of Sue's own close relatives' deaths.
"It was difficult – I've never written like this before so it was challenging. Even though you face death every day in your job, it's difficult when it comes knocking at your own door.
"It would have been disingenuous not to include my own experiences and in many ways the book was very much written for my children (Beth, Grace and Anna) to help prepare them for death. They didn't know I was writing it until they got it as a Christmas present, which came as a bit of a shock!
"My hope is that when I'm gone it will be my legacy – after all, how else do you contact the generations beyond your own time?"
Despite dealing with death day in and day out, Sue admits she found working in Kosovo life-changing.
"I realised I was part of something that was being written into the history books," she continues.
"In one mortuary a relative of the dead wanted to make a video and our initial reaction was to say no. He replied that someone would say it never happened and he needed to be able to prove it. Of course, he had every right because they were his family members and that reminded me that we were in a situation that history hadn't yet recorded."
Sue was awarded the OBE for her services to forensic anthropology in Kosovo in 2001, and appointed Dame Commander of the Order of the British Empire (DBE) in 2016.
"I hated it! I turned the OBE down twice and the DBE I almost turned down too," she says.
"I'm a Scottish Presbyterian and grew up believing that if you stick your head above the parapet you'll get it knocked off. I'm part of a team and I do it for the team.
"I said: 'I can't go to Buckingham Palace or Holyrood as you can only take three people so how on earth can I choose between my husband and three daughters and leave one of them out?'
"Then I discovered that you can do it where you like so I chose to have it in Stonehaven presented by the Lord Lieutenant of the district, with a party afterwards.
"For the DBE I took my husband and two younger daughters because they said they wanted to see inside Buckingham Palace and see the Queen."
After 15 happy years in Dundee, Sue is leaving the city for Lancaster University in the autumn.
She is relishing her new role as pro-vice chancellor for engagement but admits the move wasn't planned.
"I didn't see it coming and it will be sad for me to leave Dundee – the university has been kind to me, I've worked with so many lovely people, and the folk of Dundee have taken me to their hearts. But I'm leaving everything in the best of hands.
"The new role will give me the chance to do so much, not just with the public but businesses, schools, the NHS, at a national and international level. That's what's most important to me – connecting with people.
"It doesn't take anything away from here, everything is in place for every section and everything I've set up will carry on.
"I want to have another adventure. It might turn out to be the biggest success or an unmitigated failure but at least I'll own it."
Sue reflects on making the most of the time we have between birth and death. "None of us know how long we have – for some it's a few seconds, for others it's over a century. We have no control over the start point and not a lot of control over the end," she says.
"Birth and death are almost immaterial, all you have is the distance between them that is important. Make sure when you wake up in the morning you change something, no matter how small – make the nicest piece of toast you've ever eaten or tell yourself your bum isn't as big as you thought.
"We spend too much time in life bemoaning the negatives yet there are so many positives, many of them free – the view from a train, sunrises and sunsets. And one day they won't be there for us."
However, that doesn't stop Sue from regarding death as a final adventure.
"I don't want to die in my sleep – I am reluctant to be cheated out of a moment of it. I am only only ever going to experience it once after all.
"This is the one event that my life has always been leading up to, and I don't want to miss anything by not having a front row seat."
---
All That Remains: A Life in Death by Sue Black is published by Doubleday, priced £16.99.
Professor Sue Black will talk about her book at Hope Park and Martyrs Church, April 25 at 8pm. Visit www.toppingbooks.co.uk to book tickets.