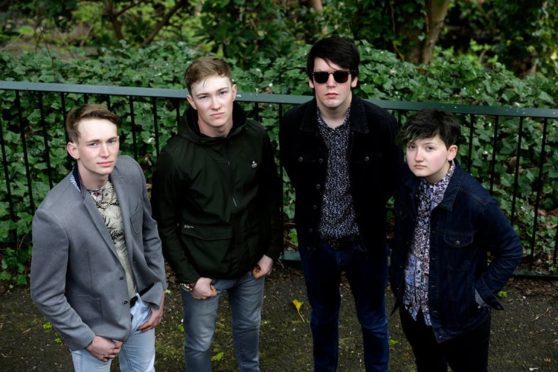 Dub legend Jah Wobble brings his Invaders Of The Heart to Dundee's Beat Generator tonight.
Best known as a founding member of Public Image Limited and for his 1991 solo hit Visions Of You, which featured a haunting vocal from Sinead O'Connor, bass maestro Wobble is one of the UK's most prolific artists.
The world music pioneer has chalked up an incredible 50 albums under various guises since leaving PiL in late 1980, mainly thanks to forming his own label, 30 Hertz Records, in 1997.
"I knew I was going to be fairly prolific because I was doing all sorts of esoteric things," he says.
"I'd a fair idea that would go on for a while but I didn't think it would go on for 20-odd years because I've never really been one for much forward planning.
"I've just got to know every time I sit down to write something I don't get any writer's block. So much was going on that I needed to get documented and realised that forming a small dedicated label was the only answer.
"Getting major label backing becomes a contradiction in terms and I ended up just doing it myself, which is much better."
Wobble's first Dundee appearance in three years will showcase material from every phase in his colourful career, including new offerings.
Tickets are available from the North Lindsay Street venue's website www.beatgenerator.co.uk
Breaking Scottish duo Love Sick are the hot ticket at Clarks on Lindsay Street this weekend.
The enigmatic boy/girl electro outfit have been enjoying extensive airplay of late on the back of slick and catchy pop-led offerings such as their 2017 debut single Bullet and new release Hope.
They're at the Dundee venue on Sunday night and tickets priced £5 can be ordered from www.beyondhighlands.com
Dunfermline outfit The Decrees are launching their new download single on home turf at PJ Malloy's tonight.
Blending the energy and edge of punk with classic pop hooks and choruses, the ultra-young four-piece comprises vocalist Lewis Akers, Callum Bell (guitar), Caitlin Petrie (bass/guitar/keys) and Kieran Bell (drums).
Support at tonight's gig is still to be confirmed but it's £6 entry and doors open at 7pm.
Check out The Decrees' anthemic new release I Don't Mind and their earlier double A-side single Sons Of Rage / West Sierra at www.the decrees.bandcamp.com
Blues legend Stan Webb is paying a visit to the Green Hotel in Kinross tomorrow.
The guitarist formed his band Chicken Shack way back in 1965 and was at the heart of the British Blues Boom.
Webb, who learned his trade in various skiffle groups, played alongside future Fleetwood Mac star Christine Perfect — later Christine McVie — in the West Midlands-based four-piece.
Chicken Shack's best-known release is their Perfect-sung cover of the Etta James standard I'd Rather Go Blind, which was a top 20 hit in 1969.
Webb dissolved the original band in 1974 but launched a new version the following year and he's toured and recorded ever since with a flexible line-up.
Tomorrow's show starts at 9pm, with tickets priced £28 from www.mundellmusic.com
Fast-rising alt-folk popsters Brownbear have lined up a Dundee gig on Thursday.
Boasting a fluid line-up built around frontman and chief songsmith Matt Hickman, guitarist Andrew McAllister and drummer Sam Waller, the Glasgow outfit are playing Clarks on Lindsay Street as part of a Scottish tour to mark last week's release of their debut album What Is Home?
Tickets are available in-store from Groucho's and Assai Records.
Superstar DJ Rory "Hammer" Hamilton is performing a set at Dundee's Reading Rooms tonight.
Originally from Belfast, he was a resident jock at Glasgow's Sub Club before collaborating with fellow producers Bicep on club smash Dahlia. The Blackcroft venue's Ethan Bell and Van D will provide the warm-up from 10.30pm.
Separately, Book Club residents Is Kill and Marc JD head-up a techno-laden extravaganza tomorrow night.
A band billed as "the UK's number one tribute to Oasis" is appearing at PJ Malloy's tomorrow.
Drawing members from across central Scotland, Stop The Clocks are led by frontman James Lafferty and lead guitarist/vocalist Kyle Farrell, plus Matt Reid (rhythm guitar), Scott Fleming (bass) and Davey Toohill (drums).
Anyone going along can expect to hear faithful covers of all the classic Oasis singles and a smattering of B-sides.
Tickets priced £8 are on sale via www.ticketweb.co.uk and at the Fife venue.