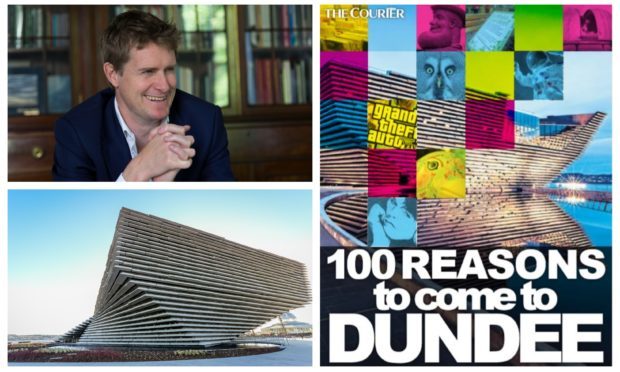 Dundee is taking to the world stage and heads are turning. The spotlight is on the City of Discovery and tourism enquiry lines are running hot. So is the excitement, as the much-anticipated V&A Dundee opens in just 100 days, on September 15. So why visit Dundee? We look at 100 reasons while features writer Gayle Ritchie talks to Tristram Hunt, director of the V&A in London, about his hopes for the Scottish innovation.
Almost 18 months have passed since Tristram Hunt ditched his career in politics to take on the coveted role of V&A director.
When I meet him in his office in the vast London museum, the smile on his face tells me he knows he made the right decision.
Tall, slim and with a generous thatch of sandy-coloured hair, Tristram, 44, is charm and affability personified.
His handshake is strong – no limp lettuce leaves for this man – and laughter comes freely and easily.
Immaculately but casually dressed in a blue suit and crisp white shirt, he deliberates whether he should sport a tie for photos, but I reckon he looks the part without one.
---
For the full 100 Reasons to Come to Dundee supplement, click image below:
---
My chat with Tristram – a former shadow education minister who stepped down as a Labour MP in January last year to lead the V&A – is timed perfectly.
It's 100 days until the V&A opens in Dundee and the excitement and anticipation – not just in Scotland, but globally – is mounting.
Like Kengo Kuma, the acclaimed Japanese architect who designed the structure and Philip Long, director of V&A Dundee, Tristram believes it will be worth every penny of its £80.1 million price tag.
"I adore the design," he enthuses. "The water, the river, the sense of a ship-like structure jutting out – it's incredible.
"I was initially worried, along with most of the Dundee taxi drivers, that students would climb up the slats but luckily, that hasn't materialised. We're landlocked in London so the water in Dundee gives a very different feel. You're in the slipstream of history, next to the allure of the Tay."
BANKS OF THE TAY
The attraction, which has been taking shape on the banks of the Tay since 2015, is the only V&A museum outside London.
The geometry of the building echoes the dramatic cliffs of the east coast of Scotland.
Nestled beside RRS Discovery, it stretches majestically out over the Tay as the centrepiece of the £1 billion transformation of Dundee's waterfront.
It will feature permanent galleries of Scottish Design as well as hosting an international programme of touring exhibitions.
"It's an incredible achievement in the last few years, with neither a building nor a collection," muses Tristram.
"In Dundee, we have this great opportunity to celebrate Scottish history. I think what is remarkable and important is we're doing it in a non-parochial way; we're telling the story of the global influence of Scottish design and then Scotland's influence on global design.
"In a sense, that's the story of Dundee. It's a great commercial entrepot with connections to Calcutta, as well as its printing links. Kengo Kuma designed it consciously with a Scottish mentality to it, even though he comes from an international perspective.
"Dundee is a cosmopolitan city with a cosmopolitan past and design is a part of that story."
The story began in 2007 when discussions about an outpost of the London museum began between the V&A and Dundee University. Other partners came on board, notably Dundee City Council and Abertay University, and in 2010, the project got full backing from the Scottish Government.
A worldwide architectural competition was launched to find the designer of a building that would do both the V&A and the Dundee site justice.
Was Tristram surprised Dundee "won" the V&A, as opposed to Glasgow or Edinburgh?
"Dundee made the call, and I think it's a fitting city for the V&A," he says.
"There's a real energy around museums and Dundee is another important step on that path – it's got a vitality around it.
"There's a de-industrialisation story but there's also a kind of changing global commerce story, all of which somehow left parts of the Dundee economy high and dry, so we have to think about how it reboots itself.
"Having two great universities, the museum, and a progressive, far-sighted city council means it's getting match-fit again in quite challenging circumstances."
INTERNATIONAL ACCLAIM
With the global media going crazy for Dundee after the Lonely Planet included it in a list of top ten European destinations for 2018, Tristram hopes the V&A will boost visitor numbers.
"We want to be sure that seeing the V&A will be one of the natural things you'll do during a week's break in Scotland," he says.
"You might go to Edinburgh, Glasgow and the Highlands, but also to V&A Dundee. I think we'll do well on international as well as national visitor numbers. "
CREATIVE FUTURE
Looking to the future, Tristram hopes the V&A will inspire more young people to think about art and design as careers.
More broadly, he hopes it will encourage Scotland to think about its design history, and its creative future.
"The value of a museum is partly in its visitor numbers – that's important for financial viability – but it's really about its civic purpose; what it does in terms of education, citizenship, history and identity," he reflects.
"We have to be viable but museums are more than theme parks. Alton Towers rises and falls on its visitor numbers but we have a broader mission and a broader purpose and that filters down through generations.
"If in 10 years' time there are more 16-year-olds in Dundee studying design than there are now, that for me is a success. If in 10 years' time, we're seeing more creative businesses, and if Nicola Sturgeon can go round the world with pictures of Dundee rather than Glasgow or Edinburgh on her powerpoint, then that's a good thing."
Alongside the Scottish Design Galleries – which will be at the heart of V&A Dundee and feature everything from Hunter wellies to Beano strips from the 1960s – will be Charlie Rennie Mackintosh's Oak Room, designed for a tea room in Glasgow and salvaged from its original location 50 years ago.
"The V&A has a long history of collecting historic rooms so rebuilding the Oak Room within V&A Dundee will be such a draw," says Tristram.
The opening exhibition, Ocean Liners: Speed and Style, will give visitors the chance to experience life on a 20th Century "floating palace", and Tristram describes it as "beautifully designed".
"It's sensational," he adds. "Seeing it and feeling it next to the water will give you an immediacy about the design."