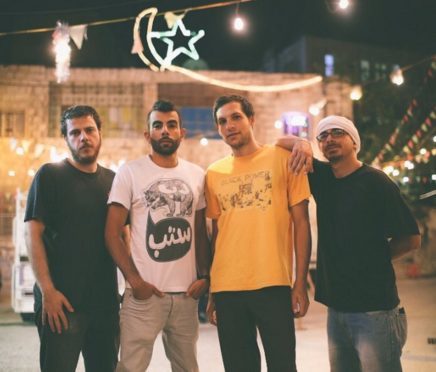 *** Festival season kicks into gear next weekend with this year's Solas event in Perthshire.
Known for combining music with poetry, art, politics, dance, philosophy and literature, the three-day extravaganza is being staged for the sixth time at Blackruthven, near Perth, and the roster boasts more than enough top-notch bands to make it well worth a visit.
Topping the bill — and headlining next Saturday, June 23 — are former Arab Strap frontman Aidan Moffat and Scottish Album Of The Year Award-winning troubadour RM Hubbert, whose critically-acclaimed collaborative album Here Lies The Body was released earlier this year.
Another major attraction at Solas will be ex-Delgados linchpin Emma Pollock, Mercury Music Prize-nominated indie folkster Chris 'C' Duncan and Glasgow-based experimental songsmith Donna Maciocia performing work from this year's multi-artist Not Known At This Address album, which was developed through songwriting workshops for prisoners and others involved with the wider criminal justice system.
Anyone with even a passing interest in the contemporary Scottish music scene is sure to find something worthwhile at Solas, with plenty more diverse artists set for the midsummer jamboree.
Among them are neo-folk four-piece Tide Lines, whose line-up includes singer Robert Robertson and multi-instrumentalist Ross Wilson, both formerly of Highland favourites Skipinnish.
There's also a special 10th anniversary showcase of acts signed to Edinburgh's Song By Toad label, featuring Jonnie Common, Siobhan Wilson and Adam Stafford.
Others included in the Solas line-up include Fence Collective mainstay Withered Hand, folk-punk talent Grace Petrie, Steve Earle protégé Roseanne Reid, enigmatic dance exponents Bossy Love, spiky 'new wave of new wave' noiseniks Lucia, art rockers Catholic Action, Teen Canteen founder Carla J Easton and Dundee's own ambient electronic duo Beta Waves.
World music's represented by Afro-funk and blues outfit Gnawa Trance Fusion, Gambian kora player Bajaly Suso and Friday's headliners Palestinian rappers 47Soul, whose unique shamstep style blends big beat hip-hop and Arabic roots rhythms.
After forming in exile in Jordan in 2013, the four-piece subsequently relocated to the UK and have built up an international reputation culminating in this year's atmospheric debut album Balfron Promise.
Featuring wry yet politicised lyrics in English and Arabic, 47Soul's electro-rock offerings have the feel of menacing cinematic soundscapes and are well worth checking out.
The festival's music line-up is completed by The Wakes, Wuh-Oh, Brass Aye?, Mary Ann Kennedy and Finlay Wells, Shamblestone, Age-Otori, The Purple Felts, Longstay, Walt Disco, Stop The Rain, Tom McGuire & The Brassholes and Baba Yaga.
Tickets for the Creative Scotland, Scottish Refugee Week and Christian Aid-backed event are available at a reduced price — including adult weekend passes for £110 — until Thursday via www.solasfestival.co.uk
*** Rising guitar outfit Vida play a Dunfermline gig tomorrow. The Alloa outfit, whose latest single A Place Where We Can Forget was co-produced by The View's Kieren Webster, are headlining at PJ Molloys.
Influenced by '90s legends The Verve, Cast, Stone Roses and Oasis, the five-piece formed in 2013 and saw their fanbase rocket last year after they performed at some of the UK's biggest festivals, including Isle of Wight, Reading and TRNSMT.
Support at Molloys comes from two of Dunfermline's breaking outfits, namely alt-rockers Oskar Braves and '60s-influenced newcomers The Plastic Mac. Tickets £6 from www.ticketweb.uk
*** Dundee-based electro duo St Martiins make the short journey to Perth tonight.
Katie Lynch and Mark Johnston are taking their jazz-influenced aesthetic to the Green Room, where they'll be joined by near neighbours Beta Waves, Glasgow grunge merchants Tongue Trap and bluesy Edinburgh songsmith Luna Delirious.
Tickets are £2 at the door.
*** Young hopefuls The Roques are set to launch their second single in their native Dundee.
The five-piece's latest offering What Do You See? follows on from their well-received debut Day By Day, and they've psychedelic rockers Neil Morrison Band, The Medinas and Plasmas supporting at Beat Generator tonight. Tickets £5 from Dundee's Grouchos or £6 at the door.
*** Alt-folk legend Michael Hurley is the main musical attraction at Kirkcaldy's Adam Smith Theatre this weekend.
The veteran Pennsylvania songsmith is heading up James Yorkston's Tae Sup Wi' a Fifer showcase tomorrow night, which also features noir-pop chanteuse Siobhan Wilson and comedian Phill Jupitus. Now aged 76, Hurley's debut album First Songs was released in 1965 and he's been cited as an influence by the likes of Lucinda Williams, Calexico and Cat Power, who covered his track The Werewolf Song.
Tickets £15 from www.onfife.com
*** Emma Pollock, Donna Maciocia and Admiral Fallow's Louis Abbott play songs developed through the Distant Voices project at Clarks On Lindsay Street on Sunday. Tickets via the venue, Grouchos, Assai and Eventbrite.
*** Songwriting legend Ralph McTell teams up with fellow folkie Wizz Jones for a Kinross show tomorrow.
The veteran duo will be playing standards they've covered on two recent collaborative albums plus a few gems from their respective back catalogues at the Green Hotel from 9pm. Tickets are £28 from www.mundellmusic.com
*** A Dave Grohl tribute's in store at Beat Generator this weekend. UK Foo Fighters will be blasting out all the supergroup's anthems tomorrow night, with tickets £15 from Grouchos and Tickets Scotland.
*** Dundee's Number 57 has soulster Ian Mann tonight from 8pm, with Chain Gang from 5.30pm tomorrow and Bedrock on Sunday at 7pm.
*** Covers outfit Cherry Bombz are at Fintry's Powrie Bar tonight, the Royal Tay Yacht Club tomorrow and Harlequins on Sunday.