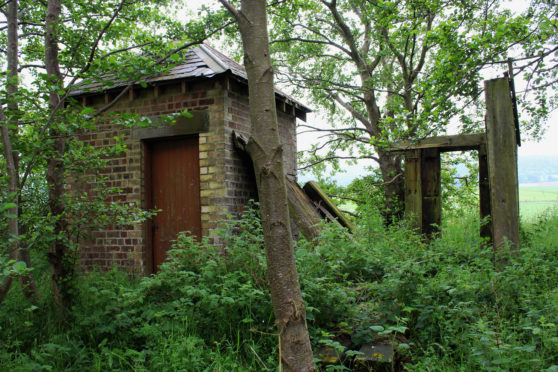 Meigle & Ardler Loop, Perth & Kinross
The villages of Meigle and Ardler sit in the broad and fertile Vale of Strathmore. Separated by just a few miles, their histories, however, are very different.
While Meigle grew organically from ancient Christian roots and was an important Pictish settlement, Ardler was planned from the outset and was originally named Washington, after the American president.
It owned its existence to the coming of the railways in the 19th century and, while the local lines have long since been dismantled, my walk linking the pair makes some use of the abandoned trackbed left behind.
Setting out from the Kinloch Memorial Hall, my first encounter with the old railway came as I forked off Dundee Road and wandered along a quiet country lane towards Meigle Country House, formerly a cottage hospital and now a care home.
Lurking beneath a band of leafy deciduous trees, the line here – once the branch to Alyth – is overgrown and not particularly enticing to walkers. Happily, however, a farm track runs parallel down through neighbouring fields, the view of Kinpurney Hill to the south, with its landmark tower, a bonus.
The railway curving west, I stayed off-line, content to track its course from a distance as I followed a minor road through a break in the embankment and on towards the busier B954.
Across the carriageway, beyond a gateway in a wall and a band of woodland, a farm track led me west, through arable fields bordering Belmont Woods to the north, pheasants lurking in the hedgerows, grassy verges brightened by wildflowers.
By farm cottages at East Camno, I turned south, tramping tarmac down to Camno Crossing where, briefly entering the county of Angus, I finally got on track, joining the line that linked Meigle with Ardler.
A pleasant trail flanked by slender silver birches occupies the permanent way, once part of the Scottish Midland Junction Railway which ran from Perth to Forfar and opened to traffic in August 1848.
A spur north to Alyth, with a station at Meigle, was added in 1861 and a derelict brick hut marks the site of Ardler Junction, where the line from Newtyle, to the south, converged. From here it is a straight run to Ardler.
Established in 1835 by landowner George Kinloch to capitalised on early railway developments in Strathmore, Washington quickly lost its march as new lines were laid and only a fraction of the proposed rectangular grid network of streets was ever built.
Skirting the eastern edge of the village (renamed Ardler in the 1880s), a woodland path rises effortlessly towards 18th century Arthurstone House, its redeveloped steadings and walled garden, sandstone tower and dovecot, and, above, the less tranquil flow of
the A84.
Roads led me back towards Meigle, but I concluded my hike amongst the giant firs and blossoming pink rhododendrons of Belmont Woods, entering the estate at a white-washed gate lodge adjacent to MacBeth's Stone, a sturdy megalith linked to the 11th century king of Scotland through lore and legend.
Once the sumptuous home of jute baron Sir James Caird, the 43-acre estate was gifted to Dundee Corporation in 1918 and, still in the city council's ownership, hosts Belmont Camp, an outdoor education centre, historic Belmont Castle and parkland which holds happy memories for generations of Dundonians who, like myself, enjoyed school or club trips to this rural retreat.
ROUTE
1. Walk 300m south on B954 to Auld Kirk. Go left along lane, crossing former railway.
2. Turn right and descend track to road. Turn right and walk 800m south-west along road to B954.
3. Cross and follow track south-west to East Camno. Turn left and descend road to Camno Crossing.
4. Turn right (signed Ardler Path) and follow path 1.7km west.
5. At sign pointing back to Newtyle, branch right on to woodland path and follow it 1km north-west, crossing minor road.
6. Turn right and walk 300m along track. Cross bridge on left and ascend path then surfaced track to A94.
7. Turn right and follow A94 footpath for 1.2km.
8. Turn right (signed Camno) and walk 1km south on road to crossroads. Go left for 300m.
9. Go right along driveway into Belmont Woods. Approaching Belmont Centre, branch left along path to triangular junction. Go left to meet surfaced track then continue along edge of playing fields (signed Meigle).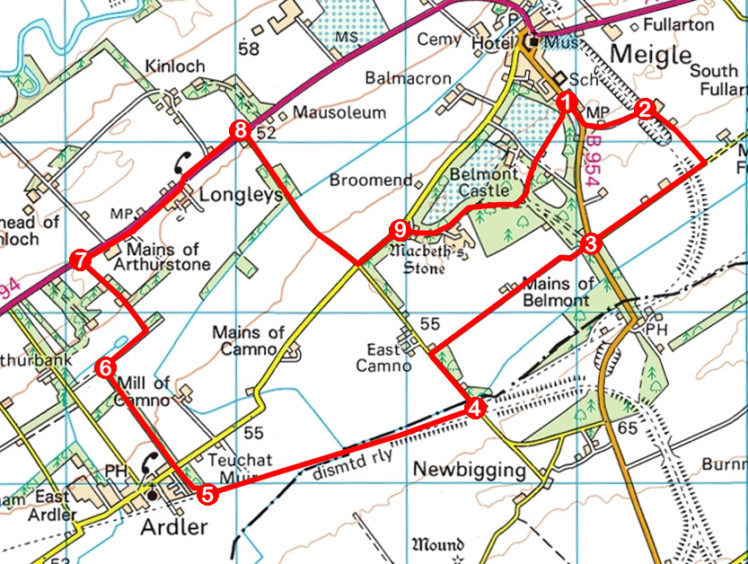 INFORMATION
Distance: 11km/6¾ miles
Ascent: 90m/300ft
Time: 3 hours
Grading: Moderately easy low-level route following tracks, paths and minor roads through farmland and woodland. Stout footwear recommended
Start/finish: Kinloch Memorial Hall, Dundee Road, Meigle (Grid ref: NO 289442). On-street parking
Map: Ordnance Survey 1:50,000 Landranger sheet 53; Ordnance Survey 1:25,000 Explorer sheet 381
Tourist Information: Blairgowrie iCentre, 26 Wellmeadow, Blairgowrie PH10 6AS (Tel 01250 872960)
Public transport: Stagecoach bus service 57 links Meigle with Dundee and Perth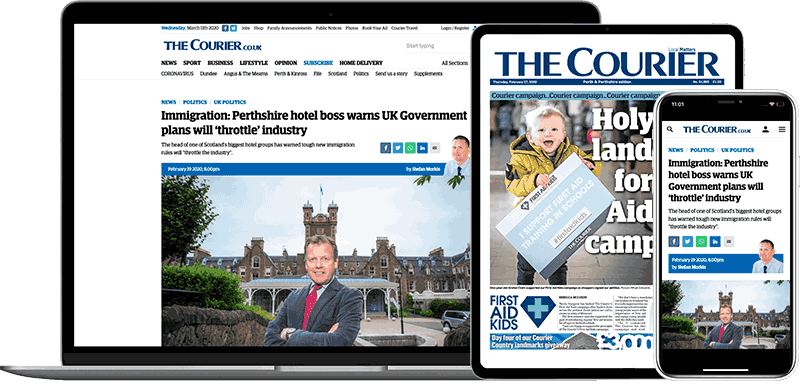 Help support quality local journalism … become a digital subscriber to The Courier
For as little as £5.99 a month you can access all of our content, including Premium articles.
Subscribe