As the Scottish Grocers Federation celebrates its centenary, Caroline Lindsay discovers that our local convenience stores are still at the heart of the community 100 years on
Cast your mind back to the last week of February when the Beast from the East struck and Courier Country was be-sieged by high winds and heavy snowfalls. Many folk were left housebound, unable to get out for their daily essentials. But Harris Aslam and his team from Greens convenience store in the Fife village of Markinch weren't going to let a bit of bad weather disrupt their customer service. They headed to their milk and bread suppliers and loaded up their car boots with umpteen bottles of milk, rolls and loaves and delivered it around the area, taking in young families, elderly residents, care homes and anyone who couldn't make it to the shop.
Harris, who runs Eros Retail with his cousin, launched the Greens brand in 2015 (the name is partly a nod to his heritage when his family ran Green's Dairy in Pakistan) and is proud of the part the seven stores play in their local communities.
"Our slogan is 'Making a difference locally' and that's what we live by," he says proudly. "We hold Big Breakfast days and Healthy Living days for the local primary school to introduce children to new foods. Some kids might be trying something like cucumber for the first time, for example," he continues.
Today's convenience stores plug the gap between the anonymity of shopping in a huge supermarket and independent corner shops we fondly remember from the past, many of which disappeared in the early 21st Century. "While people will often do their big shop in a supermarket, they will often pop round to their local convenience store to top up and to have a blether," says Harris.
With more than 55,000 convenience stores in the UK, there are around 6,000 in Scotland – the highest density per capita in the country. And this year, the Scottish Grocers Federation (the trade association for convenience stores including Scotmid, Spar, Nisa and Greens to name just a few) celebrates its 100th anniversary. Harris is confident that it will be around to see its next centenary.
"The world is changing all the time and nobody really knows what the next 10 years will look like, let alone 100," he says. "The important thing is to maintain that passion for innovation and doing things differently to plot the way to the future and there and try to be ahead of the curve.
"We've always adapted to trends and will still do that although technology in small stores is all about what's practical and making a few small changes to free up time to spend more time with customers.
Harris believes that the secret behind the success of these shops lies in remaining loyal to their original principles founded a century ago while also moving with the times.
"With every passing day retail is changing but it's not a case of being driven by technology – it's about integration and balance," he explains. "We have a significantly older population now and we need to constantly evolve while holding on to our core values and staying at the heart of local communities."
Leanne Carr, the manager of Greens in Markinch, loves interacting with customers young and old.
"Being in the centre of the village we have a wide variety of customers and you know that for some of them, you might be the only point of contact for them all day," she says.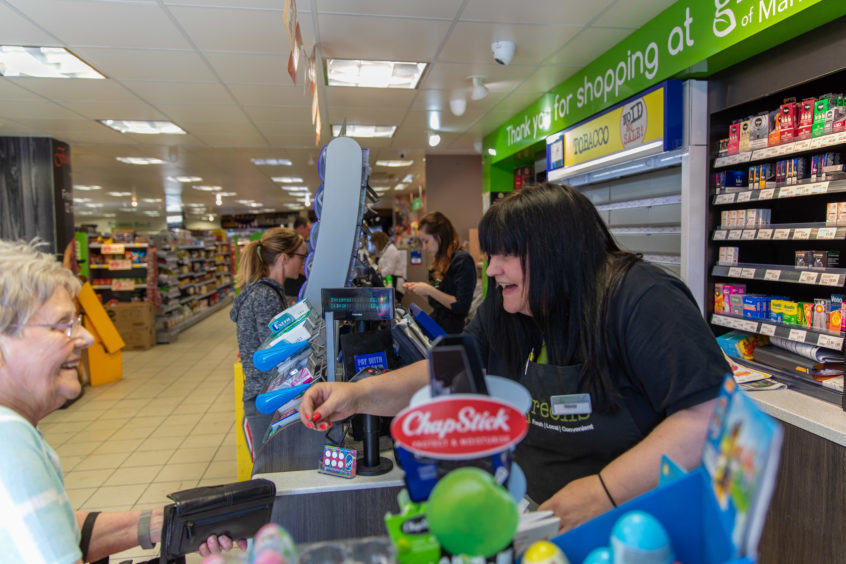 "I love that Greens is a family business at the heart of the community and the team enjoys running raffles with the primary school and fundraising for community projects."
Many of Courier Country's communities have a Scotmid store in their midst (the largest independent co-operative in Scotland), and Scotmid secretary John Dalley explains: "Like many co-operative socie-ties, Scotmid grew up from lots of smaller groups and have been in the heart of Tayside's community for 160 years.
"In that time the words may have changed but the fundamental sentiments have stayed constant – democracy and care for the community. People's lives are so different from 100 years ago but we can still apply those same principles to the modern world."
Over the past three years, Scotmid staff have raised more than £1million for charity as well as helping smaller community groups with fundraising.
"But perhaps what we're proudest of – and this isn't just common to us – is the way we get to know our customers and they know they can come to us for a friendly chat," he smiles.
One man who has seen plenty of change over the years is 72-year-old Stanley Gordon of Newport-on-Tay. Stanley started working for the Fife village's grocery store Beatt and Tait in 1960 when he was in his late teens. Today, the store is a Scotmid although Stanley admits that he still calls it Beatt and Tait in his head!
"I worked there for six years and I used to go out four days a week around Newport and Wormit collecting the orders, which would then be delivered in the afternoon in time for tea, in all weathers, all free of charge," he recalls.
"I made a lot of good friends and used to get invited inside for a blether.
"It was a nice shop to work in and a big part of local life. I still enjoy going into Scotmid and in fact I wrote a letter to their head office saying how friendly the staff are and how good the produce is," he smiles.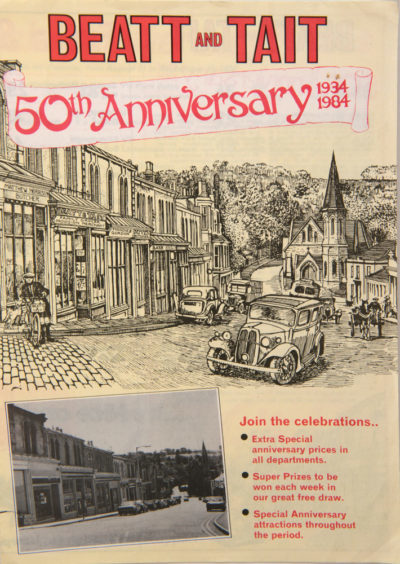 "I do shop in supermarkets but I think it's important to give local shops as much trade as possible and there's still a strong community feel in Newport."
Someone else who's hoping to restore a lost sense of belonging to her community is Eleanor Porter. The mum of two, who lives in the tiny village of Dunshalt, has been spearheading a campaign to reopen the village shop – which closed two years ago – as a community-run enterprise.
"When the shop closed in May 2016 there was a lot of discussion about it in the village about it," says Eleanor. "The shop owners put in an application to turn it into a house but we knew if that happened there would never be a shop in Dunshalt again.
"There were lots of letters and petitions to Fife Council and they agreed that we should be given time to raise funds to run it as a community concern," she continues.
"We got money from the Scottish Land Fund to buy the building and also had to raise £30,000 in share sales. We're nearly there and hope to raise the last £600 this month," she says.
Eleanor and the other residents felt that since the village school closed 10 years ago, there was now no longer a social meeting place in the village.
"There's no pub, no church, so the shop was the last social hub," she says.
"The shop has a large stockroom and we hope to use that as a coffee stop where some of the village's 167 house-holds can stop for a blether, a soup and a catch-up. Our nearest centre is a mile and a half away in Auchtermuchty and that's not handy for anyone, especially the older residents."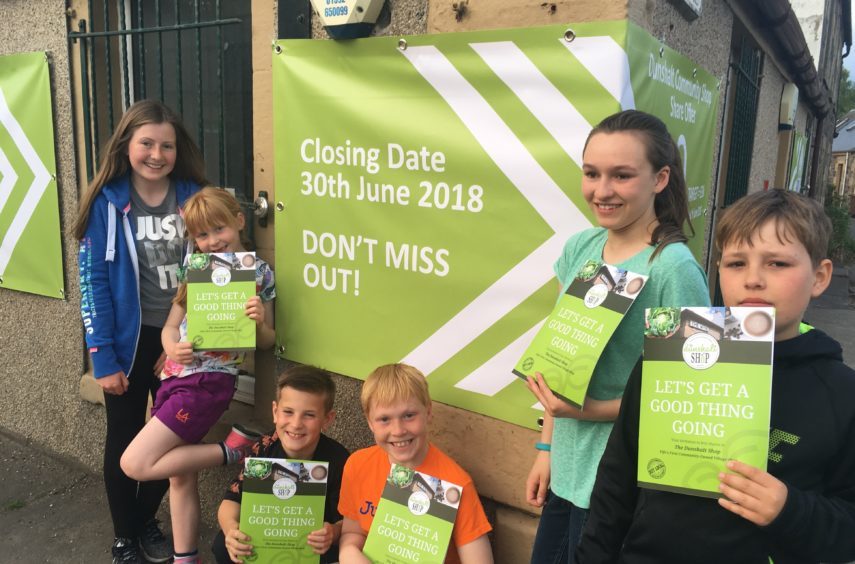 The hope is the shop will be up and running by the end of this year or early 2019, and will even be open on Sundays.
"It will be a grocery store showcasing local produce and with the added bonus of being a social hub – our ethos is all about living locally," she smiles.
Dr John Lee of the SGF believes that the SGF's centenary is a real historic milestone.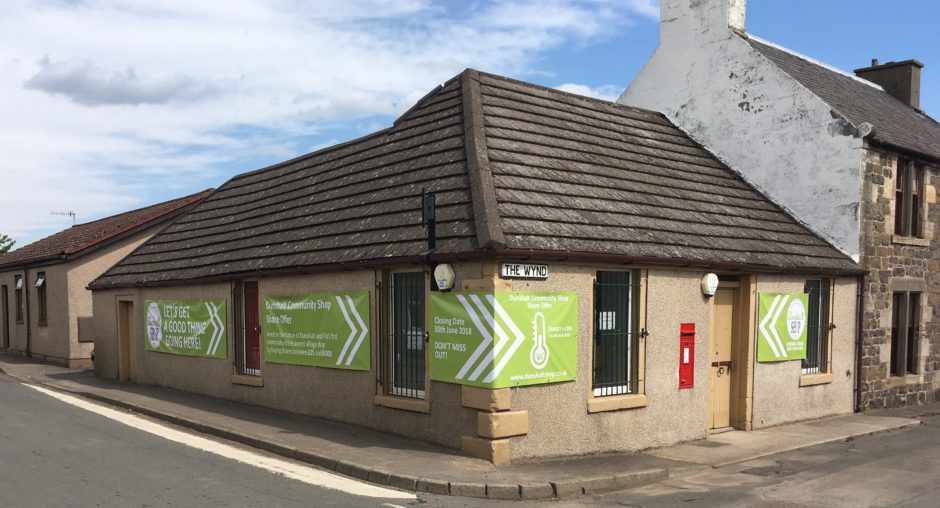 "The past century has obviously seen changes in the economic impact on local people in their communities and on local economies," he reflects.
Today, competition is a big issue but what's important to remember is the money customers spend in a convenience store gets recycled into the local community. These stores are really hardworking and have to respond to change but they're well placed to do that because many are still independent.
"Our industry is worth £5.2 billion per annum to the Scottish economy and employs over 41,000 people. Here's to the next 100 years!" he smiles.
Info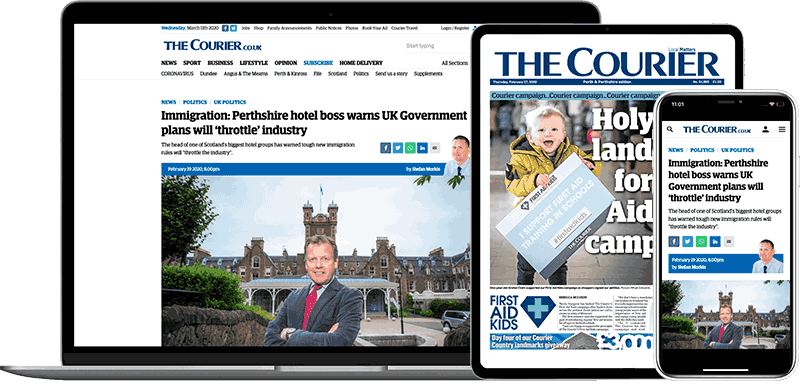 Help support quality local journalism … become a digital subscriber to The Courier
For as little as £5.99 a month you can access all of our content, including Premium articles.
Subscribe