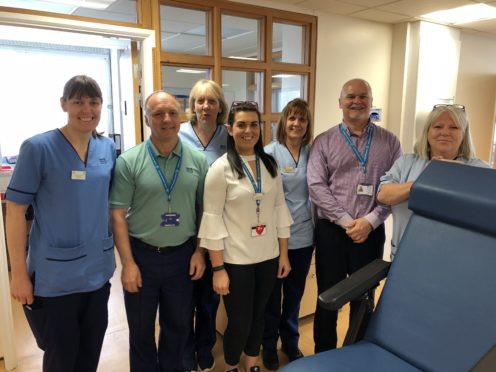 As the new state-of-the-art HQ of the Scottish National Blood Transfusion Centre opens in Edinburgh, Caroline Lindsay discovers why we should all consider giving blood
Let's be honest, most of us don't really think about blood that much. We wince if we cut ourselves but then we carry on and forget about this amazing fluid that carries oxygen around our bodies to keep us alive. But following a traumatic post-delivery haemorrhage when she lost more than 45% of her blood, Jodie Small, a mum of one from Dundee, is raising awareness about blood transfusions and encouraging people to donate the red stuff to save lives.
"I had a routine pregnancy but after I'd delivered baby Maybel, I started to turn blue and needed three blood transfusions – the staff all acted so fast and I can't thank them enough," says Jodie, who lives in Broughty Ferry.
"The transfusions I received saved my life and allowed me to recover from this ordeal. I can't thank donors enough for the selfless act of blood donation that changes the lives of so many, including myself.
"It's never been truer that you never know when it's going to be you or a loved one in need so blood donation is essential to save lives. Since the birth friends and family have vowed to donate blood at the next opportunity and make it a regular event. Blood donors are invaluable and without them I don't think I would be here, healthy and lucky enough to be raising a beautiful baby girl," she smiles.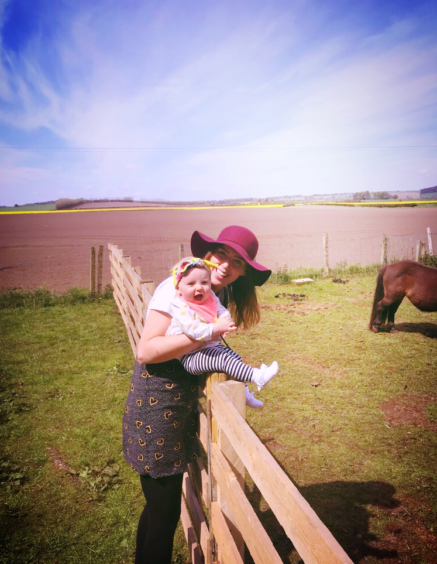 The recent opening of the Jack Copland Centre, the new national HQ of the Scottish National Blood Transfusion Service in Edinburgh, is the perfect time to highlight the need for donors across Scotland.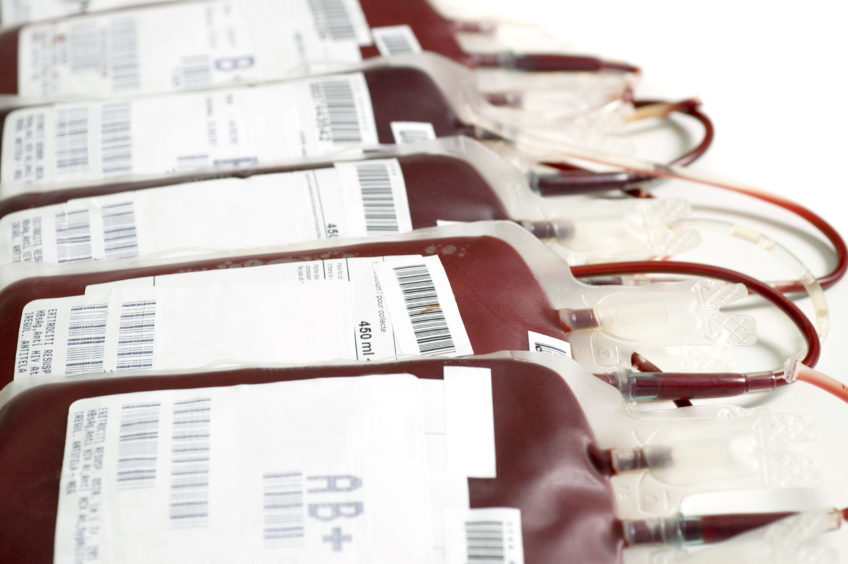 The new centre marks one of the biggest milestones the Scottish National Blood Transfusion Service has witnessed in its history – while the NHS celebrates its 70th anniversary, the story of the Scottish National Blood Transfusion Service (SNBTS) goes back even further. In 1930, an Edinburgh dentist called Jack Copland brought together the first panel of blood donors, and ran Scotland's first blood transfusion service from his surgery. Donors would give blood as and when it was needed, often having to travel to hospital at short notice when an emergency transfusion was needed. By 1936 the donor panel had 350 members.
"Jack Copland's work had a most significant impact on Scotland and the subsequent blood transfusion service," says Mary Morgan, director of the SNBTS. "We want to ensure his legacy lives on by naming our new state-of-the-art centre after him."
With the outbreak of war in 1939, a more organised approach to blood transfusion was required and voluntary donor systems were established in Edinburgh, Glasgow, Dundee, Aberdeen and Inverness. By 1944 the number of active donors had risen to 20,000.
When the NHS was founded in 1948, the service which would later be known as the Scottish National Blood Transfusion Service (SNBTS) received government funding to continue its blood collection programme. thirteen years later, in 1961, the first open-heart surgery in Edinburgh took place and required 40 pints of blood. Donors had to be at the hospital on the day of the operation ready to donate when needed.
By the 1970s, improved knowledge of the chemistry of blood and the medical benefits of plasma products led to the plastic collection bag replacing the glass bottle, rubber stopper and tube, enabling the separation of red cells and plasma to be carried out with no risk of bacterial contamination.
Then in the 80s, computers revolutionised the donor administration system and the introduction of automated blood grouping matched patients and donors with greater speed and accuracy and during the 90s, the importance of ensuring that blood is used in a safe and effective way was increasingly recognised.
The new centre was opened on July 4 by HRH Earl of Wessex, and Gwen Fenton, who looks after donor recruitment at Dundee Blood Donor Centre at Ninewells Hospital, was thrilled to be there.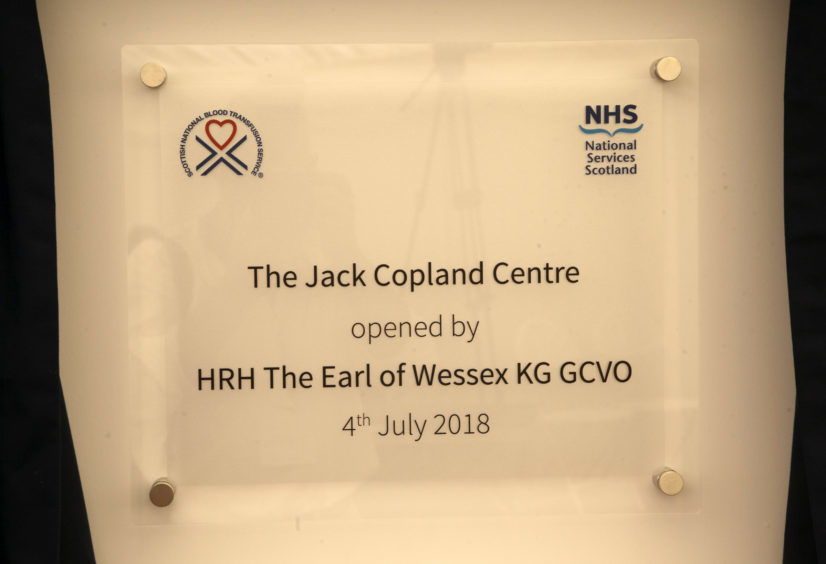 "I am really excited about the new centre," she enthuses. "I'm looking forward to what the future holds within transfusion medicine and working with all my colleagues there."
Gwen, along with the rest of the Dundee team, enjoys meeting donors from all walks of life – the only provisos are they need to be 17 or over, and must leave a minimum of 12 weeks between donations. An appointments system means people can donate on a Tuesday, Wednesday and Friday at a time that suits them. and more than 80 generous donors pass through the centre each week. Giving blood is a simple process and Gwen explains what happens at a typical session: "When you come along you're welcomed by a staff member. Then, if we have invited you to attend to give blood, you will have received a form through the post, which you complete and bring with you.
"If you have never given blood before we will print off the form and ask you to complete this before we take your donation. Then we take a small sample of blood from your finger to check your haemoglobin level. Once the basic paper work is completed, we take your donation – it's very simple and easy and takes no more than a few minutes. Then it's time to relax with a cuppa and a biscuit."
So what's the blood used for?
"Every time you give blood, your donation is split into three separate parts: red cells, platelets and plasma," explains Gwen. "This means by giving blood you can save or improve the lives of up to three separate people who may require treatment for many reasons including cancer, during surgery, childbirth or your blood could go to a premature baby," she continues.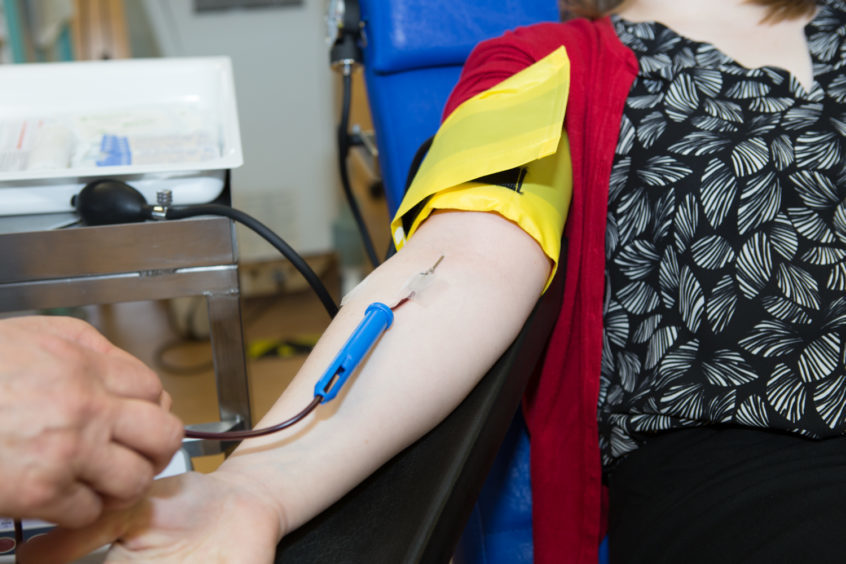 "Accident and emergency wards depend upon blood donors for emergency situations – red cells support major surgery, trauma and childbirth emergencies.
"Many cancer and leukaemia patients need regular blood or platelet transfusions – platelets are needed for blood to clot and are used when the bone marrow doesn't work properly," she continues. "Plasma is used for critically ill patients including burns victims, and patients who have lost large volumes of blood and need to have the full range of proteins replaced."
Inevitably, the technology used for blood donation has changed dramatically over the years, as Gwen explains.
"Innovation and technology are very important in supporting the transfusion needs of patients. For example, blood was collected in glass bottles for many years. Now, it's collected in state of the art blood bags," she says. "Additionally, testing is now very sophisticated so we can react and test very rapidly for any emerging infections such as the Zika virus, a test which was implemented rapidly a few years ago.
"These technological developments help keep blood as safe as possible for patients, and ensure we are taking the very best care of the donor."
Retired firefighter Grahame Beats, 56, has been donating blood for 35 years. "A friend's mum was a nurse who was a regular blood donor and when I was old enough she encouraged me to come along and give," recalls Grahame.
Sometimes it was hard finding the time to donate but being in the Fire Service and seeing the things you see makes you think.
"I remember one day, being called out to a gentleman who had been involved in an accident when a vehicle rolled down a hill and trapped him. It took us almost six hours to cut him out and he needed blood afterwards – at the time it was thought that he would lose his legs but the surgical team were able to save them, along with the donor blood he received.
"He came back in to thank us for all we had done."
Grahame books an appointment every 16 weeks to donate and admits the mini health check he gets each time helps him keep an eye on his own well being.
"I failed the finger prick test one time as I was low in iron and that made me think: 'when was the last time I ate green veg?'"
Grahame would encourage anyone not to think twice about giving blood. "Just do it, it's not sore, you feel much better after giving, plus the older you get you realise how you have helped someone by doing so little," he says. "Knowing that blood saves lives is such an important thing to me."
www.scotblood.co.uk/giving-blood/sign-up-to-give-blood  or call 0345 90 90 999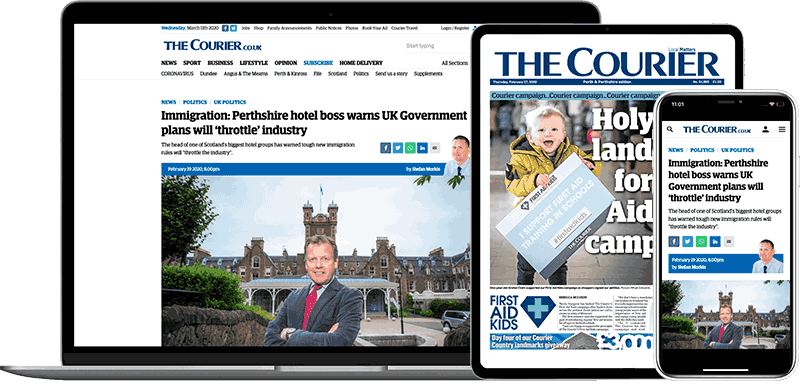 Help support quality local journalism … become a digital subscriber to The Courier
For as little as £5.99 a month you can access all of our content, including Premium articles.
Subscribe