Martin Carr – guitarist and song writer with 1990's indie rock band The Boo Radleys – tells Michael Alexander why he won't be singing the band's best known track 'Wake Up Boo' when he performs an acoustic set in Kirkcaldy.
As the former guitarist and song writer with 1990s indie rock band The Boo Radleys, Martin Carr has "instant recall" when he thinks back to the circumstances of writing the band's greatest hit – the 1995 single Wake Up Boo, which charted at number nine and came from the number one album Wake Up!
But don't expect him to perform the track when he performs an acoustic solo set at the next Tae Sup Wi' A Fifer in Kirkcaldy on September 7 and Dunfermline on September 9.
The reason? Firstly, he doesn't think he could ever reach the high notes achieved by lead vocalist and old school friend Simon "Sice" Rowbottom – a man he is convinced "swallowed a helium balloon" as a child.
But Martin is also "embarrassed" by the lyrics – including that memorable line "Twenty-five, don't recall a time I felt this alive" –a song he wrote about staying up all night after a not-to-be condoned night consuming 'magic mushrooms'.
"It's weird the way you can remember small pieces of your life," says Martin in an interview with The Courier from his home in Cardiff.
"It's like instant recall. I was living in this flat in Preston. My girlfriend at the time was a teacher. She used to get up early and leave. I would get up early as well. I was never one for lying in.
"I watched Breakfast tele. I wanted to have a hit record.
"The first three chords (of Wake Up Boo). I remember thinking 'we have something here'. I worked on everything apart from the lyrics – which I'm quite embarrassed about now.
"It must have been a year from writing it to finishing it.
"The fact that I never looked at the words and thought 'I need to sort them out'.
"I wrote them a couple of days later – I'd been up all night. Wrote a song about staying up all night. Mushrooms I think it was… And then celebrating the morning for five minutes before going back to bed."
Born in Thurso where his Mancunian father worked at the Dounreay nuclear plant, Martin's family relocated to Merseyside when he was very young, and it was there that he grew up.
Martin formed The Boo Radleys in 1988 with Rob Harrison on drums (later replaced), Simon Rowbottom on vocals/guitars and bassist Timothy Brown.
Named after the character Boo Radley in Harper Lee's 1960 novel To Kill a Mockingbird, the band released six albums before their demise in 1998.
Martin went on to make a number of albums under the name of bravecaptain.
He now records under his own name, the latest album being 'New Shapes Of Life'.
"I've got a studio at home," he says. "I've made three records under my own name now. It's going alright – no one seems to notice when I put out a record!" he says only half-jokingly.
"I don't know what else to do. This is what I do. It's a completely different world now – releasing records is not enough. Everything has changed because of the internet. It hit music really early on.
"It's a completely different world than it was in 1995."
Martin's earliest musical memories date back to around 1972/73 when he heard a lot of music on the radio and his dad brought home records.
"I was really into disco records when I was a little kid," he says, adding that the first single he bought was The Police Message in a Bottle on green vinyl – a record he still owns.
"Then I just did that thing when you get to 11 or 12 when you are into heavy metal one day then you'd be a mod then into something else – brush my hair a bit different or something.
"I was always obsessed with the charts especially until the mid-80s. I think then I kind of lost interest and started looking for something else."
Martin met Tae Sup Wi A Fifer founder James Yorkston a few years ago at a 'songwriters' retreat' near Bath.
They "got on pretty well" and kept in touch. James also played in a church opposite where Martin now lives.
"He asked me to come up and play," says Martin.
"He didn't need to twist my arm. I haven't played in Scotland for a long time. I'm really happy to be back."
Martin will be on the same bill in Kirkcaldy as Rachel Sermanni – a Scottish folk-noir balladeer, writer, musician and artist from Carrbridge in Strathspey, and Emma Pollock – a founding member of critically acclaimed Scottish band The Delgados.
Martin adds: "I do enjoy playing acoustic gigs. If I need to make a bit of money I go out and play with my acoustic guitar. But I do enjoy playing small intimate venues. I'll do songs (written) since 1990.
"There's a lot I don't do because of the lyrics. I just wish I'd taken more time over them. I do get embarrassed and I step away from the mic sometimes. Which is a shame because the songs are lovely. But I usually pick the ones I'm not embarrassed about."
* James Yorkston Presents:Tae Sup Wi' A Fifer featuring Rachel Sermanni, Martin Carr and Emma Pollock takes place at the Adam Smith Theatre, Kirkcaldy, on September 7 and the Royal British Legion, Dunfermline, on September 9. www.onfife.com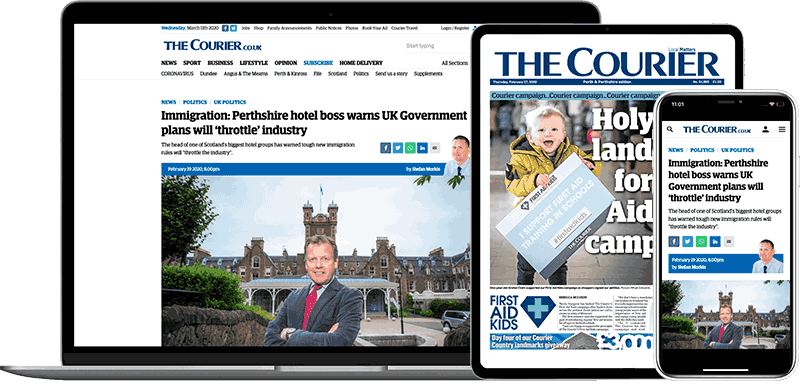 Help support quality local journalism … become a digital subscriber to The Courier
For as little as £5.99 a month you can access all of our content, including Premium articles.
Subscribe