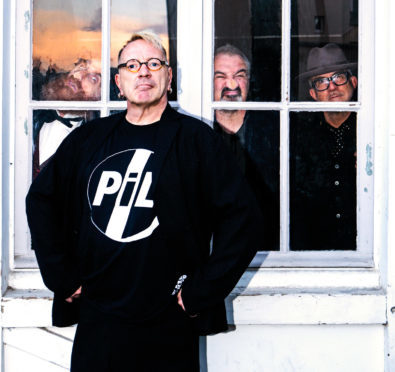 One of punk's greatest icons is set to host a Q&A session in Dundee ahead of playing in the city. Public Image Limited and Sex Pistols legend John Lydon will talk about his incredible life in a one-off appearance at Whitehall Theatre, where he'll hold court from 10pm on Thursday.
The event's preceded by a rare screening of new warts 'n' all documentary The Public Image Is Rotten at Beat Generator Live, with PiL performing at Church next Friday.
It's the penultimate show of the epic, three-month European leg of the band's 40th anniversary tour, with a month on the road in North America to follow from October 9.
"At 62 I don't view myself as old or young or anything at all," replies Lydon, when asked about his gruelling schedule.
"I either have the energy to do what I want to do or I don't. I'm lucky that the older I get the younger my body seems to become. It's quite odd. I've a band that will not let me be lazy."
PiL's debut album First Issue appeared in 1978 following Lydon's Sex Pistols exit. They continued to record until 1992, then went into hiatus until 2012's This Is PiL set.
Looking back, he admits the band's experimental origins were a deliberate reaction to his Pistols stint. "We needed a different musical landscape," says the Rise, This Is Not A Love Song and Public Image songsmith.
"I needed to break away from the containments and to express the pain and agonies. I really wanted to tell my life story in the most accurate way possible. I can't be doing that to a Chuck Berry riff because it's just not me."
Lydon insists he's no desire to revive his first band for another comeback and that he's solely focused on writing new material — so much so that he was caught unawares by PiL's 40th anniversary. "I hardly know this stuff's coming," he declares.
"I never knew the Jubilee was coming until it hit me and I accidentally found myself in the middle of it. I'm not one to prepare for things like that but oddly enough everything just seemed to land on the right feet every single time and here we are now. I've just done the 40 years' Pistols things but honestly the better end of it is 40 years of PiL.
"This is the more serious and challenging stuff, the more in-depth and the more to do with the seven deadly sins and the seven blessings of being a human being. Who could ask for anything more?"
PiL's Church gig is sold out but there's still berths at the band's Inverness show on Tuesday via Tickets Scotland. Whitehall tickets are £23.50 via Dundeebox.co.uk, with screening passes £7.50 from Grouchos or online.
*** Hardcore punk's on the agenda at a Dundee Foodbank benefit tomorrow.
The matinee show 'Tins For Tunes' at Conroy's Basement will feature local cowpunks Uniforms, who'll be showcasing their new Reasons To Breathe white 7″ single, their first physical release since 2013.
Joining them at the Meadowside venue will be London-based Greek melodic rockers The Burnt Tapes, playing their first Dundee show since 2016's Book Yer Ane Fest X. Completing the line-up is gnarly ecossemo outfit Stonethrower, who'll be performing cuts from their forthcoming debut album. The free session kicks off at 2pm.
*** Fish fans have a tribute show to look forward to at Beat Generator.
StillMarillion will be paying homage to the Buckinghamshire prog rockers and their former Scottish frontman tomorrow night. The band perform tracks from Marillion's Eighties heyday. Tickets £10 from Grouchos and Tickets Scotland.
*** Sinderins duo David Webster and Stevie Anderson host this weekend's Sunday Song Club at Clarks On Lindsay Street. From 7.30-10pm, the free session includes an open mic spot.
*** A trawl through the hits of 10cc and ELO is in store at two Fife gigs.
Tribute outfit 10CCLO will be dipping into the back catalogue of both classic pop purveyors at Kirkcaldy's Adam Smith Theatre tonight and at Rothes Halls in Glenrothes tomorrow. Tickets £20 via onfife.com.
*** Number 57 has the Beatles-influenced Ringer tomorrow at 5.30pm, with Nifty Shades Of Grey from 9pm. It's Junkyard Dogs at Dock Street on Sunday.
*** Covers rockers Cherry Bombz are at Admiral Bar tonight at 8.30pm, Arbroath's St Thomas Bar (tomorrow, 2pm), Royal Tay Yacht Club (tomorrow, 7pm) and Friockheim's Railway Inn (Sunday, 4pm).