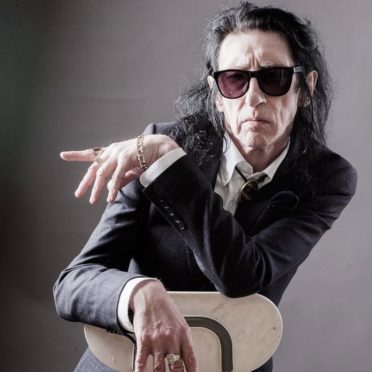 Punk legend John Cooper Clarke is bringing his riotous blend of riffs and chat to Dundee on Wednesday.
The Salford-born bard — who's sold out the Gardyne Theatre on Wednesday — first rose to prominence in the late-'70s, shortly after witnessing The Sex Pistols' era-defining gig at Manchester's Lesser Free Trade Hall in June 1976.
After starting out in folk clubs, the former laboratory technician released his debut EP Innocents in late '77, with the indie album Où Est La Maison De Fromage? surfacing the following year. Boasting such irreverent offerings as Kung Fu International, Readers Wives and Daily Express, the spoken word classic cemented Clarke's status as punk's foremost performance poet.
Although the wordsmith's live sets — which included performances on the same bill as the likes of Sex Pistols, The Fall, Joy Division, Siouxsie & The Banshees and Elvis Costello — were usually a cappella renditions, his recordings with his backing band The Invisible Girls remain key landmarks on the era's sonic timeline.
Led by Joy Division and New Order producer Martin Hannett and keyboardist Steve Hopkins, Clarke's studio cohorts included some of the movement's stellar talents, including Buzzcocks frontman Pete Shelley and Be-Bop Deluxe legend Bill Nelson.
His fame rose further after signing to Epic and releasing the album Disguise In Love, then scoring a top 40 hit single with Gimmix! (Play Loud). However, following the early-'80s albums Snap, Crackle And Bop and Zip Style Method drugs took over and he virtually retired for the rest of the decade.
Since returning to the live fold in the early-'90s Dr JCC's work's been featured on TV series The Sopranos and in the Ian Curtis biopic Control. He's also influenced alt-rock outfits such as Arctic Monkeys, who adapted his poem I Wanna Be Yours on their 2013 album AM. His most recent musical offering was a 2016 covers album recorded with ex-Stranglers frontman Hugh Cornwell.
*** Blues rocker Kris Barras is set to play Dundee — weeks after collaborating with ZZ Top legend Billy Gibbons.
The Devon-born songsmith, who's at Church tonight, fronted supergroup Supersonic Blues Machine on their European tour this summer — now he's roadtesting new material ahead of releasing his fourth album. "I've already been writing the next album which won't be out probably until this time next year, maybe later," says Kris, 33, who's also penning tunes for SBM's next LP.
"The stuff that I'm writing now is up another level from the earlier albums. Now I've signed to a record label and am doing things all over the world it's the first time I've gone all-in on music so my songwriting's always improving.
"The next album will be a lot less bluesy-type songs with a couple of verses and guitar solos on the 12 bars. It's a lot more soul-based." Tickets are £10 via tickets-scotland.com.
*** Clarks On Lindsay Street's head honcho brings his own band to the venue on Sunday.
Two years after reforming, '90s troubadours Swiss Family Orbison are playing an acoustic set that'll feature ex-Danny Wilson stalwart Kit Clark and Deacon Blue guitarist Gregor Philp. Tickets £7 from Eventbrite, Clarks, Grouchos and Assai Records.
*** There's a couple of nopnotch tribute acts at the Green Hotel this weekend.
The Kinross venue welcomes AOR outfit A Foreigner's Journey tomorrow night, with Manchester-based Rory Gallagher homage Sinnerboy set to recreate the Northern Irish guitar hero's fire and passion on Sunday at 2.30pm. Tickets £20/£18 respectively via mundellmusic.com and Ticketweb.
*** Pretenders tribute Talk Of The Town have lined up a Perth gig. The Glasgow outfit are being supported by the Fair City's own Foosties at Forty Four Bar next Saturday (Sept 29). Tickets £8 from the pub, Concorde Records and Grouchos.
*** Conroy's Basement has a triple-pronged sonic assault tomorrow. Homegrown cowpunks Uniforms are being joined at the Meadowside venue by metallic rock 'n' roll rioteers Houdini Said No and industrial soul stompsters Queequeg's Coffin. Admission's £6.
*** Dayglo rockers Green Days are at PJ Molloys tonight. The tribute to Billy Joe Armstrong's pop-punk heroes are joined by Troops Of Tomorrow, with tickets £9.
*** Yorkshire-based bluesmeister Tom Killner plays Kinross on Thursday. The hard-hitting songsmith blends rock, soul and funk and received praise for his 2015 debut album Hard Road. Tickets £15 online.
*** Number 57 has a set from Longstay tonight, then it's Dundee soulsters The Funkin Idiots and Chris Marra, Kenny Martin and Cara Sylvester tomorrow, with Junkyard Dogs on Sunday.
*** There's a tribute to The Police from Fife-based quartet The Polis at Clarks tomorrow at 4pm. Admission's £5.
*** Covers combo Cherry Bombz play Fintry's Powrie Bar tonight and Sandy's Bar on Sunday (4pm), with Buck Rogers at Seagate's Rewind tomorrow.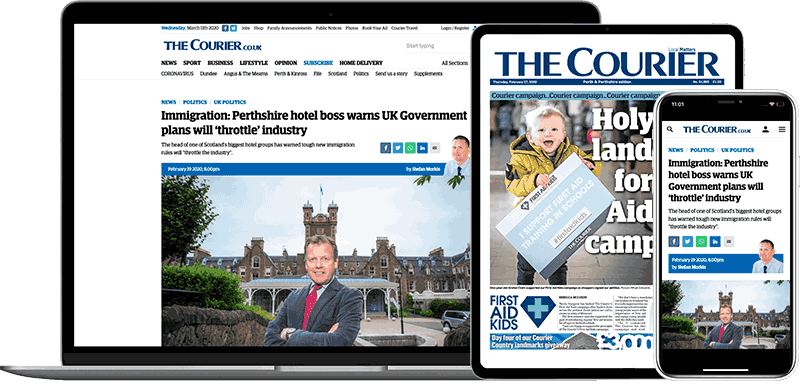 Help support quality local journalism … become a digital subscriber to The Courier
For as little as £5.99 a month you can access all of our content, including Premium articles.
Subscribe