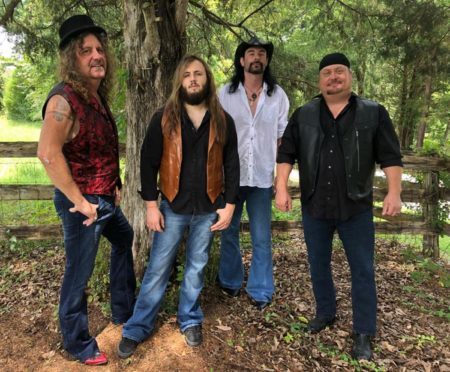 Southern rockers Skinny Molly return to Courier Country tonight to kick off a Kinross double-header.
Formed in 2004, the Tennessee outfit features former Lynyrd Skynyrd and Blackfoot guitarist Mike Estes, who's joined by fellow six-stringer Jay Johnson, bassist Luke Bradshaw and drummer Kurt Pietro.
Much of their set is made up of anthems written by Estes's former bands, along with original material touching on country, blues and Americana. Covers of tracks by Flirtin' With Disaster rockers Molly Hatchet, whose main songsmith Dave Hlubek co-founded Skinny Molly, also feature.
See them at the Green Hotel from 9pm tonight and tomorrow. Tickets £23.60 from Ticketweb.
*** A host of performers are backing a benefit gig at Clarks On Lindsay Street on Sunday.
The fundraiser, which starts at 6pm, will feature acoustic sets from stalwarts of the Dundee scene including The Collective, Revolver, The Mess Arounds, Abandon, The Interceptors, Love Puppets, David Webster, Gavin McGinty, Alice Marra and Colin Reid, George Harris, Kieron Smart and Stephen Knight.
Proceeds are going towards general maintenance and security costs of the new People's Piano at Dundee Railway Station. Organisers are requesting donations of £3 or more at the door.
*** Punk and prog mash-up Wartoad are at the Green Hotel on Wednesday.
Building a reputation for their chaotic, Stooges-like wall of sound, the Anglo-American supergroup can boast former Neil Young and Pearl Jam collaborators among its members. Their debut album What Rough Beasts was released earlier this year. Tickets £16.25 via Ticketweb.
*** It's Punktoberfest time again tonight at Beat Generator Live.
The North Lindsay Street venue is hosting the annual anarcho/hardcore frenzy from 7pm tonight, with the action resuming tomorrow at 2pm. More than 20 bands are playing across two stages, including Slaughter II — made up of ex-members of punk pioneers Slaughter & The Dogs — Drongos For Europe, Delinquents, Potential Victims, The Threats, CSOD, The Eddies, Surgery Without Research, Kickback Generation, Panic Attak, The Overbites, Hospital Food and Italian streetpunks Il Complesso.
Tickets £11.50/£13.50 via Tickets Scotland.
*** Edinburgh indie outfit Whitehill Grove play Conroy's Basement tomorrow, with support from Stop The Rain, Saint-Louie and Weekend Debt. Tickets from bigcartel.com or Groucho's in Dundee.
*** Legendary songwriter Andy Fairweather Low is set to play two sold out shows in Kinross.
The Wide Eyed And Legless hit-maker is bringing his acclaimed band to the Green Hotel on Sunday and Monday (both 8pm), where he'll perform classic tracks going all the way back to his early days in '60s popsters Amen Corner, who're best remembered for Bend Me Shape Me and (If Paradise Is) Half As Nice.
Andy's worked with an incredible array of all-time greats, including Eric Clapton, George Harrison, Bob Dylan, Jimi Hendrix, David Crosby, Elton John, Roger Waters and Jeff Beck.
*** Breaking songsmith Seán McGowan is at Clarks On Lindsay Street on Wednesday.
A label-mate of punk-folkster Frank Turner, the Southampton troubadour counts The Streets, Kate Tempest and Billy Bragg among his influences and released his belated debut album Son Of A Smith in March having paid his dues on the touring circuit in recent years.
Tickets £6 from beyondhighlands.com.
*** Electro-folksters Yoko Pwno play Conroy's Basement tonight. The Edinburgh four-piece are being supported by local rockers Neon MGM and Queequeg's Coffin. Admission's £5.
*** Genre-defying noiseniks Vindicam are at Clarks on Thursday.
The brainchild of hip-hop engineer Sean Mulholland, the Dundee outfit's being supported by London brothers Everyone You Know plus The Medinas and Ark Royal. Tickets £6.60 from Tito, Groucho's and Assai Records.
*** CSNY tribute Marrakesh Express are playing Kinross next week.
The harmonic trio — who include former Diesel Park West pair John Butler and Rick Willson — include songs from their heroes' other bands, The Hollies, The Byrds and Buffalo Springfield alongside Crosby, Stills, Nash and Young covers.
Tickets for Thursday's gig £21.50 via Ticket Web.
*** Italian metalcore band A Hero Named Coward make their Dundee debut at Conroy's on Sunday, with support from Sonorous and Freakshow Rejects. Admission's £6.
*** Unsigned noiseniks Idkid head up a session at Conroy's on Wednesday that also features surf rockers Moon Runners and an acoustic set from Everyday Pharaohs songsmith Sean Halket. Admission's £5.
*** Debauched rockers Guns Or Roses play Dundee and Dunfermline next weekend.
The Yorkshire-based tribute act has gigs at Beat Generator next Friday — it's £9.50 via Tickets Scotland — and Carnegie Hall the following night (£16 from onfife.com).
*** Number 57 has Itchycoo Park tomorrow from 5.30pm and Chain Gang plus guests on Sunday.
*** Covers outfit Cherry Bombz plays Arbroath's Pageant tonight (9pm) and Harlequins on Sunday (6.30pm).