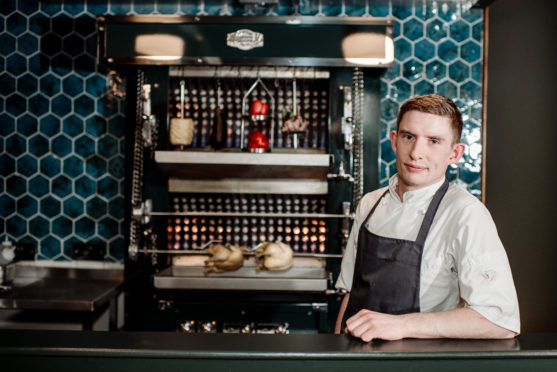 Craig McKenzie, head chef at Southside Scran in Edinburgh, tells Caroline Lindsay ​about his favourite tastes – and why he should never eat peanuts
Q Desert island food?
A My desert island dish would be smoked haddock poached in milk with a poached egg, it's a dish I never get bored of. It has so much flavour and is the ultimate comfort food.
Q Favourite TV chef?
A Tom Kitchin, his cooking ethos from nature to plate has always inspired me, I love working with him.
Q Favourite cookbook?
A Classic Koffmann, it shows classic techniques and Pierre Koffmann is such a legend in the industry.
Q Favourite ingredient?
A My favourite ingredient is thyme, it's versatile and elevates so many different dishes, whether it's fish, meat or vegetables.
Q Most hated ingredient?
A For me, it's peanuts, which I am highly allergic to!
Q Perfect dinner guest?
A Marco Pierre White – I've always admired his work and would love to pick his brains over dinner on his past experiences – he must have some great stories.
Q Favourite kitchen gadget?
A Thermomix is my go-to gadget, combining 12 kitchen appliances in one, so I always find a use for it.
Q Favourite music to cook to?
A I often listen to Paul Young while I'm cooking. His music is uplifting and never fails to put me in a good mood.
Q Perfect menu?
A A perfectly cooked steak with all the classic sides – it never gets old.
Q Favourite country for food?
A It has to be Italy – I can't resist pizza and pasta. Italian cooking is so simple and they always have such fantastic produce.
Q Favourite chef, alive or dead?
A Escoffier was my favourite chef, he simplified dishes while making them modern, with a no-fuss approach.
Q Favourite culinary season?
A Spring is by favourite culinary season, it brings with it a whole host of great ingredients, asparagus, beetroot and artichokes, to name a few.
Q Salt or pepper?
A Definitely salt as it enhances flavour. I can't imagine cooking without it.
Q Favourite herb?
A Thyme, as above!
Q Favourite spice?
A Cumin is my favourite spice, it adds a warm and smoky flavour.
Q Favourite way to cook the humble potato?
A For me, the fondant potato is a clear winner – crispy on the outside and fluffy on the inside.
Q Favourite go-to recipe if you're in a hurry?
A Spinach omelette is my favourite go-to recipe because it's good for you and easy to prepare in a rush.
Q Favourite health food?
A I love spelt, it can be used as a replacement for so many things when cooking and I often use it in risotto.
Q Ideal picnic dish?
A Eton Mess is the perfect summer dish, it's a must at a picnic.
Q Ideal BBQ food?
A John Dory – it's a really light fish and grilling it on the barbecue really brings out its flavour.
Q Are you critical of the food when you're dining out?
A Yes I am, I think everyone is when they dine out, particularly if you're in the food industry.
Q Do you tip in restaurants?
A Yes, always.
Q Top tip for failsafe cooking?
A Do it yourself so you know where you stand!
Q Worst cooking sin in your opinion?
A Not tasting your food as you go along – you need to know how it tastes every step of the way so you can adapt as you go.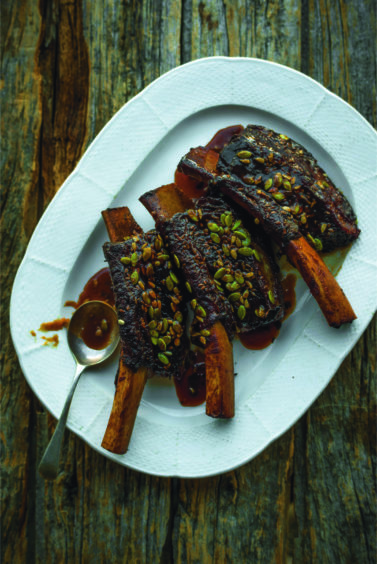 Braised and glazed Jacob's ladders
Serves 4
Ingredients
Vegetable oil
4 Jacob's ladders (beef ribs on the bone), about 2kg in total
1 carrot, peeled and roughly chopped
1 fennel head, roughly chopped
1 onion, roughly chopped
½ garlic head
2 tablespoons tomato purée
6 black peppercorns
4 allspice berries, lightly crushed
2 star anise, chopped
2 litres beef or chicken stock
1 bouquet garni
30g mixed seeds, such as sunflower
seeds and pine nuts
Mixed green salad, to serve (optional)
Sea salt and freshly cracked black pepper
For the barbecue glaze: 6 tablespoons maple syrup
3 tablespoons soy sauce
2 tablespoons Worcestershire sauce
4 teaspoons bourbon
4 teaspoons tomato ketchup
2 teaspoons Dijon mustard
Directions
Preheat the oven to 160C Fan/180C/Gas Mark 4. Rub the ribs with a little oil, then season them all over with salt and pepper.
Heat a large well-seasoned sauté or frying pan over a medium-high heat. Add the ribs and sear, turning them over a couple times, then remove from the pan and set aside.
Heat a heavy-based large roasting tray on the hob, then add a good splash of oil. When it is hot, add the carrot, fennel, onion and garlic, and sauté for 2–3 minutes until they are beginning to colour and soften. Add the tomato purée, peppercorns, allspice berries and star anise, and stir for a further 1–2 minutes to cook out the tomato purée.
Place the ribs in the in the tray, then pour over the stock, add the bouquet garni and season with salt and pepper. Bring the stock to the boil.
Cover the ribs and vegetables with a piece of greaseproof paper cut to fit the size of the tray, then put a sheet of kitchen foil on top, scrunching the edges to seal in the juices. Place the tray in the oven and leave the ribs to braise for 4½–5 hours until the meat is tender enough to flake from the bones.
Turn the oven temperature up to 200C Fan/220C/Gas Mark 7. Carefully transfer the ribs to a wire rack sitting over a shallow tray and set aside. It helps with the clean-up if you use the tray to catch drips.
Place all the glaze ingredients in a bowl and whisk together, then season with salt and pepper. Use a pastry brush to generously brush the ribs all over with the glaze. Return the ribs to the oven for 20–25 minutes, glazing every 5 minutes, until they are a dark barbecued colour. Sprinkle the ribs with the seeds for the last glazing. Remove the ribs from the oven and set aside to rest for 5 minutes covered with kitchen foil.
Recipe from Tom Kitchin's Meat & Game (Absolute, £26), out now.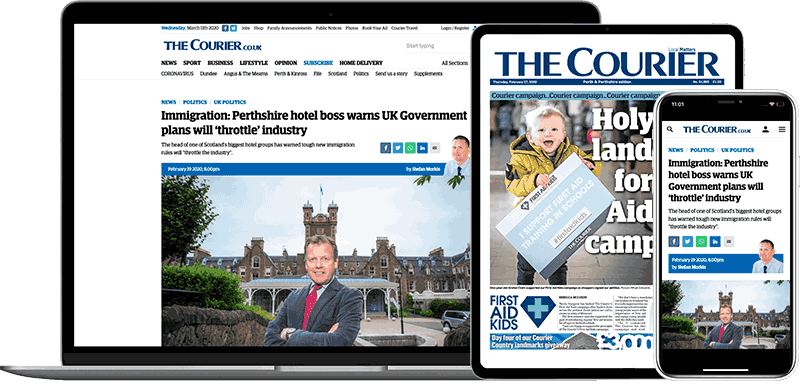 Help support quality local journalism … become a digital subscriber to The Courier
For as little as £5.99 a month you can access all of our content, including Premium articles.
Subscribe