You don't have to be a spring chicken to enjoy aerobics as Gayle discovers when she joins a class packed with over-60s (and a good few in their 90s!)
Elvis booms through the speakers as I shake my hands in the air, squat down on my haunches, and kick my legs wildly.
I'm surrounded by ladies – and one man – in their 60s and 70s, with a good few in their 80s and 90s.
We've flocked to Blairgowrie Town Hall to take part in a weekly "exercise for life" class. The sessions are hugely popular, often attracting more than 50 people, and there are others just like it across Tayside and Fife.
Because they're much less vigorous than the likes of Zumba, they're open to all ages – the philosophy is it's never too late to start exercising.
You don't need to remember routines and if there are any movements you don't fancy, you can give them a miss.
Retired PE teacher Betty Cocker, who tells me she's "70-plus", is leading the class.
"It's a mix of strength, flexibility, balance and co-ordination," she says.
Without further ado, Betty blows a whistle and we form a circle round her as the first track kicks in.
There's no time to stand around gawping; you need to keep your eyes trained on Betty or you risk being left behind!
Because this is my first time here, I don't have a clue what to expect, so I do, on occasion, find myself going left while everyone else is going right, or raising my arms to the roof when others are reaching downwards.
The point is – nobody notices and nobody cares; nobody is here to judge. Most importantly, I can't stop smiling!
The soundtrack Betty has chosen, a mix of rock n' roll, country and western, Scottish, classical, and disco, is uplifting and energetic – it makes you want to move!
We jig to Elvis, The Eagles, Guy Mitchell, Abba…the list goes on (and tracks change every week).
I've come dressed in lycra and a baggy T-shirt and very soon, I'm sweating.
You can push yourself as much – or as little – as you wish.
Some of the moves are more challenging than others – there are squats, lunges and some jogging on the spot – but there's also a bit of stretching and "floorwork".
Between tracks, I chat to three nonagenarians – Margaret Ritchie, 94, Marjory Sandeman, 95, and Rita Ewing, 93.
"I love the classes; they keep me going!" beams Marjory.
"Betty is so cheerful, the music is fantastic and everyone is friendly."
Rita joined when she moved to the area aged 90.
"Classes are uplifting and sociable and a great way to integrate into the community," she says.
I also meet Chris McLeay, 79, and her 80-year-old husband Ron.
"I broke my shoulder badly but the class has helped me regain full movement," says Chris.
"It's not only good for the body but good for mental well-being, too."
Ron adds: "I went hillwalking until I was 77 but was starting to find it tough.
"I came here with Chris and loved it, although it would be good if there were more men!"
Another 82-year-old tells me: "I had to give up country dancing which I'd enjoyed for 20 years because of severe knee pain.
"To sustain mobility, I took up Betty's keep-fit two years ago. It's gentle but effective and the music and company are wonderful. I always come here full of glee!"
Another lady tells me: "Music, laughter, chat…and exercise! The class helped lighten my day following bereavement."
Many people have been coming to the Blairgowrie class since it started in 1998 and, in fact, it celebrated its 20th anniversary in November.
Betty, a ball of energy who's a fan of gymnastics and dance, reckons the most important thing is that people enjoy the company and make really good friends – for life.
I for one can guarantee that the classes will put a massive grin on even the grumpiest of faces. I still haven't stopped smiling!
Info
The Blairgowrie "exercise for life" class was formed as an offshoot of the original Dorothy Dobson over-60s classes which started at Dundee University over 30 years ago. Other classes run locally in Forfar, Brechin, Montrose, Arbroath, Dundee, Newport, Perth, Newtyle, Auchterarder, Dunning, Fowlis, Muirhead and beyond.
For more details, contact Betty at betty.cocker@icloud.com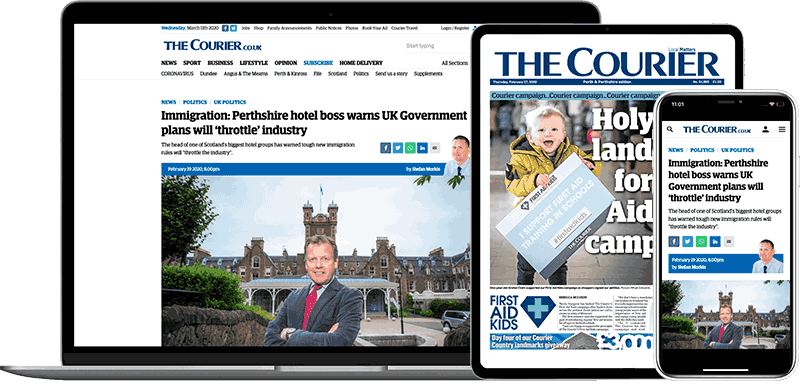 Help support quality local journalism … become a digital subscriber to The Courier
For as little as £5.99 a month you can access all of our content, including Premium articles.
Subscribe