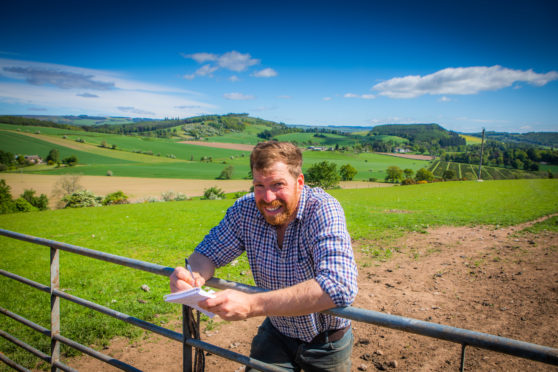 Comedy farmer Jim Smith brings tales of rural life to audiences across the UK. Gayle Ritchie spends a morning helping with duties on his Perthshire farm…
A scraggy-looking ewe and her lamb have escaped and are traipsing along the edges of a tattie field, tugging at blades of glass.
I'm on foot, in hot pursuit of the bemused duo, while farmer and rising comedy star Jim Smith drives behind them in his Ford Ranger.
The plan is to coax them back in with the rest of the flock and not to allow them to wander through the middle of the beautifully manicured potato drills.
Excitement gets the better of me and I slip and fall…knee-first into a pile of sheep poo.
It's like something out of one of Jim's sketches as I brush myself down and make things ten times worse. My hands are now covered in the stinky stuff but I put on a brave face.
"Sheep s*** is the pits," empathises Jim. "And it had to be the worst-looking sheep on the farm that escaped. Bloody yow."
Welcome to a typical day in the life of tenant farmer Jim at Stralochy Farm, a mile up a bumpy, potholed track from the sleepy Perthshire village of Caputh.
He's been up since 6am spreading fertiliser and keeping a beady eye on three heavily pregnant cows.
Having successfully shooed the sheep into the right field, he's now stapling chicken wire across the bottom of the fence, a "quick fix" in which I play a part – standing on the stubborn, springy mesh while he rolls it along the ground.
Jim has lived here all his life, growing up with his mum, dad and two sisters.
The tenancy has been in his family since 1949, making Jim, 40, the third generation after his father and grandfather.
Standing at his favourite viewpoint, on top of the highest hill on the farm, there are breathtaking scenes in all directions – of the River Tay, the Sidlaw Hills, across to Glamis, Glenshee, Glenisla and beyond.
It feels a million miles away from Falkirk, where Jim is heading later to perform his stand-up comedy show, Back to the Teuchter.
Tickets for the UK tour are selling like hot cakes and extra dates have been added to meet demand.
This is something Jim finds "f-ing nuts". Yes, he swears a lot, but he apologies profusely for doing so.
"I spend a lot of time on my own so I swear at the sheep usually," he quips.
TOUGH JOB
Farming, as we all know, is no walk in the park. It's a tough job, with long hours and livestock relying on you.
So how on Earth does Jim manage to fit in his burgeoning comedy career? "I wing it!" he says.
"I don't go on tour when I'm lambing and instead of going to the pub, I'll do a gig."
Jim didn't start doing stand-up until he was 34 and while you might imagine he was the class clown at school, he was quite the opposite.
"I was quiet as a mouse," he reveals, stripping off his stained and self-proclaimed "clatty" jumper to reveal a crisp, clean, checked shirt underneath.
"My sisters and I always loved watching comedy, whether Blackadder, Victoria Woods, Scotland the What or Scotch and Wry – traditional stuff. I never really imagined being on the stage myself, though.
"It wasn't until I was in my early 30s that I got an inkling to do it and it wasn't a plan to diversify, although I suppose diversifying is what I'm doing and yes, it brings in extra cash.
"I always thought about sketches so I had loads of material that I thought would be funny as stand-up."
When he was a member of the Young Farmers, Jim wrote jokes for pantomines and took part in a cabaret challenge, using his slot to tell his own gags.
But it wasn't until 2012 that the idea of getting on stage truly gripped him.
He toyed with the idea of doing a show at the Edinburgh Fringe but found the concept too overwhelming.
When he discovered The Stand Comedy Club in Glasgow was offering beginners' nights, he signed up.
When the time came, however, he was riddled with nerves.
"I was an hour early so I sat in my car writing notes on my hand so I wouldn't forget them," he admits. "Thankfully everything was all right on the night!"
Jim was invited back to fill more slots and this prompted him to seek out other comedy clubs around Scotland.
Since then, he's been gigging up and down the country – from the Hebrides to Newcastle and yes, he's conquered the Fringe – plus he's made (and continues to make) a series of comedy farm diary videos for BBC Scotland and played a small role in the sitcom Scot Squad.
His dream is to play the 13,000 capacity Hydro arena in Glasgow but he's also pretty chuffed to play more intimate gigs.
"I love playing rural crowds," he muses. "If I do Aberdeen, Perth, Inverness, Elgin and the like, they get the teuchter humour. I play up to the stereotype that teuchters are slightly backwards and folk love that. Of course, we're definitely not backwards at all! It's a massive exaggeration, but it gets a lot of laughs."
Promotional material bills Jim's latest tour as "Countryfile meets The Only Way is Essex, with Jim using characters, regional accents and impressions to help explain to city slickers what the outside world looks like through the eyes of those that 'bide up the glen'."
Hot topics include internet dating for farmers, village nightlife and how to pimp your Land Rover.
Jim laughs: "That's about right. I'm a farmer, a country boy. You can expect to get a rural boy's take on all aspects of life".
FIT LIKE, MIN?
Why does he put on an Aberdeenshire accent, I ask? "I like it!" he beams. "And I never thought the Perthshire accent was that exciting.
"I've always been a fan of Scotland the What (who were Aberdeen-based), Colin Campbell (who perfected accents from Orkney to Buchan down to a tee) and Desperate Fishwives (a show born and bred in the Doric north-east of Scotland).
"I enjoy pronouncing all those Aberdeenshire words. I know a couple of old guys who do that in-breath, taking a gasp of air as they say the word 'aye'. Trendy folk don't do it."
Inspiration for Jim's material comes from all kinds of places and he carries a notepad with him wherever he goes, whether feeding cattle or fixing fences.
"I tend not to sit down with a blank piece of paper. There's a lot of time spent alone – a lot of headspace – when I'm out around the farm. That can spark ideas or I might hear something on the radio.
"A lot of the best comedy comes from stories – from speaking to people. I try to shoehorn wee stories and comical characters into my shows. Certainly, you need a sense of humour to be a farmer!"
The weather features heavily in his gags and one particularly chuckleworthy sketch online shows him bemoaning the fact the farm hasn't seen rain for three weeks.
"It's so hot…it must be 14, 15 degrees," he pants. "Ma truck's broken doon and ahm at least a quarter a mile fae the farm an ahm oot o water."
He goes on to say if this is his last message and "ah dinnae mak it hame, an I die oot here due tae heat exhaustion…tell Willy ah'll no be at darts tonight. An tell ma sister Elsa…there's a Scotch egg in the fridge which'll be oot o date on Thursday."
Jim admits he still suffers "a wee bit" from nerves on stage, but reckons that's a good thing.
"If you go on too cocksure, things can go wrong. But adrenaline gets you going; it makes you up for it.
"You've got to make folk laugh but with a tour, you know what to expect and that gives you an honest confidence.
"You usually know if people are up for it but I had some disasters, some stinker shows, in the early years."
SENSE OF CONTROL
What Jim loves about stand-up is the sense of being in control. "I'll dot new material between the good stuff so if it dies on its ass, it doesn't matter," he says.
He hasn't yet reached the heady heights of comedy colleague Frankie Boyle, but Jim's definitely on the way there. But he still finds the concept of fame – and being recognised in public – odd.
"This boy from Aberfeldy came up to me while I was in Harbro (the country store) in Perth and asked for a selfie," he laughs. "That was a bit weird. But I can live with it!"
While Jim enjoys juggling his two careers, there's no way he would ever give up farming – it's what he knows and loves and it's in his blood.
"This is me, here on the farm," he reflects, gazing wistfully out to distant hills. "I used to take this place for granted as a kid. But now, I get it. I wouldn't want to be anywhere else or do anything else."
Jim's dad passed away from a brain tumour five years ago but his mum lives in the house opposite and often helps with odd jobs. Other than that, he works the farm solo.
However, any fans hoping Jim might make potential husband material can forget it. He's no longer a single man, having met his girlfriend, a teacher called Morag, almost three years ago.
"She's brilliant and she's actually quite funny herself," he smiles.
Also living at Stralochy with Jim and Morag is Flossy, an adorable five-month-old Collie puppy who features in some of Jim's material. He got Flossy after his old faithful sheepdog Mitch died in January and, as he ruffles her fur and gives her a cuddle, it's obvious the bond between man and pup is strong.
As I prepare to head off, the sun is beating down and there's not a cloud in the sky.
"It's not always like this," says Jim, smiling. He had told me earlier that he drives back home after gigs, rather than staying away, and I totally get it.
"I'd much rather be here. If I'm away overnight, I'm desperate to get home. That's why I don't do many gigs in England. Why would I stay in a Travelodge in a city when I could be here?"
info
Jim's tour started on May 3 and runs until October. All dates have sold out apart from an extra one at Perth Concert Hall on October 17.
For tickets, go to seetickets.com/tour/jim-smith
Jim's new episodes of The Farm are also available on BBC iPlayer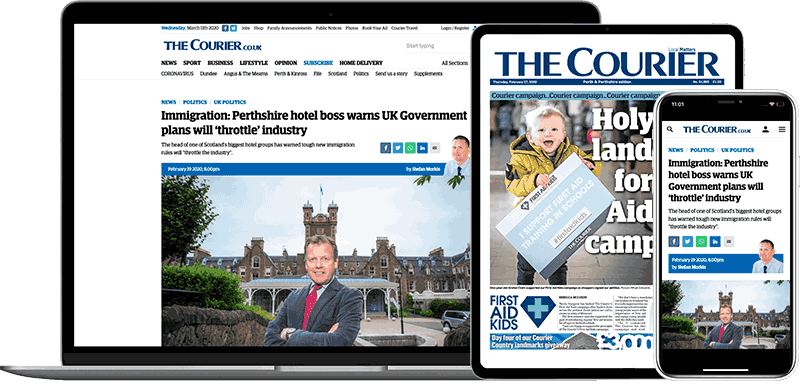 Help support quality local journalism … become a digital subscriber to The Courier
For as little as £5.99 a month you can access all of our content, including Premium articles.
Subscribe