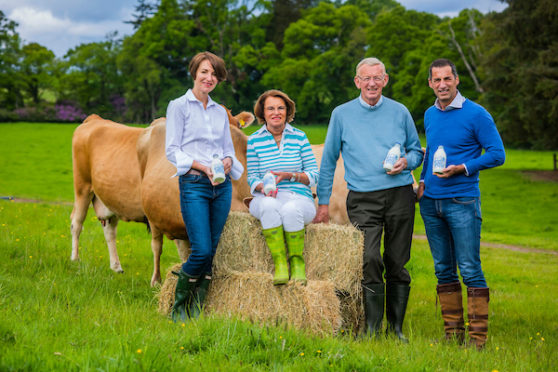 As Graham's the Family Diary celebrates 80 years, Robert Graham Snr tells Caroline Lindsay how they have moo-ved with the time
When Robert Graham's father started the family dairy back in 1939 with 12 cows, delivering milk door to door by pony and cart, young Robert began helping his dad when he was just 10.
"All the cows were milked by hand back then, and housewives would collect the milk with a jug from the pony and cart," Robert recalls.
"The ponies knew the round backwards, always stopping at exactly the right house."
1967 was a major milestone for the business as the Graham family sold a field to
purchase a pasteuriser, making the milk longer lasting and a better product for shops.
Then in 1988, Robert purchased 40 Jersey cows from the Windsor herd. As the demand for pasteurised milk increased, more cows were bought.  Today that herd is over 300 strong.
"No one was selling Jersey milk at the time and it gave, and still does give us, something different to elevate us from the competition," he explains, before adding how he loves to add the milk to his porridge each morning.
80 years and three generations later, Graham's the Family Dairy is Scotland's largest independent dairy.
"Fresh milk is still collected daily from our farmers across Scotland and brought to the dairy in Bridge of Allan, which we still call home today," he says proudly.
As the current chairman of Graham's, Robert is as dedicated today towards his livestock as he has ever been.
"Being brought up as a farmer it never leaves you," he reflects.
His wife, Jean, is the company secretary. "She is a very calming influence on me and the business when things can get a little fraught," he smiles.
Son Robert is managing director, and daughter Carol is marketing director.
With a range of products that includes Jersey Gold, skyr and cottage cheese, ice cream, butter and cheese (to name but a few), Robert is proud of the way the business has moo-ved with the times.
"Whereas milk is often regarded as a commodity product, we want our dairy products to appeal to everyone," he says.
"Foods offering high protein, a good source of fibre or gut health are getting more and popular and dairy has so much going for it, so it is so exciting to be creating products that our family loves."
He reveals he's seen many changes over the years, particularly in technology, as it becomes more automated and data-driven.
"Wireless and GPS technology now help farmers monitor their crops and look after livestock as well as collecting and analysing data to help them make better decisions," he says.
The welfare of the cows is also a top priority, from vaccinations to collars with a pedometer that carries each cow's history, recording how much milk she gives a day and how much feed she should get.
"Cows need a nutritionally balanced constant diet to stay healthy," says Robert. "The majority of our dairy cows eat grass during the summer and silage (preserved grass or wholecrop) in the winter.
"This is usually supplemented with dry feeds such as cereals and protein feeds with added vitamins and minerals," he continues.
Fresh milk is still collected daily from Graham's farmers across Scotland and brought to the dairy in Bridge of Allan.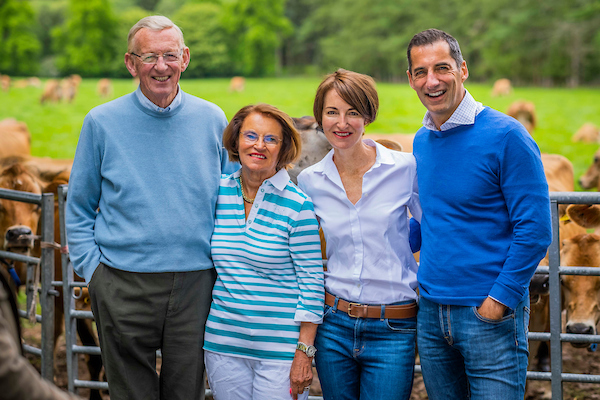 "Our farmers start around 4.30am to process, bottle and pack the milk, ready for the milk vans that day," Robert says, before revealing his own day starts at crack of dawn too.
"Like many farmers, I thrive when I'm busy," he smiles. "I enjoy working through until a job is finished – even on little sleep.
"There's always something to keep you busy on the farm."
So how does it feel to be a household name?
"Quite strange when you think about it, but we just get on with it," he smiles.
"There have been so many challenges along the way but as my mother always used to say: 'Just keep going, never look back.'
"I'm so proud of my family…and my cows too of course!
"At the end of the day, happy cows make happy milk – that's what it's all about."
As part of their 80th anniversary celebrations, the family is reintroducing glass bottles for the milk, following customer demand.
"By the mid-40s the milk boys would be picked up by the pony and cart at 5am to do the milk round with the glass bottles – so we are quite literally looking back to look forward."
The glass bottle will be introduced in a limited edition 80th anniversary design, then available in traditional Graham's the Family Dairy bottles.
For more info call 01567 625265 or email kintoreadmin@grahamsfamilydairy.com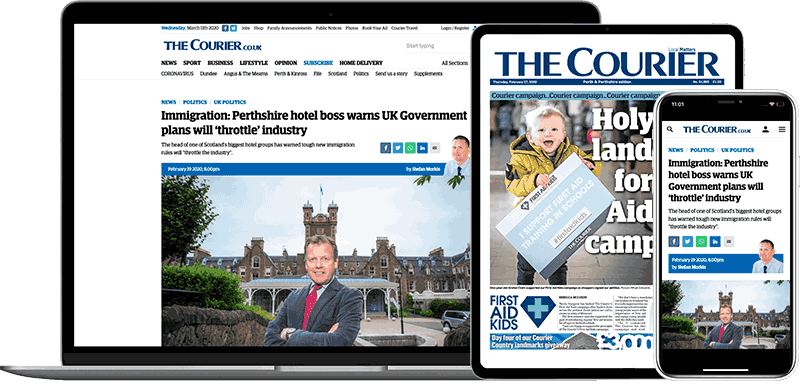 Help support quality local journalism … become a digital subscriber to The Courier
For as little as £5.99 a month you can access all of our content, including Premium articles.
Subscribe