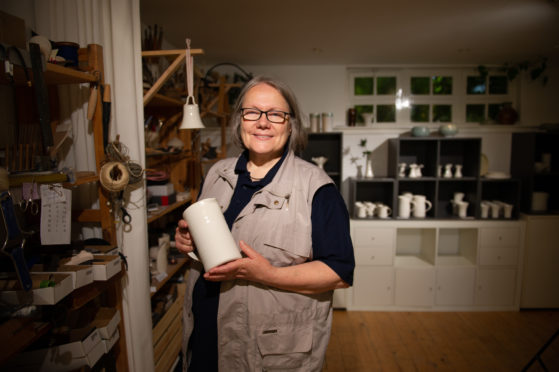 Maria Nordgren makes unique, functional pottery in porcelain and stoneware. Gayle heads to her Alyth studio to find out more
Pottery's appeal in 2019 is right up there with knitting, bread-making and craft beer brewing – grounding, hands-on, immersive experiences which are worlds away from our increasingly social media-obsessed lifestyles.
Maria Nordgren, who runs Momentum Pottery in Alyth, believes working with clay "opens the mind and create bridges between people".
"I'm very inspired by shapes, textures and colours in nature; the bark of a tree, the moss on rocks and the delicate translucency of a flower," she says.
"My main work is white porcelain, thrown on a potter's wheel and fired in my electric kiln – vases, bowls, plates, jugs and mugs.
"It's all made to be used and enjoyed in everyday life and not left gathering dust on shelves."
Maria, 63, who is workshop coordinator of the Scottish Potters' Association, began ceramics training in 1975 in Sweden but went on to become a geologist and science teacher.
Pottery became a hobby but she gained enough knowledge to teach it on the side – although she does it full-time these days.
As a Scandinavian, born in Sweden, Maria says it's "very easy to feel at home" in Scotland.
"I love to travel, to experience new places and culture. But even after the most amazing of journeys, it's the Scottish landscape and people I always want to return to and it's also what I'm most inspired by in my work.
"Coming back here is like when you are pouring water on one of those rounded, smooth rocks you find on the beach – somehow the shape and colours feel more real and vibrant here than anywhere else."
Drawn to Perthshire because "it inspires creativity", Maria believes this is because the region boasts a great variety of landscapes – mountains, hills and glens, woods, lochs, rivers and burns.
Summer is a particularly busy time for Maria, having just showcased her work at Alyth Creates, a three-day festival of the arts in May.
Now she's making work for Perthshire Open Studios in September.
"This is my most important yearly event, with many people coming back year after year," she says.
"I enjoy making larger, one-off pieces most, but I need to make sure I have a good variety of work for all budgets.
"There are craft lovers who come in for the first time and pick a large piece straight off the shelf, but most often, people want to buy smaller things the first couple of times they visit."
"This year I need to have more stock than usual for the Open Studios, since I'm also exhibiting with a group of makers at Gleneagles Station for the first time. We're planning to make The Sidings a permanent gallery, so it's a commitment for the future, too."
There's no rest for the wicked and as well as spending hours creating her own work and hosting pottery workshops, Maria makes and exhibits work with Rachel Bower, a willow weaver based in Forfar, plus she's been exhibiting with a group of Tayside artists called Fusation since 2013.
"We agree on a theme and meet up regularly to share what we are making and to go on excursions and nature walks to find inspiration," she explains.
"Taking part in a themed exhibition means I have to steer my work in a way I don't normally do.
"It can be a great challenge and is a brilliant way of evolving the creative process.
"It means I often have to find new tools and materials and develop new glazes and decoration methods to create a special expression."
She's massively excited about the International Ceramics Festival in Aberystwyth, Wales, which she's heading to this weekend.
"It's an amazing event for anyone who loves ceramics and a perfect place to look out for talented potters and artists for future Scottish Potters' Association workshops.
"I'm meeting up with potters I went to China with in October last year.
"There's nothing like a 27-hour train trip from Sichuan Province to Jingdezhen to create a very special bond between people and it's going to be wonderful to see them again!"
Maria and her family moved to Scotland in 2006 from Norway and she set up Momentum Pottery in Aberdeenshire.
In 2009 they moved to Alyth, as did Momentum Pottery, and it's from there that Maria creates her work and runs workshops.
For more details, see momentumpottery.co.uk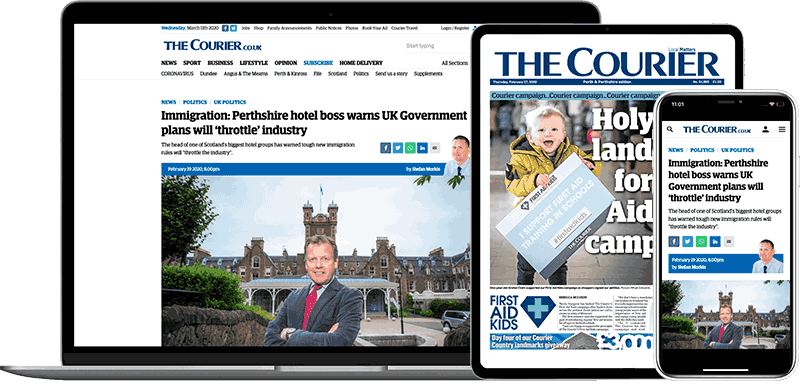 Help support quality local journalism … become a digital subscriber to The Courier
For as little as £5.99 a month you can access all of our content, including Premium articles.
Subscribe