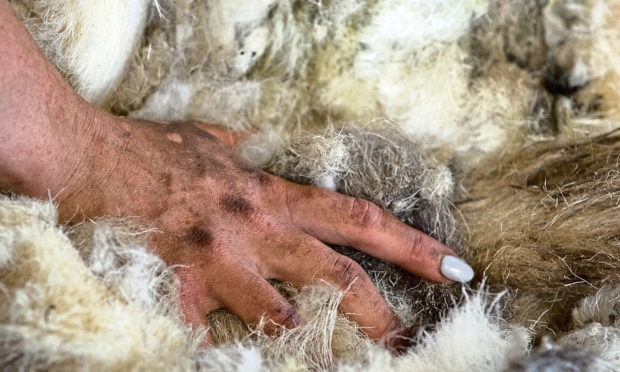 Career options for women in Scotland's agricultural industries are rarely highlighted.
However, photographer Sophie Gerrard's new exhibition looks set to upturn a few stereotypes by focusing on females who run successful farming ventures in some of the nation's wildest landscapes. Originally shown in Edinburgh in 2014/15, she recently spent a year capturing subjects in Perthshire for her enhanced version of Drawn To The Land.
"It was started as a way of exploring the Scottish landscape through the eyes of women," Sophie, 41, explains.
"When I lived in London I was reminded very much of the romantic view of the countryside as a superficial picture of the landscape that hits us with nostalgia and patriotism.
"I always found that puzzling because it's not the Scotland I knew. I wanted to get underneath the surface and find out about the landscape through the people that're responsible for it and getting their hands dirty every single day, and women were an obvious choice ."
The exhibition contrasts Sophie's work with a series of black and white images documenting life in the 1960s at Laighwood Farm, near Dunkeld, taken by late Perth photographer John Watt.
"He's not somebody I knew about but the organisers were keen to reference its archive via contemporary photography," she says.
"The archive's really interesting but was mostly shot by men and the farming work focuses on male farmers. It proves a point that the historic masculine view of the countryside is perpetuated in collections.
"As far as I understand, Watt was working for the wool secretariat and was documenting a year in the life of a hill farm. The siblings who run the farm appeared with their father back then and the images went to make a children's storybook about the life of a black-faced sheep.
"They highlight the huge changes we've seen visually in the countryside in a relatively short space of time. The features of Scotland's hills are changing and issues such as common agricultural policy, Brexit and an ageing population of farmers make their future is really unpredictable."
The images Sophie captured at six farms across Scotland in 2013 when she started putting the project together plus new photos from Strathearn feature alongside the Butterstone stills at the first Scottish staging of the exhibition since its debut. Included is fresh work from a return to Connachan Farm, by Crieff, which was among the venues she visited six years ago.
"The women I'm photographing are not farmers' wives, which is the detrimental term that would've been used to document them as secondary figures throughout history," she says.
"They're businesswomen who take decisions and I wanted to place them front and centre. I've also photographed two full-time female shepherds in their 20s – one based near Amulree and one in Auchterarder – who're both self-employed.
"We have a male view of the countryside, especially farming. The average farmer is a white 58-year-old man but there's been a 25% increase in women in agriculture in the last 10 years and I wanted to find out who they were and how they felt.
"One thing inherent in all these women is they couldn't do anything else. They've got this calling in them and I have huge respect for that and am very humbled by it. That's where the exhibition's title comes from."
Ex-environmental scientist Sophie — who is compiling a book around the project — says she she's looking forward to unveiling her updated show in Perth.
culturepk.org.uk