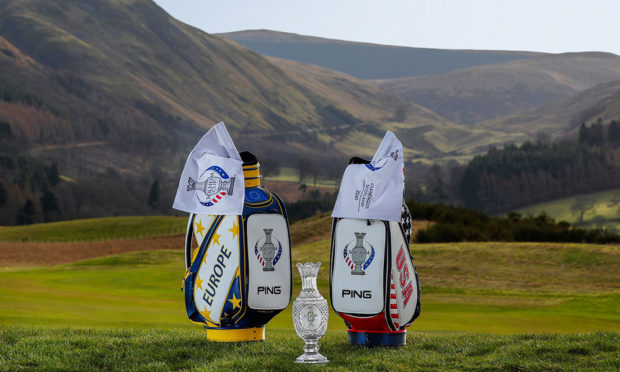 Building on the momentum of the Women's World Cup, another major all female sporting event is about to kick off by way of The Solheim Cup.
The prestigious week-long golf championship arrives in Gleneagles in September and is one of the highlights of the world's sporting calendar.
It will see 24 of the best female golfers from across the globe competing in "the home of golf" as Europe goes head-to head with the US. It's a massive event, not only for Perthshire, but for Scotland, as 600 million homes across the world will tune in to watch it.
The championship is named after a golf club manufacturer, Karsten Solheim, who was the driving force behind the inception of the competition which is now regarded as "the biggest event in women's golf".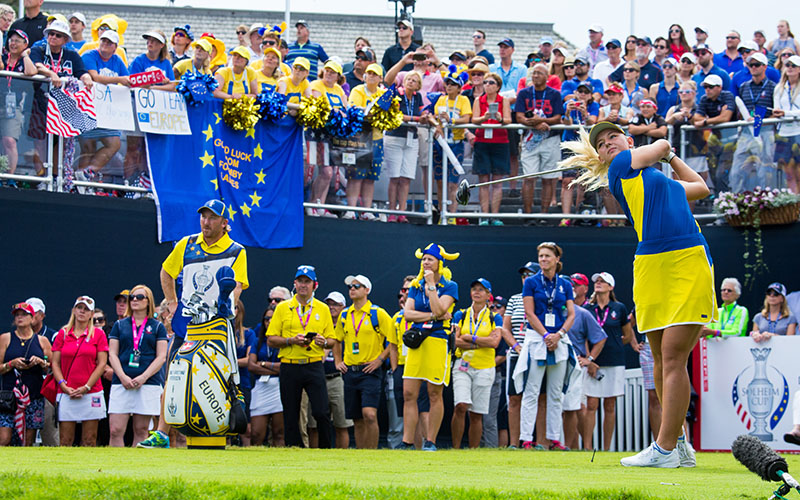 In October 2015 Gleneagles won the bid to host the prestigious championship, partly due to Alan Grant, VisitScotland's senior golf manager.
Since then various partners, including the Ladies European Tour, Perth and Kinross Council, Gleneagles Hotel and IGM Golf have come together with VisitScotland to deliver the event.
"We were up against stiff opposition in a bidding process, and we hadn't hosted The Solheim Cup since 2000," said Alan, a keen golfer who competed in last week's Scottish Open Pro-Am in East Lothian.
"It was very much a gap in our recent golf programme, so 2019 was a great opportunity to bring it back to Scotland. We were chosen because of our ability and track record of delivering world class events and we are confident of handing the Ladies European Tour back a product that is even bigger and better than it was. It is important that we position this as a bucket-list event because it deserves the same level of exposure and attention to detail as other golf events in Scotland get and we want people to be excited about it being hosted here. It is an event that people will be able to look back on in years to come and say 'I was there'.
"We are welcoming 24 of the best female athletes in the world to one of the most outstanding match-play golf courses in the world, and that was important."
Though Scotland is no stranger to hosting international and prestigious golf events, The Solheim Cup provides an opportunity to promote the country to the millions of people around the world that will be watching via television.
"It gives a global audience a chance to be inspired and hopefully visit Scotland in the weeks, months and years to come," said Alan, who recognised the importance of having the event in "the home of golf".
"Having Scot Catriona Matthew, our last major winner in golf, named as the European captain helped us focus on the event's connection to Scotland too," he said.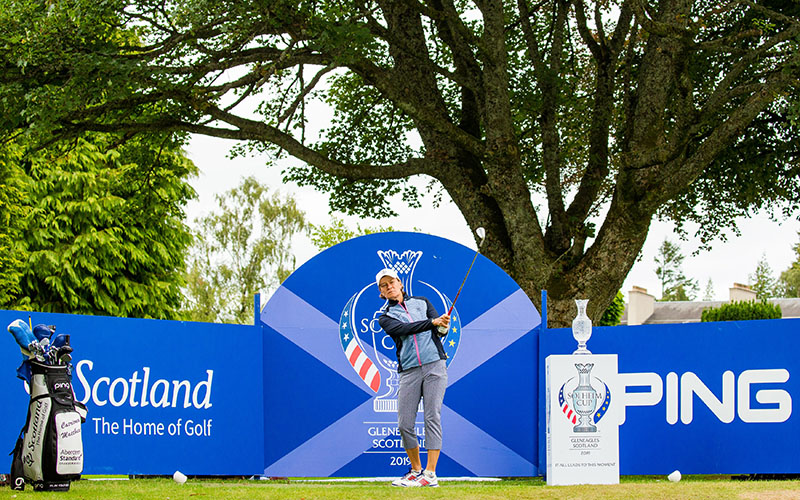 With more than 30,000 spectators expected to descend on the Perthshire golf course each day, and an estimated 100,000 across the weekend, the week of September 9-15 is predicted to produce the "biggest Solheim ever held on European soil".
More than two thirds of the event's tickets have been sold and it will undoubtedly have a huge impact on the local economy, Alan explained.
"We are expecting around 2,000-3,000 people from the US who will extend their trip into a holiday travelling around Scotland, while others will attend matches in the day and, in the evening, head back into Perth city centre for the restaurants and the bars, or head to Crieff, Muckhart or Stirling, or wherever they are staying.
"For Perthshire in particular, this is a really big event – 100,000 people at a golf course in the middle of Perthshire create that opportunity.
"And for those who are watching The Solheim Cup on TV in 600 million homes, it profiles the area from a longer term perspective," he reiterates.
But, unlike other golf tournaments, The Solheim will need to appeal to an array of people, including families and those who aren't fans of golf. With this in mind, the organisers have dubbed it as "the most family-friendly golf tournament ever staged"
As well as the free entry for under 16s, there will be a family zone in the tented village, hosting a soft play area, an indoor creche, crazy golf, games and a designated on-site family car park.
Mr Grant added: "It will be a festival type atmosphere… We will have a pipe band, highland dancers, an all-female fiddle group, before Texas plays live onstage for one hour before Abba tribute band, Bjorn Again, perform."
On the course itself a 2,500-seat grandstand will be erected at the first tee while spectators on the ground will be able to get up close to the players during the competition's 28 matches over three days.
Under the captaincy of Scotland's own Catriona Matthew (Europe) and Juli Inkster (USA), the competitors are expected to inspire a new generation of young players and increase female participation in the sport as a whole.
Alan added: "That crest of the wave is gathering swell and we hope to ride that over the next few weeks and hope The Solheim Cup continues to raise awareness and engagement in women's sport. It's giving these elite female athletes a chance to be seen."
Also appearing will be the Junior Solheim Cup on the Tuesday and Wednesday, in which 12 of golf's rising young players will be on the fairways. Among the up-and-coming swing stars is 16-year-old Hannah Darling, who could be selected for the junior team.
As Europe has won every time The Solheim has been staged on Scottish soil, Alan hopes for a home win: "The European players are doing very well. It's a home event so the crowd will be on their side, which is important. Catriona will be able to influence the course set up to benefit her team, so we're already in a good position."
*For your chance to be part of The Solheim Cup, you can book tickets (priced from £25 for adults and up to six children) by visiting the Solheim Cup 2019 website by clicking here.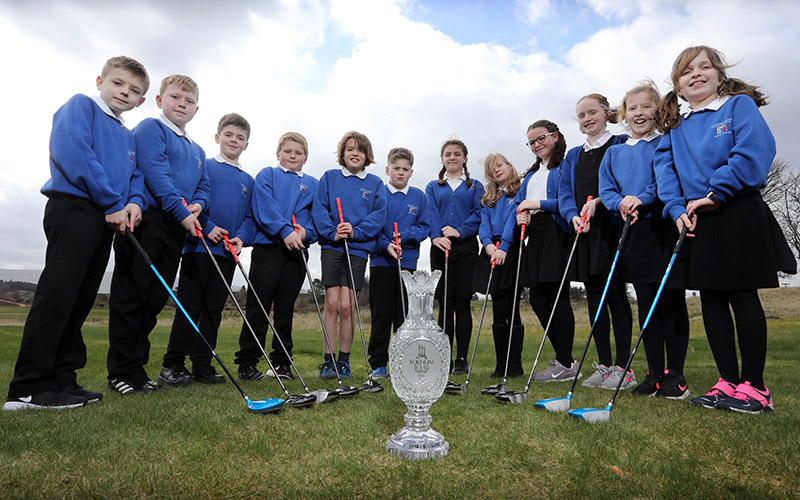 Golf is on course to be anyone's game
There has never been a better time to take up golf with a number of programmes and initiatives in place to challenge the perceptions of the sport.
More women than ever are discovering that as well as being competitive, golf is "at its heart a sociable, fun, outdoor, healthy sport," according to VisitScotland's senior golf manager, Alan Grant.
In a bid to increase participation in women's golf VisitScotland has, with the Royal & Ancient (R&A), invested in a new development role through The Solheim Cup Project.
The project led to Carol Harvey being appointed as a women and young person's golf development officer for three years.
Now, 18 months into her tenure, Carol is driving forward initiatives within golf clubs throughout Scotland in order to encourage more women and girls to be a part of the golf community.
Another initiative launched on the back of The Solheim Cup coming to Gleneagles was GolfSixes, a team game for young golfers that allows them to play six-holes against other clubs. And there has been a huge uptake, with more than 50 GolfSixes leagues now running in 20 regions of Scotland today.
Plus, more than £20,000 was allocated by Perth and Kinross Council to encourage women and girls to take up golf ahead of the tournament.
The £22,000 came from the council's Solheim Community Fund and is to be granted to a number of clubs specifically targeting women, including Strathmore and Perth Ladies.
Young female golfers will also be inspired by the youth spin-off of The Solheim Cup which will see 12 leading European girl golfers competing in The Ping Solheim Cup Juniors team on the first few days of the week-long event.
This contest for under 18s should give young players, particularly girls, an insight into what can be achieved.
Alan added: "For young girls to see that there is another young girl out there playing golf at a very high level – and that it's not an old man's sport or a boy's sport – it creates that peer connection and drives more girls to play."
Currently rising up the ranks are Shannon MacWilliam, Hannah McCook, and Hazel McGarvey, who are all aged between 16 and 22, and are already making a name for themselves in the sport.