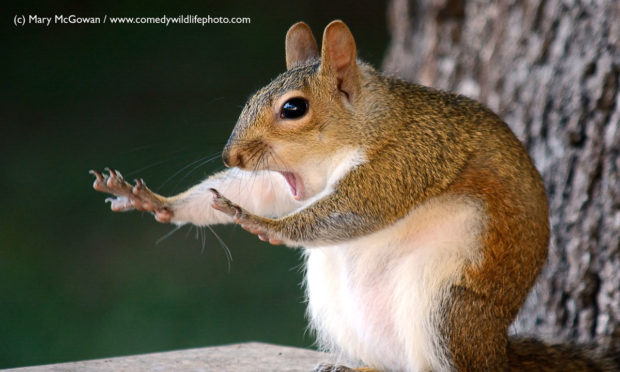 A unique wildlife exhibition aims to get visitors smiling – but also to get us thinking about animal conservation and what we can all do to help
American author Mark Twain got it right when he observed: "Humanity has unquestionably one really effective weapon – laughter."
Sometimes the most serious of messages can be conveyed more effectively through humour than shock tactics as a unique exhibition currently on display in Perth proves.
The Comedy Wildlife Photography Awards, displayed at the Royal Scottish Geographical Society's headquarters at the Fair Maid's House, celebrates the funniest moments from the animal kingdom while encouraging a positive and upbeat dialogue about nature and wildlife.
With judges including world-renowned photographer Will Burrard-Lucas, naturalist Kate Humble and comedian Hugh Dennis, the 2018 competition attracted photographers from all over the world. The 40 finalists' images are a riot of animals in comical, charming and endearing poses, with yoga bears, tangoing geckos and flying hyenas, as well as images with titles like Crouching Tiger Peeking Moose and Should Have Gone to Specsavers.
But in spite of its comical outlook, there's a serious message behind the competition – conservation. The directors of the awards, top photographers Paul Joynson-Hicks and Tom Sullam, hope that by enjoying these images, people might be more inclined to do more to preserve these precious assets for future generations.
Tom explains: "The idea for the competition came about because we realised most of wildlife conservation messaging is through relatively negative imagery with very sad implications for the wildlife itself.
"Although we agree there is a place for that type of imagery to shock people, and to create a response, we also felt we can create some dynamic and energetic engagement by appealing to people's humorous side and getting attention that way.
"It is all about animal conservation," Tom stresses. "That is the crux of the competition, to get people to laugh and engage with wildlife, and thus make a connection with them. That connection will help raise awareness of the desperate situation wildlife is in across the world right now."
The competition was won by Florida wildlife photographer Mary McGowan with her stunning picture of a squirrel, entitled Caught in the Act!
The judges felt this image captured everything about the competition: humour, seriousness, great caption opportunities, the perfect moment, photographic timing and an wild animal providing entertainment through its behaviour," says Tom.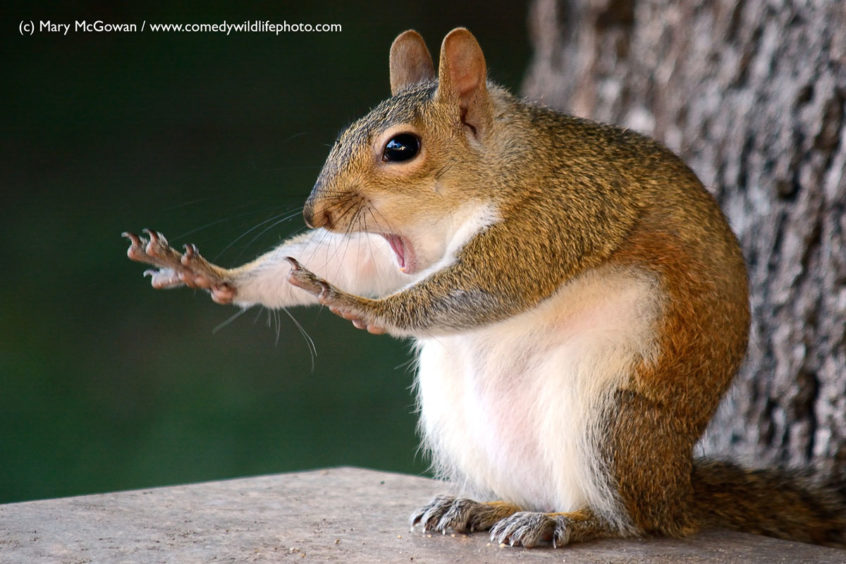 Mary explains how she managed to capture the squirrel at that precise moment. "The squirrel (whom I now call Stanley), was eating a nut in my backyard," she says. "My camera was pointed at him and I was already clicking when he suddenly coughed.
"The wacky pose was a result of him trying to steady himself. He coughed a couple of times, then went right back to eating. It happened so quickly that if I hadn't already been clicking, I would never have captured it." Mary was "beyond thrilled" to win the competition.
"I was, and still am, over the moon," she smiles. "I entered the contest and then sort of forgot about it. When they called a few months later to tell me I had I could hardly believe it.
"I love to immerse myself in nature and that's where wildlife photography leads me. I love to find a spot to hide and just watch animals be animals, feeding and caring for their young, building a nest or den, playing, hunting, foraging, sleeping, surviving.
"To capture an interesting photograph is icing on the cake!
"The awards do great work in bringing attention to the need for conservation the world over and I'm proud to have been part of it, even if in just a small way, and I hope my picture brings smiles to those who see it."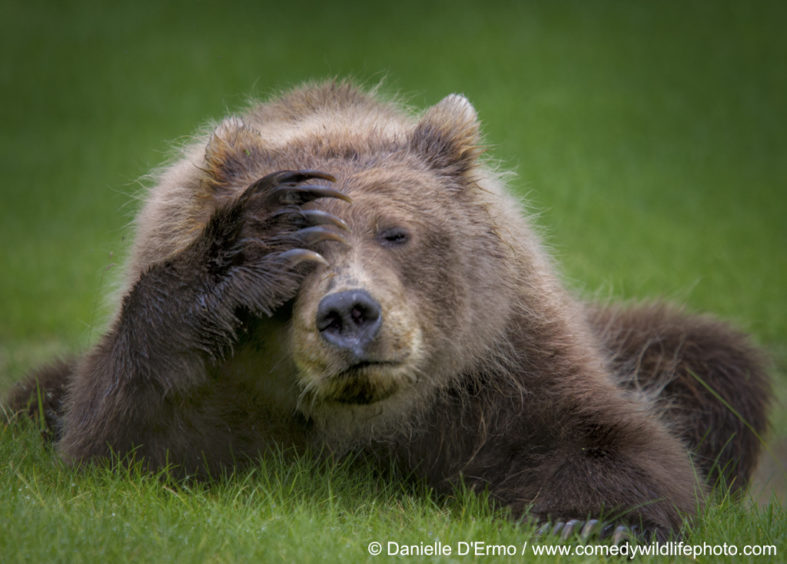 Just look at that brown bear with his paw over his head – anyone who's feeling a bit rough knows just how he might be feeling. Bear With a Sore Head by Danielle D'Ermo was captured at Lake Clark in Alaska.
Danielle, who hails from Connecticut, was given a camera by her boyfriend 12 years ago to capture the black bears, foxes, coyotes and a bob cat who are all regular visitors to her garden.
"Although in most cases I do sit, wait and watch animals for ages before I get a good shot, in this case I was just in Lake Clark for a short duration and was actually sitting down in an area photographing when two cubs approached and decided to lay down for a nap," Danielle explains. "They were sleepy and tolerant so I was able to photograph.
"I love capturing the depth of the animal that I see – so much intelligence and an amazing emotional spectrum in animals that I would have missed if it wasn't for photography," she reflects.
"Although wildlife photography is hard work, it is always rewarding because you never know what you will see, and what you will photograph and so it is very exciting when you capture that special moment that really reflects the beauty of the animal.
"Animals are so amazing – they are sensitive, have unique personalities and express complex emotions. Animals should be appreciated and respected and we should do our best to protect them and their environments.
"Today's world can really get you down but it is very nice to have a bright spot that always brings a smile to your face and makes you feel good when you see these lovely animals in comical poses."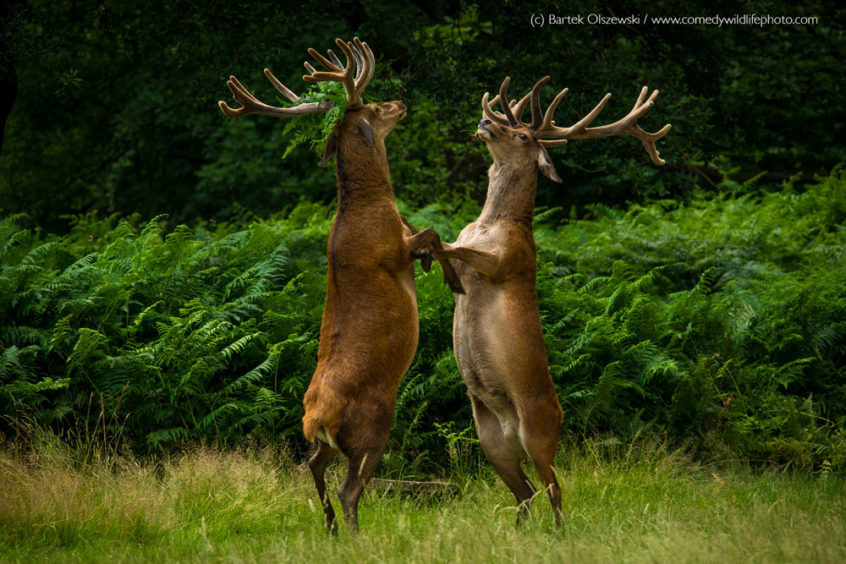 The beauty of Dancing Deer was caught in London's Richmond Park by Bartek Olszewski, who lives in the city.
"I was so lucky that day," he says. "It only lasted a few seconds. The deer just jumped out from the bush and posed for the picture."
Luckily Bartek had his camera at the ready.
"I have my camera in my hands at all the times when I'm going out to take pictures," he says. "Always be ready – wildlife is unpredictable, so it can surprise you at any time.
"I love to watch, and track animals. What most fascinates me is to find them and enjoy their natural behaviour without them knowing I'm there.
"I love the adrenaline, when after days and hours of waiting, you manage to take a dream unique photo."
Richmond Park is a National Nature Reserve and Bartek supports the Friends of this important habitat for wildlife by donating photography for greetings cards, postcards and calendars.
"I'm very pleased and humbled to have my photograph on display at the RSGS exhibition in Perth."
Tom has been overwhelmed by the standard of the photography.
"They are fantastic. Year on year we get incredible images of all sorts of animals, across different species, and this year has been another showstopper," he enthuses.
"The single greatest aspect to this however is that it is utterly boundary-less! The humour is cross border, it doesn't matter where you are from the images will make you laugh. There is no language barrier.
"We want people to enjoy the images, to laugh with them, and to engage with wildlife."
The Comedy Wildlife Photography Awards exhibition runs at the Fair Maid's House in Perth until August 31.
https://www.facebook.com/critterclicksbymarymcmc/?eid=ARB8RvjpJaIQTcXGD0rRO7GPu9Ip1rM65ckXZrBxLevaKmyyrdzslTdU7cq_JEP_1cm2BX5Az_U62EE7
Bartek:  Instagram 1WILDSHOT
Top tips for wildlife photography
1. Don't be afraid to crank up your ISO so that you can always achieve a high shutter speed to avoid camera shake or blur if an animal/bird is moving. Never let your shutter speed drop below DOUBLE the longest focal length of your lens.
2. Wide open aperture for wildlife portraits to blur the background to add focus on the subject and F11 for animal action so all the important bits can be in focus.
3. As a general rule, if an animal or bird is moving from right to left, for example, then always leave a little space in the frame for them to 'walk into'. Same thing applies for portraits, if a lion is sitting on a rock looking wistfully into the distance on the right, then leave space in the composition for the lion to 'look into.'
4. Don't be afraid to experiment with longer exposure panning images. Eg try 10th sec and pan the camera with walking or running wildlife to create exciting and fun innovative images.
5. Be patient and listen to your guide if you have one. Sometimes you may have to wait a while for wildlife to do stuff.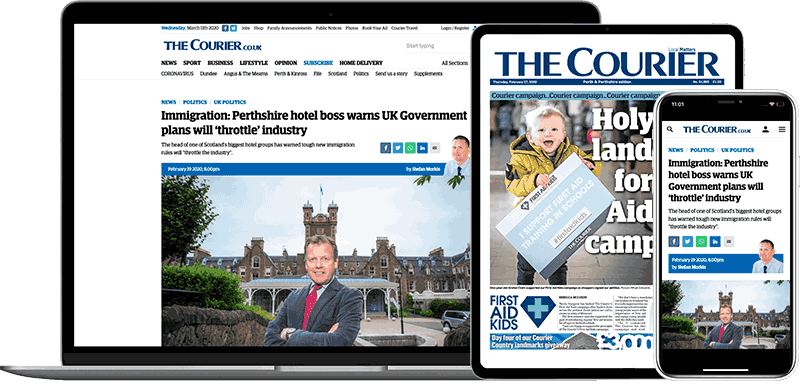 Help support quality local journalism … become a digital subscriber to The Courier
For as little as £5.99 a month you can access all of our content, including Premium articles.
Subscribe