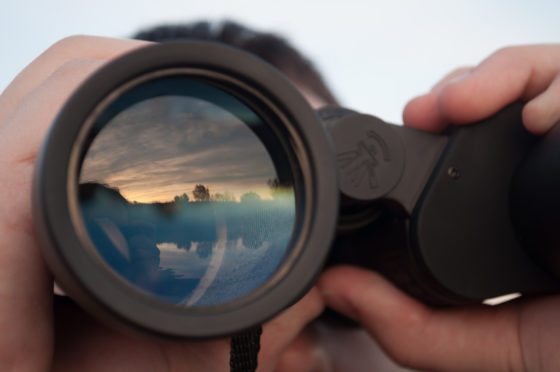 I have a new toy. And it has four eyes. I refer, as none of you have guessed, barring that professor of mysteries at the back, to a pair of binoculars (with two lenses at the back and two at the wotsname or front).
They are so marvellous. I've had binoculars before, of course, as everyone has (oh, you haven't madam? Then you have never lived). But I invested in a decent pair this time. My purpose? To watch the ships and boats in the Sound.
But, as it turned out, I've used them more for watching the birds in the garden. I'd set up the feeder within sight of a room at the back, which I'm thinking of making into a study. At the time of writing, I still don't have any furniture, so I sit on a hard, folding chair with my laptop on a manky white, plastic table that I found in the shed.
At first, the birds didn't come or did so briefly and hesitantly. But it seems they went away and had a meeting and decided: "Yeah, we think he's all right", and so, one morning, the feeder was festooned with feathered friends.
There are tits, finches, blackbird, possibly a thrush, a beautiful, delicate collared dove, and a raggedy robin. There's also an occasional owl and some bats, at night, but they don't use the feeder!
It's been a joy to watch the garden birds close-up with the binoculars: a whole new ball-game. They're so beautiful. If you've a feeder visible from a room in your house, I recommend getting a pair.
The funny thing is, the birds watch you – all the time; sometimes with both barrels, as in eyes front; but, at other times, with one side-eye on. They're perfectly aware that you're there, looking at them looking at you.
Sometimes, the robin sits for a while on the wooden railing nearby, getting fluffier as he feels contented. Fortunately, there's been no cat in the garden so far – though I've made friends with one called Pixie in the village – so I hope this will become a safe and welcome haven for the avifauna (can't tell a lie: I just looked that word up).
Of course, I've also turned my eye to the various maritime vessels in the Sound. Usually, it's the ferry, about which I have an enthralling tale, but I'll regale you with that another time. However, there are other ships and craft a-plenty: trawlers, yachts, cargo boats, and so forth. I think I mentioned before about looking out the window a bit further up the coast here and seeing a nuclear submarine. That gave me a start!
I'm not telling you where I am – bit of a superstition when a residence becomes more permanent – but the regulars will have guessed.
In the matter of binoculars, there's a slightly uncomfortable element of spying about the whole business. I remember hearing about one small community where each house had a pair of binoculars at every window.
But I think the birds like to be admired, and the boats are none the wiser. I've always fancied a boat of my own but could never park them properly, particularly if anyone was watching. No, as far as toys go, I'll content myself with binoculars for now.