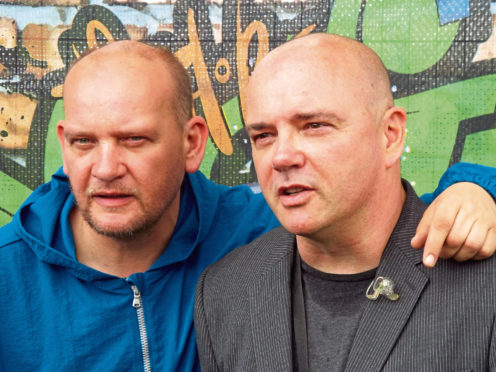 It's a step back in time for music fans tomorrow with the arrival of DunDee 80s.
The retro-themed event debuts at Slessor Gardens with performances from classic British pop outfits ABC, Midge Ure, Go West, China Crisis and Hue And Cry, whose singer Pat Kane says he's well up for his latest Courier Country turn following shows at Fat Sams and Perth Theatre in recent months.
And fans of the Coatbridge sophisti-pop legends can expect to hear plenty of vintage favourites. "We like to play some other '80s songs when we do these kinds of gigs," Pat, 55, reveals.
"We might well do Never Too Much by Luther Vandross or Prince's 1999 — songs by artists from the '80s who we really admire — and we mix that in with the big hits Labour Of Love, Looking For Linda and Violently, plus songs we've recorded from records over the last 30 years or so.
"They're all accentuated towards a kind of dancey, arms waving, enjoyable kind of experience. We like to crowd-please."
Pat reckons his fellow DunDee 80s performers are among the colourful decade's most influential artists. "I remember listening to ABC's Lexicon Of Love when I was at university and just being gobsmacked by the ambition of it and the sheer grandeur of the sound — and how it was so literate and witty, but also impactful and melodic," he says.
"Also, we did a big tour with Go West two or three years ago and we love those guys and their big hits and the way they approach music overall. We share a love of soul and jazz and R'n'B.
"My first ever serious recording date was in a studio at the bottom of Midge Ure's garden in London in 1983 with a band called Rodeo, so I can tell you firsthand what a talented musician and producer he is.
"He's from that post-punk era which inspired me and Gregory. You could do anything — write about anything, use any instrument, address any topic, take any risks with production — and you still thought you might have a hit record. There was such an ambition about the kind of pop song you could write — it's rightly celebrated."
Admirers of such Dundee greats as Average White Band, Billy Mackenzie and Danny Wilson, Hue And Cry always include a rendition of Michael Marra classic Mother Glasgow in their set. "We're very kindred with Dundee and the surrounding areas, and it has as great and as strong a musical legacy as any of the big cities of the UK, never mind Scotland," Pat declares.
"It's an audience that's musically literate and that likes people being both committed and skilful with their music." Tickets are £35/£40 via Ticketmaster.
*** American punks Doc Rotten head up an all-day noisefest at Beat Generator tomorrow.
The New Jersey four-piece have released a string of well-received EPs since forming in 2017, including Sick And Suffering and last year's Illusion To Choose, which was produced by Bouncing Souls guitarist Pete Steinkopf.
They're being joined at the North Lindsay Street venue by fellow punks The Kimberley Steaks, Delinquents, The Overbites, The Dreggs, Rare Breed, Killjoy, Buzzbomb, Rebecca Radical, Dogeared, The Marx and Smeekered. Doors open 2.45pm, with tickets £8 from Grouchos in Dundee.
*** The Green Hotel has a tasty brace of upcoming gigs courtesy of Skinny Molly and Chantel McGregor.
As outlined in last week's RockTalk, Southern rockers Skinny Molly are in Kinross on Sunday to play original country blues material plus covers of tracks by old-school hard rockers Molly Hatchet. Tickets are £23.60 via Ticketweb.
Separately, award-winning Yorkshire blues / prog guitarist Chantel's promoting her forthcoming live album Bury'd Alive on Monday. Tickets £19.40 online.
*** Montrose's East Links is hosting two big outdoor shows. It's multiple chart-topper Jess Glynne at East Links tonight along with slick-pop songstress Nina Nesbitt and soulster Charlotte. Nutty boys Madness are in Angus tomorrow, plus Groovy Train hit-makers The Farm and reggae hopefuls Jeramiah Ferrari.
Tickets for both gigs £43 via lcclive.co.uk
*** Blondie legend Clem Burke's Courier Country return next week is off.
The drumming icon had been due at Beat Generator on September 1 with California five-piece The Tearaways, but the gig has been axed along with another show scheduled for Glasgow's King Tuts. The Britrock-influenced outfit played Dunfermline's PJ Molloys 12 months ago, while Burke also hit Kinross's Green Hotel with Bootleg Blondie in January.
*** Electro exponents Echo Machine play Clarks on Thursday. Formerly Dundee faves Mirror Trap, the New Order-influenced three-piece have released four singles to date.
Support comes from Glasgow synthpop outfit Other Humans and lo-fi unit Drainpipe. Tickets £8 from the venue, echomachine.bandcamp.com, Grouchos and Assai Records.
*** Cherry Bombz go gig-crazy this weekend. They're playing Broughty Ferry's Royal Tay Yacht Club tonight ahead of Arbroath's Alba Real Ale Festival and Anstruther's The Bank tomorrow, while spin-off Buck Rogers hit the beer fest on Sunday.
*** Number 57 has classic rock regulars The Mivvies tomorrow and pop-funksters Chain Gang on Sunday.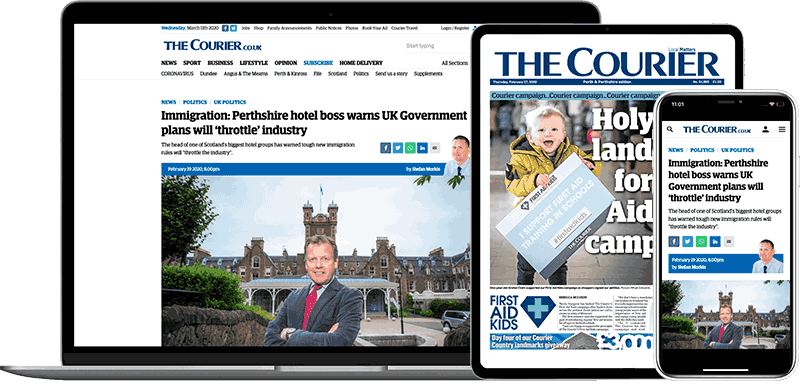 Help support quality local journalism … become a digital subscriber to The Courier
For as little as £5.99 a month you can access all of our content, including Premium articles.
Subscribe