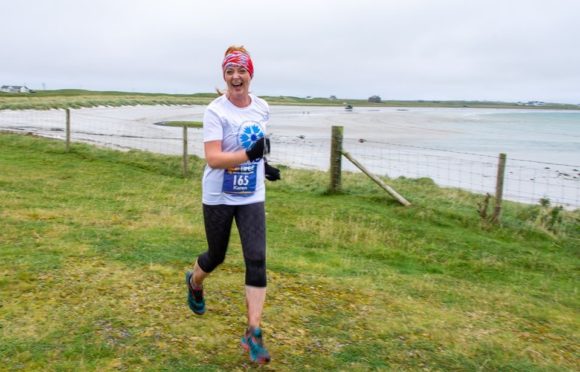 While most of us were having a lazy Sunday last weekend, Karen Richards from the Fife village of Upper Largo was taking part in a gruelling 35-mile ultramarathon along the coast of Tiree.
Karen raised around £2,500 for MND Scotland after her cousin Michael Mitchell was diagnosed with Motor Neurone Disease when he was just 33.
MND is is a rapidly progressing terminal illness, which stops signals from the brain reaching the muscles. This may cause someone to lose the ability to walk, talk, eat, drink or breathe unaided.
"Michael's symptoms probably started in 2006 but he wasn't officially diagnosed until 2008," says Karen. "He's now wheelchair bound but is battling on very courageously and is supported by his amazing wife and family."
Mum of three Karen is a merchandiser for Hallmark Cards who only began running a couple of years ago.
"I would say that walking a few miles leads to running," she muses. "I was inspired by my friend Fiona Robertson who helped me through a difficult time. She told me how much she loved to run along the beach and how good it was for my soul. I couldn't last five minutes at first and I can remember her saying: 'Come on, Karen! Get to the next big stone!'"
Before long Karen was able to last a good couple of miles and eventually joined her local running club, Leven Las Vegas.
"A couple of my friends went so one day I decided to try it," she says. "Within 10 weeks I'd run my first 5K race and I can remember my friend Sandra Cooper dragging me to the finish!
"I really struggled but I kept going to the sessions and became better and better. Six months later I completed my first 10k race and around 10 months later I completed my first half marathon!
Together with Jim Dunstan, her training partner, and her buddies at the club, Karen trained hard for the Tiree Ultramarathon but wasn't sure how she would get on when the day finally came.
She arrived in Tiree last Saturday with running club pal Davie Hogg.
"Sadly,Jim had to pull out at the last minute but Davie and I ran together the whole way," says Karen.
Spurred on by an emotional Facetime call with Michael and his wife, she went on to run the race of her life.
"Our time was eight and a half hours which I was really chuffed with – we even managed to shave 25 minutes off Davie's personal best!
"When I saw the finishing line in the distance I recorded the 200m or so on my phone and you can hear the emotion in my voice," she reveals. "But I was surprised how strong I still felt when I'd finished.
"I was so lucky to be sharing a cottage with three lovely people – Davie, Kevin Funnell, and Lindsay Cockburn, who went on to win the race," she says.
"And I owe a massive thank you to Jim and his family for all the support they've given me over the months."
"I was absolutely delighted to be doing it for MND Scotland. They have made a huge difference to Michael, and his family, as well as to the lives of many other MND sufferers in Scotland.
Already planning to enter next year's Tiree Ultramarathon, Karen says: "I remember saying to Michael's mum at her 70th birthday that if I ever did anything big, I'd do it for Michael's charity, so I kept my word!"