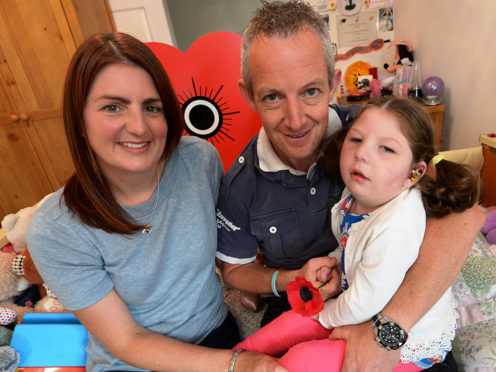 It's most well known for running the annual Scottish Poppy Appeal, but Forces charity Poppyscotland works year-round to help veterans and those still serving in their hour of need.
Whether through funding, help finding a home or a job, providing respite, or advice and mental health support, the charity uses money raised in the Appeal and other fundraising events to offer a lifeline to servicemen and servicewomen at times of crisis.
They include Stewart Reid from Bridge of Earn. He joined the Army just days after his 16th birthday and had already made significant sacrifices for the military in his childhood.
When Stewart followed in his father's footsteps by joining the Royal Electrical Mechanical Engineers in 1995, it was a natural progression for a young man who had already travelled the world with the military, changing schools 12 times.
He trained as an electronic technician and his military career included service in Germany and Newcastle, and a tour of Northern Ireland.
The dad of two, now 40, recalled: "I joined on January 10 1995, and left on January 10 2002, exactly seven years later.
"I think if I had waited and grown up a bit more before joining I might not have been so homesick. At the time, I didn't think I was homesick, but, looking back, I guess I was," he says.
"I served as a soldier and did my apprenticeship. My dad was a mechanic in the Army, and he inspired me to join."
Stewart moved back to his native Scotland and found work as a service engineer, but the adjustment to civilian life wasn't straightforward – a situation that, according to Poppyscotland, is common among former servicemen and servicewomen who may not always feel they can ask for help.
He explained: "I would say I found civilian life different. I am quite adaptable, and the Army was good in helping me with my resettlement and transition period."
But a decade later, when Stewart and his family were in urgent need of support, it was Poppyscotland that stepped in.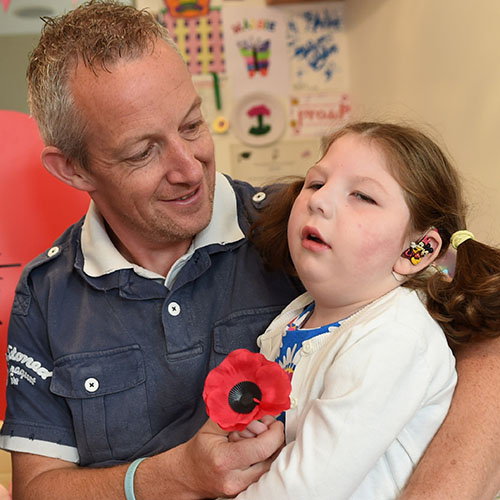 Stewart and wife Stephane's lives were turned upside down in 2013 when baby Maisie arrived (a first child for Stewart and a little sister to Stephane's daughter from a previous marriage, Kayleigh, now 15). There were complications and when Maisie was 18 months old, the family tapped into vital funding that changed their lives.
Stewart explained: "Maisie has cerebral palsy spastic quadriplegia which affects all of her body.
"She was in intensive care for the first 10 days of her life at Ninewells Hospital and we were told by doctors they didn't think she would live beyond three months old. It was a horrendous and stressful time."
Maisie went home on Christmas Eve 2012 wired up to a monitor that would set off an alarm if she stopped breathing, with doctors fearful of her fate. But six years on she has exceeded all expectations.
Given her significant challenges, the family moved from their semi-detached home in Perth to a Bridge of Earn bungalow where a specially-adapted extension was needed with a bedroom and wetroom for Maisie.
In total, the cost of an extension was £55,000 with the majority of the bill being met by the local authority – but it left a shortfall of £20,000. However, help was at hand. Since Stewart had served in the Armed Forces, he was able to apply for financial assistance from Poppyscotland, which provided a grant of £15,000.
At the time it was the largest grant to have ever been awarded to a family in Scotland.
An additional £5,000 was raised by friends and family members, as well as some smaller donations from other charities.
Stewart said: "When we got the funding, we were gobsmacked. It was amazing that Poppyscotland donated that amount of money.
"It was life-changing. Nobody likes to ask for help, but we would have been goosed without it."
To other servicemen and servicewomen who may be in need, Stewart says: "You can call for backup with Poppyscotland. You don't have to be afraid to ask and you don't need to be too proud."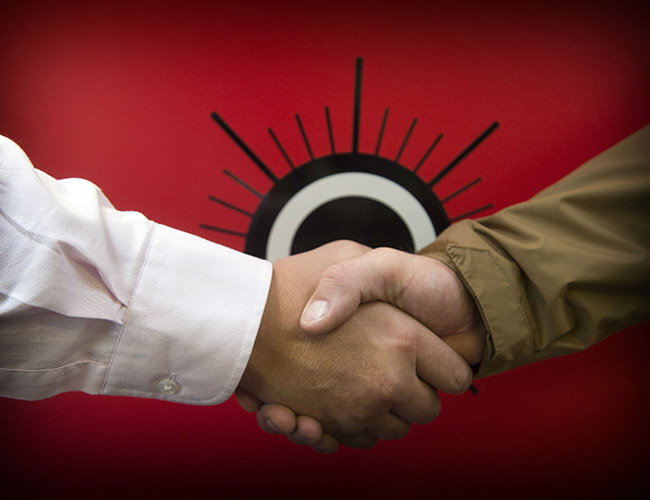 Helping those who helped us
Poppyscotland provides life changing support to the Armed Forces community and their families. At times of crisis, many feel too proud to ask for help, so it is vital to spread the word about the support available. The money raised in the annual Scottish Poppy Appeal goes towards the following services:
Tailored support and funding
The charity can provide wide ranging grants for areas such as home repairs or adaptations, replacing household goods and clothing.
Advice
Through Welfare Centres and the Armed Services Advice Project helpline, support is offered with financial problems, employment, housing and more.
Mobility
Assessments from occupational therapists, home adaptations and mobility aids are just some of the ways the charity can assist.
Respite
Much-needed breaks are provided for those in the community who wouldn't otherwise have the means or opportunity.
Housing
Funding can be provided for home improvements and rental deposits, with the charity often working alongside housing organisations.
Mental Health
Poppyscotland can also provide advice and support to veterans suffering with mental health difficulties.
*If you are a veteran or are still serving in the Armed Forces and need help or support, call Poppyscotland for backup on 0131 550 1557 or visit the website by clicking here.