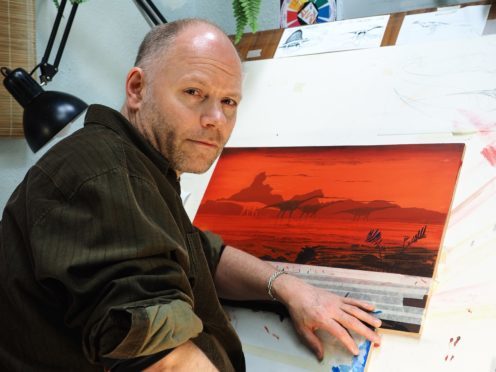 Sitting in pride of place in Jon Hoad's mum's house is a clay dinosaur he made when he was six. Little did she know then that her son would become an internationally-renowned scientific artist.
Working exclusively in paleontological reconstruction Jon, 52, produces scientifically accurate representations of prehistoric animals, plants and environments.
Recalls a childhood passion for all things dinosaur, he says: "I vividly remember collecting dinosaur stickers and reading the How & Why dinosaur book. I came across a copy quite recently and the moment I saw the cover it instantly all came flooding back."
Although the Perth-based artist originally started out as an archaeological illustrator, he soon realised that scientific artwork was the route he wanted to follow, nurtured by an ongoing passion since his early 20s to draw authentic prehistoric art.
Painstakingly painting everything by hand, he works predominantly in acrylics, pencil and ink, using stippling and other traditional techniques.
"It took a lot of self-training to learn the skills I needed but I wanted to find something that computers didn't invade, something with a validity and depth," Jon explains.
"I like to keep an organic flow going and although computers have their place they slow that down."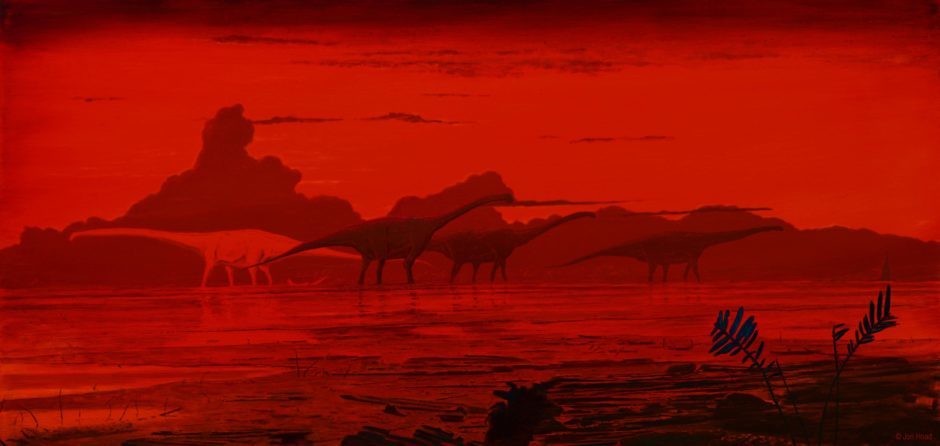 Inspired by scientific illustrators like Doug Henderson and Australian artist Peter Trusler, he says: "I love prehistoric leaf litter and detritus, the way things crumple and fall."
Jon was recently invited by American paleontologist Steve Brusatte to join him on Skye after discovering the largest dinosaur site ever found in Scotland.
"While the discoveries were immensely exciting to paleontologists and small children, we needed to make it exciting and accessible to everyone in between," Jon explains.

"Steve asked me to come up with an illustration of how it would have looked in the middle Jurassic period.
"He said: 'I want to use your eyes' because I have a different perspective and can take a step back to see in my mind's eye how things might have been."
While an illustration can take Jon weeks to finish, this time he had a six-week deadline to produce two paintings and a drawing. "They were quicker because there wasn't as much foliage as there can be," he explains.
Such is Jon's reputation that in 2001 he was granted a distinguished talent visa to live and work in Australia and he now divides his time between Scotland and Melbourne. When he's in Perthshire, he's also in demand as an art teacher at the Jardine Gallery and Workshop and with Culture Perth & Kinross.
A firm believer in supporting local businesses he gets most of his equipment from the art shop in Perth, although he admits that some of his favourite brushes are the old mangled ones. "They give me the effect I'm after," he laughs.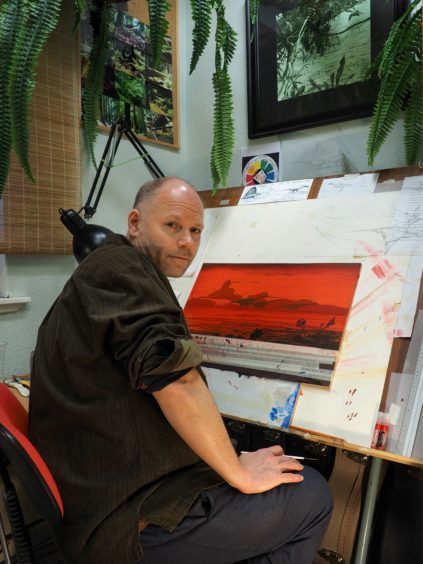 So which of all the dinosaurs is Jon's number one?
"Probably Coelophysis, one of the earliest known of the dinosaurs. It was a small, slenderly-built, ground-dwelling, bipedal carnivore, that could grow up to 3m long.
"Mind you, I'm not terribly sure I would ever want to meet one!"