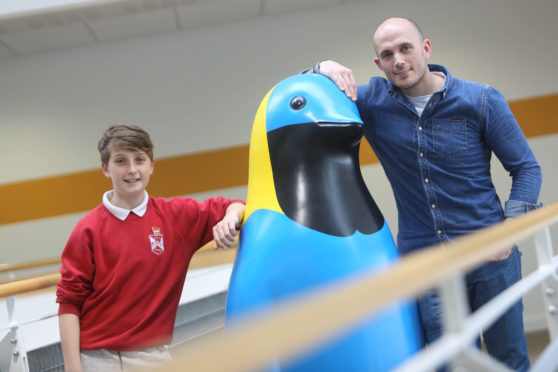 Any comic fan will know who Bananaman is – a schoolboy called Eric Allan who transforms into a muscled, caped figure when he eats a banana.
Originally starring in the Dandy, the Beano adopted the character and he still appears every week.
Step forward Robbie Burke, a P7 pupil at Edzell Primary. When V&A Dundee, one of the sponsors of Maggie's Penguin Parade, invited pupils from local primary schools to submit their design for their mini-penguin to be used as the inspiration for V&A Dundee's penguin, Robbie came up with the winning idea of having a Banana Penguin based on DC Thomson's Bananaman. The judging panel thought the fun design exemplified V&A Dundee's support for local design and would be a popular addition to the Penguin Parade.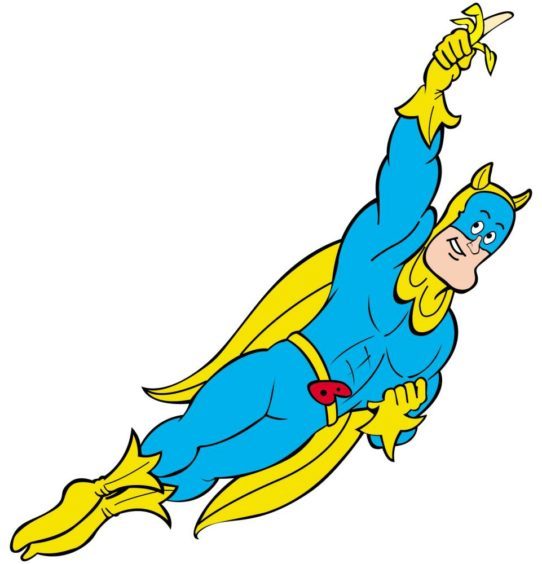 "I have always loved reading the Beano, especially Dennis the Menace," says Robbie. "When I was about eight I was given a Beano subscription for my Christmas and still receive the annual Beano as part of my Christmas presents.
"I followed the Oor Wullie Bucket Trial and went to the auction where I saw the Dennis the Menace version. So when the opportunity can around to design a penguin I had to do a DC Thomson character, and as Dennis had already been done before I wanted to make it a Bananaman version as he is my favourite character.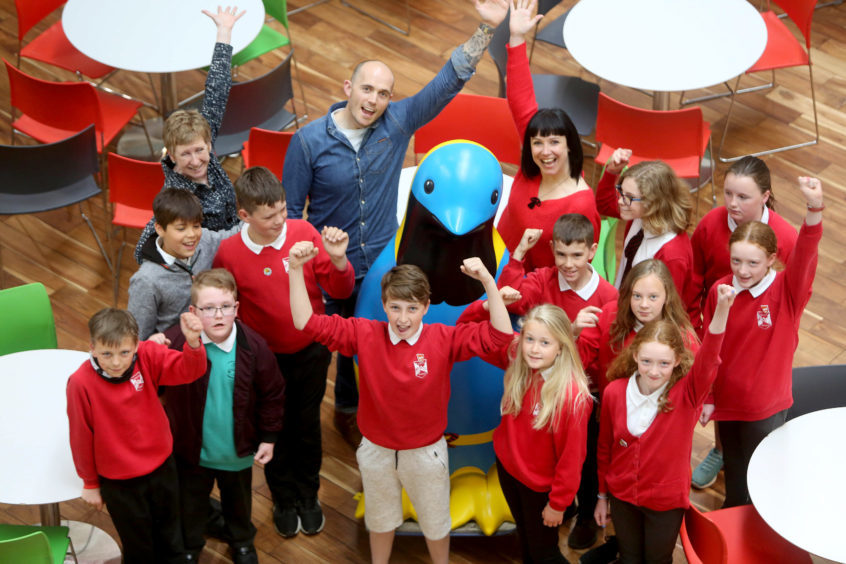 "I like how a boy, who is the same age as me, can transform into a superhero and save people! I would love to be able to eat a Banana and transform into a superhero."
The job of turning Robbie's idea into reality fell to Chris Alexander, head of art, design and performing arts at D&A College.
"I thought Robbie's design was great," enthuses Chris, whose career has seen him working across art, design, graphic art, model making and TV design so he's no stranger to 3D work.
"I grew up with Bananaman myself and it's good to see him reimagined. I'm pleased with the way my design turned out – when you spray-paint something with all the relevant areas masked off, you hope it works!"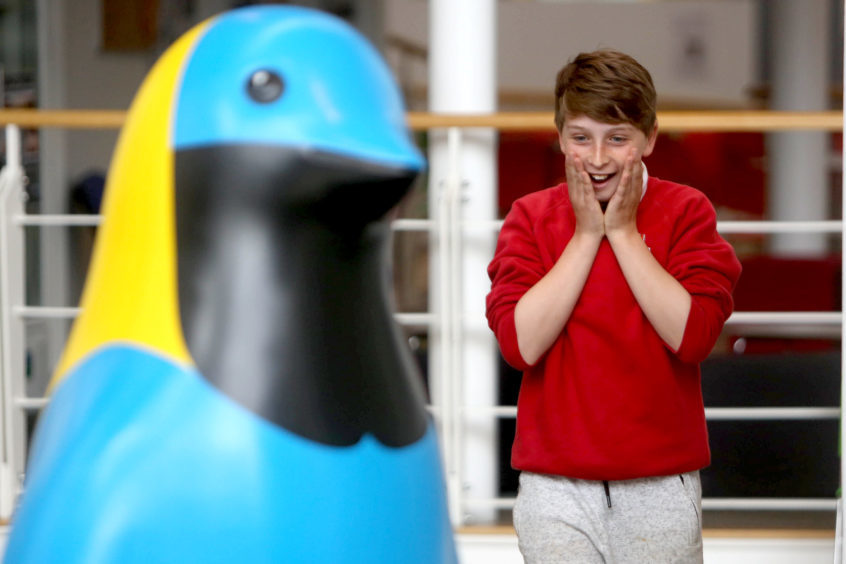 The competition was also a chance for Robbie and his fellow pupils to learn more about the design process and see how a design evolves from the initial idea. Chris kept the school up to date with progress before they visited his studio earlier this week for the unveiling of the finished design and Robbie was blown away by Bananaman Penguin.
"I've been so excited about it because I'm getting to see my own pictures painted on the penguin," he smiles.
"It was good to be able to give my Bananaman penguin a hug."
Annie Long, fundraising manager for Maggie's Dundee, was thrilled to see Robbie's design come to life in Chris's expert hands.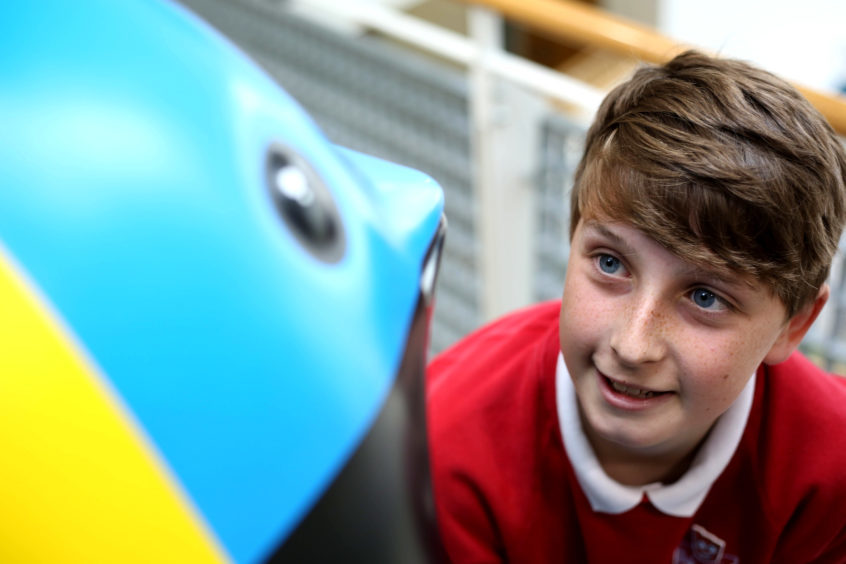 "It's wonderful to see the DC Thomson comic book character Bananaman translated onto one of our Maggie's penguins," she says.
"Robbie and his classmates have shown so much enthusiasm towards creating the design and it's been a very rewarding process for everyone involved."
The Oor Wullie campaign in 2016 was a huge success, raising almost £900,000 for The Archie Foundation Tayside and organisers hope this year's Penguin Parade will raise even more vital funds for Maggie's Dundee.
"The Penguin Parade will be great for families and will help people to explore the whole idea of Maggie's Dundee," says Chris.
"Everyone knows what Maggie's is but this is a unique way to highlight the centre and the impact of what it does."
Chris was thrilled to be asked to design the V&A Penguin both from a design and a personal point of view.
"I felt very privileged and honoured to be asked to do a penguin," he says.
"My father-in-law passed away with cancer so it's full circle for me."
Robbie has the last word by telling us what food he wishes he could eat to turn into a superhero.
"Dairy Milk Chocolate!" he says without hesitation.
Bananaman had better look out – there might be a Dairy Milk Man on the block soon…
Annie Long, fundraising manager for Maggie's Dundee, says:
"Maggie's Penguin Parade is delighted to announce that the auction of our beautiful penguins will take place at V&A Dundee on September 24.
"Maggies Centres and V&A Dundee have much in common in that both have a belief that great design can enhance lives. Beauty, high quality and thought for the visitor make people feel valued and that's so important at all times but particularly when facing illness and anxiety.
"Because Maggie's and V&A Dundee have these common beliefs about the power of design and environment, Frank Gehry's architectural design for Maggie's Dundee will be represented in the new V&A Dundee. We are really proud about that and so it seemed the perfect place to hold our penguin auction.
"We were delighted when V&A Dundee agreed to host us for what will be the first event outwith their own programme of opening events. It's going to be an exciting night where we're hoping to raise the £540,000 needed to run Maggie's Dundee for a year. We have 18,000 local people affected by cancer visiting us for free social, practical and emotional care each year. Maggie's is funded solely by charitable donations – and in 2018 penguin parades!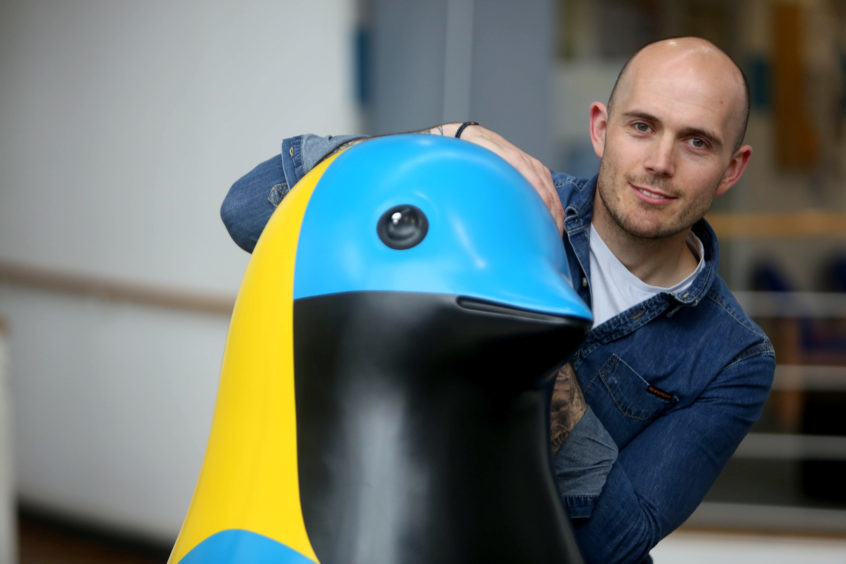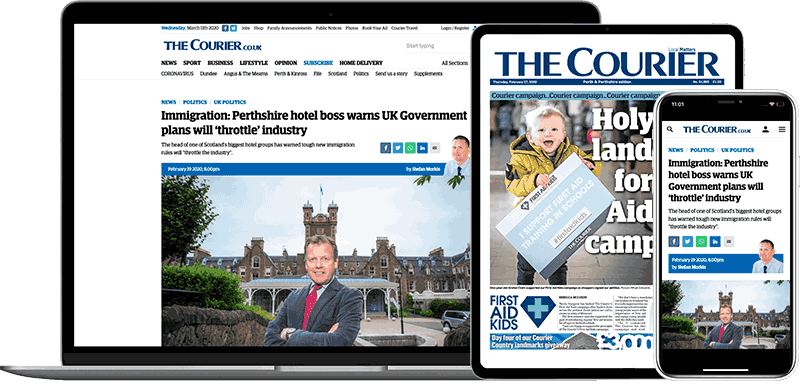 Help support quality local journalism … become a digital subscriber to The Courier
For as little as £5.99 a month you can access all of our content, including Premium articles.
Subscribe