A lovingly stitched tapestry has captured the Fife village of Newport-on-Tay for posterity, discover Caroline Lindsay
When retired history teacher Mairi Shiels was having a clear-out before a house move, she came across a newspaper cutting she'd kept since 1992. Entitled Stitch Your Village, it described a tapestry stitched in the village of Newcastleton in the Scottish Borders.
With a special interest in local and family history, Mairi had always had the idea that her own village of Newport-on-Tay in Fife, with its many distinctive and recognisable buildings, would be the perfect place to capture in cross-stitch.
Mairi, a member of the Newport History Group, takes up the story.
"Over the last 25 years a dedicated group of enthusiasts in the village have organised five Old Newport and Wormit exhibitions," she says. "The incredible interest in these events, both locally and from further afield, led to us setting up the history group and we're in the process of establishing a community archive to be housed in the Blyth Hall community centre.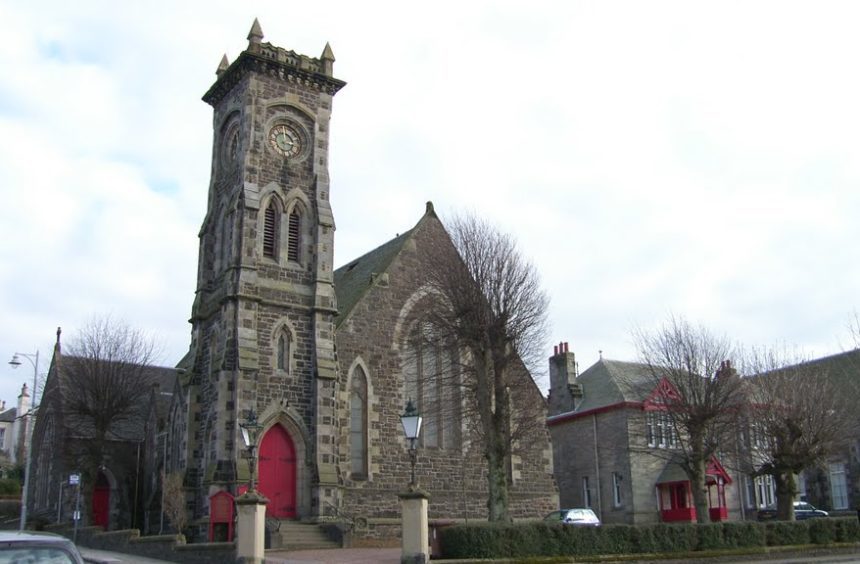 "We've also led historical walks around the village and the stitching of the tapestry has been our latest project – it just seemed the perfect time to do it," she smiles.
One of the history group members, Tessa Durham, had been involved with the Great Tapestry of Scotland, and she willingly took over organising of the Great Tapestry of Newport!
"We were fortunate to have lots of photographs of old Newport to choose from, and Tessa and a photographer friend, Cat Jones, also a Great Tapestry stitcher, did a tremendous job converting our chosen photographs into canvases to work," Mairi explains.
Each canvas had a fairly basic line drawing, so it was left to each stitcher to add detail.
"The stitchers were given the original photographs along with the canvas and they could use the photographs as a further guide," says Mairi. "Most of our ladies had their own supply of tapestry wools, and we begged and borrowed from friends and acquaintances, while also scouring craft shops for bargains. Hill of Tarvit conservation group very kindly allowed us to use their selection of tapestry wools."
Initially the group thought they might do just 10 or 12 panels – that seemed quite ambitious enough at the start. However, very soon it became clear that their ambitions had been rather limited.
"The project quickly generated huge interest in the community with many would-be stitchers volunteering to tackle a panel," says Mairi.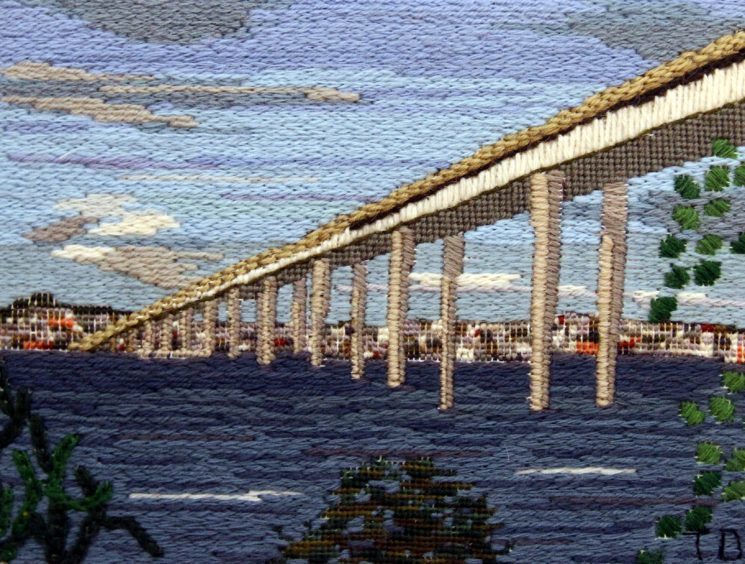 "Our horizons widened to include Wormit, and soon the number of panels underway had crept up past the 20 mark until we reached 27. Amazingly, at least two of the stitchers had never tackled any tapestry work before, and their achievements are particularly noteworthy," she observes.
"Tessa and I both did two panels, so in all 25 ladies were involved. The whole project took exactly a year, a remarkably short time for so much work, and the finished works went on show for the first time at the Newport Festival in June."
Mairi reveals that inevitably, however, there were a few challenges along the way.
"I think everyone found it difficult to actually make a start," she says. "Because each canvas had little detail printed on it, the stitchers had to be fairly imaginative right from the first stitch.
"Our monthly meetings proved invaluable, providing an opportunity to share ideas and encourage each other," she recalls.
"Newport does have an awful lot of sky (not always blue!) and grey stone buildings, and the worry was that these would be the predominant colours. It's wonderful how everyone has managed to individualise their design and introduce so many other shades. Every panel has a large section of sky, yet each one is completely different from the others," she smiles.
As the project grew from Newport, to Newport and Wormit, they were unsure what to call the finished tapestry. In the end, From Bridge to Bridge seemed to be the most appropriate name, and Tessa stitched a title board for it, while each panel has an information card giving a brief history of each location.
Creating the tapestry not only created a wonderful heirloom for posterity but also brought the community together.
"I think we all enjoyed sharing in the project," smiles Mairi. "Some of us renewed old friendships, and some of us made new ones. It was also extremely gratifying to see the interest that the tapestry has generated – there is a massive interest in local history here in Newport, and we are really delighted to have created the latest piece of village history."
So what's next for the tapestry?
"We've already thought of three or four more panels to add, and had offers from new stitchers," Mairi reveals.
"We will probably have a rest for a wee while before tackling the extension. Unfortunately we have no permanent home for it, but we hope it can go on display for periods of time in different locations in both Newport and Wormit. For example, it will be on display on October 27 ???"
Greetings cards are available for each panel of the tapestry, and these have been selling like hot cakes.
"A few people have suggested we might produce a book illustrating the panels so that's another idea we may follow up," says Mairi. "A calendar has also been suggested but in fact we are already planning an Old Newport calendar for 2019, so the tapestry calendar will go on hold for the moment."
Greetings cards are available for each panel of the tapestry, and these have been selling like hot cakes.
For information on Newport History Group or the cards and calendars, email mairishiels@btinternet.com