Michael Alexander spent a weekend in Glasgow following in the footsteps of designer Charles Rennie Mackintosh who was born 150 years ago this year.
Visitors to the V&A Dundee have been marvelling at the Charles Rennie Mackintosh oak room which is at the heart of the museum's permanent Scottish Design Galleries.
But for anyone who's appetite has been whetted for more in this, the 150th anniversary year of the famous Glasgow architect's birth, you could do worse than travel down to Glasgow itself to explore the life and times of the city's cultural icon with stops at some of his most famous masterpieces.
When the opportunity arose for my son and I to spend a weekend on the Mackintosh trail courtesy of Glasgow Life – a charity which aims to inspire the city's citizens and visitors to lead richer and more active lives through culture, sport and learning – we were only too happy to oblige having indeed been to the V&A on its opening weekend.
Travelling from Fife to Glasgow via ScotRail, our first port of call was The Lighthouse – Scotland's Centre for Design and Architecture – in Mitchell Lane.
It was a great starting place to learn about Mackintosh and his work, with the Mackintosh Interpretation Centre providing informative timelines, models, photos and drawings detailing his life, work and lasting legacy.
Amongst the centre's special Mackintosh 150 programming is an ongoing series of archive film footage exploring aspects of Mackintosh's architecture and the city of Glasgow through screening events and exhibitions.
The highlight for us here, however, was Visaurihelix – a mesmerising audio-visual sonic project by Glasgow artist Louise Harris – housed in the building's iconic Mackintosh Tower.
Designed by a young Mackintosh back in 1895, the tower has had many incarnations including a water tower for the Glasgow Herald, a lookout tower during the Second World War, a doocot for carrier pigeons, and now a view point for tourists up a 135-step helical staircase.
From here, it was a dash up to Sauchiehall Street for afternoon tea at Mackintosh at the Willow.
Miss Cranston's original Willow Tea Rooms were designed by Mackintosh in 1903.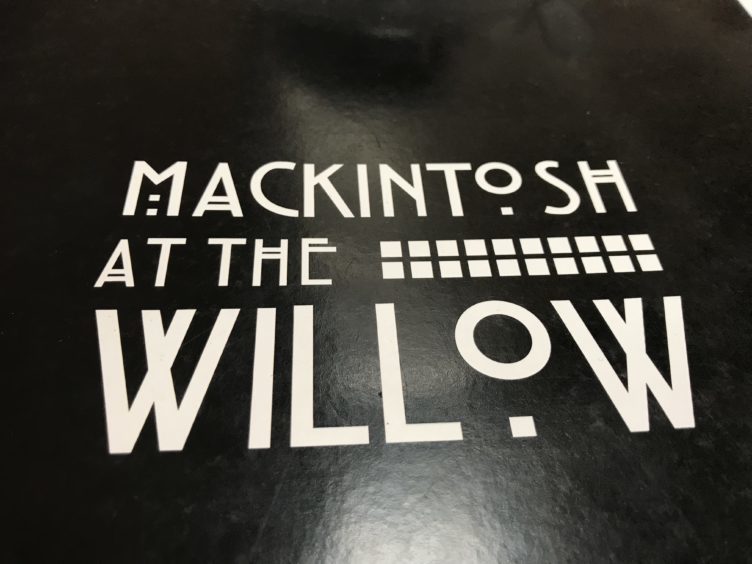 The A-Listed building is internationally recognised as the only surviving tea room designed by Mackintosh and where he had complete control over both the interior and exterior design.
It is also regarded as one of the finest examples in the world of a complete Art Nouveau scheme.
The building has undergone extensive recent restoration to return it to its former glory and re-opened in July.
Here we enjoyed a fine high tea comprising sandwiches, scones and cakes – washed down with the finest tea and served by courteous and friendly staff in a stunningly historic environment made all the more special by our recent V&A experience.
Our official itinerary didn't mention the huge blaze that gutted Glasgow's world-renowned School of Art in the summer just four years after part of the celebrated Mackintosh building was destroyed by fire.
The renovated Mackintosh library had been due to reopen next year only to be destroyed again after a multi-million-pound restoration.
However, as we walked from the Willow tearoom to Kelvingrove Art Gallery and Museum a couple of miles away, our route took as past the gutted shell of the building held up by scaffolding and there was an air of sadness at what had been lost.
I've visited Kelvingrove Art Gallery and Museum several times before.
But with Mackintosh in mind, it was interesting to target the sections of the museum where some of his creations are on display.
The museum boasts 22-themed state-of-the-art galleries displaying an impressive 8000 objects ranging from Glasgow Boys paintings to an Egyptian sarcophagus.
Next up on the itinerary was a tour of the Mackintosh House at the Hunterian – a short walk away behind Glasgow University.
The Mackintosh House replicates the interiors of 6 Florentine Terrace, Glasgow – home of Charles Rennie Mackintosh and his wife Margaret Macdonald Mackintosh from 1906 to 1914.
With the actual furniture from their home reassembled as they had it, it gave a stunning insight into the attention to detail that went into their style – although at times it felt a bit like viewing a dead person's home with beady-eyed security guards in every room replacing estate agents!
From here, Glasgow Life had booked us dinner at the Hanoi Bike Shop – a quirky Vietnamese-themed eatery located just off the trendy Byres Road in the heart of Glasgow's West End.
Despite being slightly bamboozled by the menu, the friendly Australian server talked us through what was on offer – explaining that whatever we chose from the street food, pho (noodle broth) or 'pot to grill' menu would be served 'as they are prepared' rather than in a series of courses.
We opted for a delicious Pho Nam – mushroom – oyster shiitake and wood-ear mushrooms in vegetable broth accompanied by delicious Bap Not Va DuaBanhran sweetcorn and coconut fritters.
Opting to walk the several miles back to the city centre via the Clyde as darkness fell rather than taking the subway back, a relaxing evening was enjoyed at the Park Inn on West George Street.
After a good night sleep and a hearty breakfast, our cultural experience continued with a stop-off at Gordon Street Coffee near Central Station.
The small batch coffee producer has created a Mackintosh blend specifically for the anniversary.
From there we took the subway to Shields Road for a fascinating visit to the Scotland Street School Museum.
The school was designed by Mackintosh between 1903 and 1906 for the School Board of Glasgow.
With many features built into the stonework and staircases, the influence of Falkland Palace on Mackintosh' design was self-evident.
Now as a museum, it tells the story of 100 years of education in Scotland from the late 19th century to the late 20th century.
*For more information go to www.glasgowlife.org.uk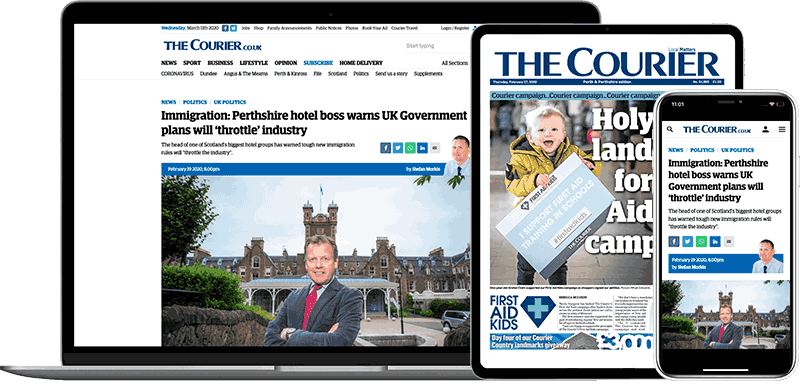 Help support quality local journalism … become a digital subscriber to The Courier
For as little as £5.99 a month you can access all of our content, including Premium articles.
Subscribe