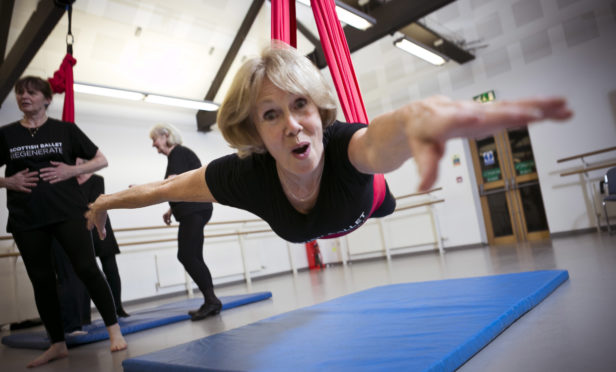 Light is being shone on the art of creativity as we age as the Luminate Festival takes place at venues across Scotland including Dundee Rep, DCA, HMS Unicorn, Pitlochry Festival Theatre  and The Birks Cinema in Aberfeldy.
Following the growth of an ever-increasing programme of year-round work with and for older people, a wide range of events is being held in venues including theatres, cinemas, galleries, care homes and community centres.
Performances – aimed at all ages – include dance, drama, visual arts, film, spoken word and community events.
The multi-talented Luke Pell and collaborators will be at Dundee Rep Theatre with In the Ink Dark project, a dance and a poem created from a series of conversations with different people in Dundee and Glasgow leading to two weeks of live dance performances in unique spaces in both cities including Dundee on May 21, 23 and 27.
The Beautiful People, Dundee Rep Theatre's group for older people aged 55+, will be exploring what it means to 'live your second childhood'.
Inspired by the New Zealand-based Hip Operation Crew, the group will be participating in workshops ranging from hip-hop to performance poetry on May 22 and 29. The Beautiful People: Open Event is also being held on May 22.
This special session will coincide with Birds of Paradise and National Theatre of Scotland's award winning My Left/Right Foot – the Musical and a chance to reminisce with show creator Robert Softly Gale over tea and biscuits.
A nostalgic night out awaits at Pitlochry Festival Theatre with the stage adaptation of Summer Holiday – The Musical by Michael Gyngell and Mark Haddigan.
Dundee Contemporary Arts will be screening The Straight Story on May 26 This is an extraordinary portrait of old age based on the true story of Alvin Straight, a 73-year old man who drove 240 miles on a lawnmower to visit his ailing brother – directed by David Lynch.
Meanwhile, on May 22 and 23, HMS Unicorn at Victoria Dock, Dundee, is the place to go to discover more about their historic collection of navel uniforms from the early 20th century at Who's Who in Uniform.
The festival also features an outreach programme which takes creative activities to older people who may struggle to attend the public programme.  As part of this, the young musicians of Live Music Now Scotland are performing in care homes and day centres across the country.
*Luminate Festival, Various venues, until May 31
www.luminatescotland.org