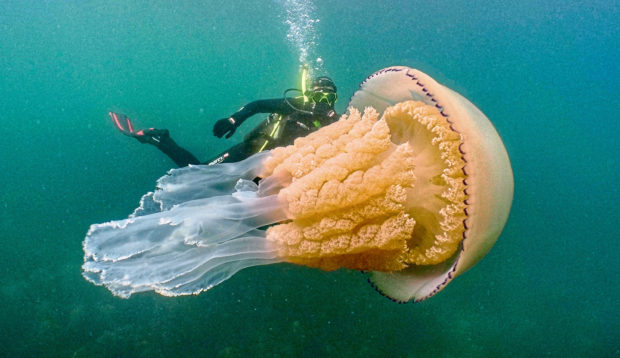 An incredible photograph of Lizzie Daly swimming with a massive jellyfish went viral. Ahead of the wildlife presenter's talk in Dundee, Gayle Ritchie finds out more…
A giant jellyfish, its frilly, yellow body resembling roof insulation, tentacles flowing behind like lace curtains, drifts along gracefully, dwarfing the tiny diver swimming alongside it.
It's a beautiful, yet somehow rather terrifying looking creature – and it's one that hangs out in UK waters.
"They might look scary but they don't sting or harm humans," says Lizzie Daly, the wetsuit-clad figure starring in a photograph with the massive barrel jellyfish. "I might've not got so close if it had been a venomous Portuguese man o'war, though!"
Lizzie, a wildlife biologist, broadcaster, filmmaker and conservationist from Wales, has worked as a presenter on Cbeebies, CBBC, National Geographic, BBC Two, Animal Planet and is now a host on the BBC Earth Unplugged YouTube channel.
Unsurprisingly, the 26-year-old has encountered many fascinating – often endangered – species on her travels.
The jellyfish sighting was, she says, "a mistake".
"We didn't go looking for it. We'd planned to go offshore to see blue sharks but it was too windy so we went diving on the Cornish coast instead.
"I turned round and this massive jellyfish appeared out of the murky depths! It was totally bizarre. I spent quite a lot of time with it.
"I got home, edited the picture and put it online."
It was the perfect end to Lizzie's Wild Ocean Week – an online project the TV presenter developed to encourage the public to explore British wildlife.
During the week, she swam with seals and seabird colonies, spotted minke whales and dolphins and attempted to find orcas.
"It blew my mind. I set out with Wild Ocean Week to capture the magic of our marine world in the UK.
"Also really important was to highlight the conservation issues threaded through. I feel very lucky to be able to see wildlife across the world and have these incredible encounters, but actually the best part for me is sharing these stories and experiences – and sharing, inspiring and connecting with others. You really can see so many exciting things on these coasts."
Some of Lizzie's favourite wildlife encounters have come from exploring the wild corners of Scotland.
"The west coast is a great area for porpoises, dolphins and orcas and I absolutely love Gairloch," she says.
"I also adore Shetland, and Mull, with its otters and white-tailed sea eagles, is fantastic."
Lizzie has dreamed of working with animals her entire life and says getting under the skin of their behaviour is her passion.
She's also fascinated by the conflicting stories of humans and wildlife and how what we do often negatively impacts on the animal world.
Elephants and whales have a special place in her heart and she dreams of seeing a blue whale, the largest animals known to have lived on Earth, up close.
Excited by her encounter with the giant jellyfish, she's keen to do more research on the species, and is considering making a "world's biggest and most mysterious jellyfish" programme.
"People think jellyfish just drift through the sea but a lot of their behaviour is dictated by food," she explains.
"There's a lot more to them that we may realise!"
Does Lizzie have a wildlife hero or heroine, I ask? "I aspire to be someone like Sylvia Earle (an American marine biologist, explorer, author, and lecturer who's been a National Geographic explorer-in-residence).
"She's renowned in the scientific world but has a way of connecting with people, too.
"I'd like to see a woman wildlife ambassador like David Attenborough – someone who really pushes that storytelling side of things."
Quite the storyteller herself, we can expect some memorable tales from Lizzie when she speaks to audiences in Dundee as part of the prestigious Royal Scottish Geographical Society (RSGS) Inspiring People talks series.
She'll discuss her viral jellyfish photo, as well as the many other wildlife conservation stories – and issues – she's witnessed from around the world, including from the depths of the rainforest in Borneo, from the Icy Straits of South East Alaska and at the forefront of conserving the largest land mammal on earth in Kenya.
"I'm very proud to be speaking for the RSGS this year – and to be doing so across beautiful Scotland is a real highlight!"
Lizzie's talk takes place at 7pm on November 5 at Dundee University's Dalhousie Building in Old Hawkhill, University of Dundee Dundee, DD1 5EN.
Tickets are available at eventbrite.co.uk and on the door.
x